Sunday, March 4, 2012
Combine should add non-sports tests

---
By Jerry Greene
Page 2


With Andrew Luck having gone to Stanford, he probably would score well in our new combine.
The NFL combine came and went far too quickly, as I'm just on Question 10 of my Wonderlic. Besides, the league is missing a golden opportunity by confining its combine to just, you know, football stuff. Yes, what the NFL needs is combine combinations.
After the football stuff, the combine should move on to other vital skills:
• Media interviews: "Got to hand it to all those kids from UCLA, Southern Cal and Ohio State," said one GM. "They answered media questions for 30 minutes each and never said a thing. They could all be coaches one day."
• Product endorsements: "There was an offensive tackle from Alabama that ate two dozen wings while tying his new shoes and washing his hair simultaneously," said an endorsement agent. "I actually cried from joy watching him work."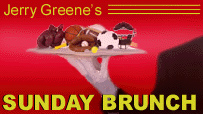 • Medical knowledge: "We interviewed this linebacker from Florida that thought a concussion was a kind of drum," said a team doctor. "That's the kind of young man we want."
What other kind of combines could the NFL adopt? Think about that and chew on these bits of tid while our literary chefs put the last touches on today's Brunch specials:
• We are proud to announce that Hall of Fame bowler Pete Weber has already clinched this year's Kierkegaard Most Existential Quote award for his brilliant "Who do you think you are? I am!" Yes, you are.
• I'll have the Carl's Jr. hamburger as long as Kate Upton serves it.
• If Charles Barkley thinks 20 percent of NBA fans should be shot, somebody should ask LeBron James what percentage works for him.
• Las Vegas has set the over/under on Brett Favre's first Twitter scandal. It's Tuesday.
• In honor of Kobe Bryant, my three favorite masks: The Lone Ranger, the Phantom of the Opera and Cher.
Ding ding. There's the Brunch bell, telling us it's time to let the real cooks take over. We have stories about pain, frustration, temptation and even the art in choosing a great nickname. Find it all now:
• Former New England Patriots defensive end Mike Wright turned 30 on Thursday. Hardly an old man, Wright rarely can concentrate enough to read a book, use a computer or even watch TV. Wright, you see, has had one too many concussions. His story is grim but compelling as described by Ron Borges of the Boston Herald. You should read it here.
• Let's move to a star athlete who is trying to put injuries of many kinds behind him: Tiger Woods. He's not playing badly in the Honda Classic but still entered the final round 9 shots out of the lead. Karen Crouse of The New York Times looks at the current version of Woods and finds him to be humbled but lacking humility. Do you need humility? You decide here.
• We almost have a theme. Next we visit Atlanta Braves star Chipper Jones, who admits to almost taking illegal substances but -- partially because of his father's concern -- decided to walk a straighter path. Chipper looks at where baseball has been and where it may be going as told to Jeff Schultz of the Atlanta Journal-Constitution. Find out what Chipper learned here.
• OK, let's look at a different kind of athlete, a four-legged one. Hansen may be the current Kentucky Derby favorite, but Teresa Genaro of Forbes has found her own blooming star in Union Rags. She explains the "rags to riches" story here.
• And we close on a light note as Cathal Kelly of The Toronto Star looks at Albert Pujols' rejection of El Hombre and sets down guidelines for what makes a great nickname. Uh, would Albert accept "Baldy"? Find out here.
That's it for another Brunch. Enjoy your basketball, your baseball or your early NFL mock drafts. Or just mow the lawn. Your choice.
Jerry Greene is a regular contributor to ESPN.com and can be reached at osogreene@aol.com.