Wednesday, March 7, 2012
What do you say, Bobby V?

---
By Jim Caple
ESPN.com


New Red Sox manager Bobby Valentine has already thrown a few barbs at the Yankees.
I've always liked Bobby Valentine. Many managers are afraid to speak their minds or say anything remotely controversial, but not Bobby V. Already in midseason form, his comments have been the best thing to hit spring training since sunscreen.
So far he's toughened up Boston's spring training regimen and added B squad games, banned beer from the clubhouse and team flights, said there are a lot of "lazy people" in the game today, mocked Derek Jeter's legendary flip play, told veterans they must take the team bus to spring road games and praised Jason Varitek for beating up Alex Rodriguez. And we still have a month to go before the season starts!
What else might Bobby V say before Opening Day? Take a look through the Off Base crystal ball:
March 7: In addition to banning alcohol on the last flight of road trips, Valentine announces the Red Sox will begin charging $50 per bag for checked luggage, $75 for aisle and window seats, $5 for headphones, $5 for soda and $3 for peanuts. The team also will board the plane according to OPS and ERA. "I know half the players won't like it and the other half will hate it," Valentine says. "But someone has to pay for John Lackey's contract."
To appease the players somewhat, Valentine adds the team will award the players with BoSox Miles. Like all airline mileage programs, however, these miles will almost never be redeemable for future flights.
March 10: Valentine admits that New York did indeed practice the famous Jeter flip play in the 2001 division series, adding that Jeter also probably worked each spring "on the Jeffrey Maier interference home run, chasing down Chuck Knoblauch's throwing errors, glaring at A-Rod after dropped popups, ducking Challenger the Eagle and diving headfirst into the stands for foul balls."
March 13: Before Boston's Grapefruit League game against New York in Tampa, Valentine announces that the recently retired Varitek will continue working for the Red Sox as a fight consultant. "He's a man's man," Valentine says. "He beat up A-Rod. He'll show our guys how to punch with their fists rather than slap with their hands."
March 14: Further toughening up the spring training regimen, Valentine tells Red Sox players that in addition to filling out their NCAA brackets, they also will be required to fill out brackets for the NIT, CBI, women's NCAA and women's NIT basketball tournaments as well, plus the NCAA hockey tournament. "Half the guys won't like the extra work and research required," he says, "but the guys who win the pools will wind up liking it a lot."
March 16: Hall of Famer Wade Boggs visits his old team and Valentine marks the occasion by saying that had he had been Boston's manager in the 1980s, he would have banned the third baseman's famous ritual of eating chicken before every game. "That's how bad habits start," Valentine says. "First, you're eating chicken before the game. Then you're eating chicken in the clubhouse after the game. Then you're sneaking into the clubhouse for chicken and beer during the seventh inning and blowing a nine-game lead in September."
March 17: In addition to wearing green jerseys in honor of St. Patrick's Day, Valentine requires that the team learn to speak Gaelic.
March 22: Before Boston's game against the Yankees in Fort Myers, Valentine tells reporters that in addition to keeping Varitek on as fight coach, the Red Sox will bring back Pedro Martinez to demonstrate proper technique for wrestling aging New York coaches to the ground.
March 25: Valentine irritates veteran players by not only requiring them to ride the team bus for three hours to the game in Dunedin but also making them watch "Twilight: Breaking Dawn, Part I" on the way there and Terrence Malick's "The Tree of Life" on the drive back.
April 2: The Red Sox break camp with Valentine complaining that spring training wasn't long enough to work on everything he planned. "For instance," he says, "I just hope that our infielders don't get fooled when A-Rod tries that bush league 'Mine! I got it! I got it!' baserunning trick of his. Oh, well. I'll just schedule some B squad games for us to work on it during the season."
CSI: Box Score
You know the drill. Each week I provide a fragment from an old box score and challenge you to determine what game it is from and why it's significant. I give this one a difficulty rating of 6. Answer below.
Baseball Card of the Week
Whenever the Red Sox players are upset with one of Bobby V's new rules, they should just take out this card (1976 Topps, No. 366) and threaten to go public with it unless he backs off.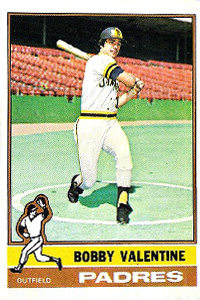 Box Score Line of the Week
Our long national nightmare is over. After a four-month absence, box scores have returned, providing a welcome respite from 24/7 Tim Tebow and Jeremy Lin hype. And as nice as Felix Hernandez's line was Tuesday (3 IP, 0 H, 0 R, 0 ER, 0 BB, 4 K), no line was more refreshing to see than this one from Johan Santana in his first game against major league competition since 2010:
2 IP, 1 H, 0 R, 0 ER, 1 BB, 0 K
Welcome back, Johan. May you stay healthy and pitch a season that will justify the salary that got a little more difficult for Fred Wilpon to pay this week.
Yeah, Well, That's Just Like Your Opinion, Man
If MLB just adds 18 more wild cards, the Pirates might finally make the postseason again: As I've written before, I don't like adding extra wild-card teams because doing so cheapens the regular season and also creates more problems than the nonexistent problem they are supposed to solve (yeah, those Red Sox games in September sure were meaningless last year). But I do like the effect the crunched schedule baseball will have this October. As long as Mother Nature cooperates, the reduced number of travel days is a good thing because it more closely approximates real season conditions.
I mean, why do people worry about teams having to play in a city one day and in a different city the next? Ballplayers do that on an almost weekly basis during the regular season. And it's not like the travel is that rough on the players. Their bags are packed and transported for them, their hotels are arranged for them and they fly the equivalent of first class on charter flights with no full-body scanners, no crying babies and no jerk reclining his seat in your face. Plus, in recent years, there have been so many off-days that the schedule broke up baseball's normal rhythm and also unfairly favored teams with two top starters at the expense of teams that had a deeper rotation built for the long haul. The crunched postseason improves that. Just so long as it doesn't rain, because as colleague Jayson Stark points out, there is no margin for error.
The Cactus League Cost of Cheering Index: Forget the unemployment rates, the Dow Jones industrial average, housing starts or the consumer confidence index. The most promising indication that the economy is on the rebound could be spring training. Sunday's game between the last-place Mariners and the last-place Padres drew 10,490 fans. Not only that, but my friend Scooter says Cactus League beers are going for as much as $11, some short-sleeved T-shirts are priced at $47 and that he saw a guy buy four hot dogs, five beers, two bags of peanuts and a large pretzel for $73 at Sunday's game. "He plopped down four twenties and walked away with his stuff. Wait for change? Nope, he must have been in a hurry." And the most amazing thing is, the guy was able to afford all that despite not being a major league player.
CSI: Box Score Answer
Did you spot all the clues? First, the names and the expanded box score format were a clear indication this was from a New York-Boston game within the past decade. Specifically, the names Garciaparra and ARodriguez indicated this game was in 2004 -- Nomar's last season in Boston and A-Rod's first in New York. But what game was it? The final (and biggest) clues are that both Varitek and Rodriguez each had only one at-bat, a clear indication they left the game early. That should have been enough to tell you this was the legendary July 24, 2004, game when Tek and A-Rod squared off in a fight that earned ejections for both. The Red Sox rallied from a 9-4 deficit for an 11-10 victory that is often credited as a catalyst in changing the dynamics of the rivalry.
---