Sunday, April 15, 2012
'Sunday Brunch' remakes 'Stooges' using athletes

---
It's Dwyane Wade and LeBron James in a remake of "Three Stooges"? Who is Moe? Read below.
"Nyuk-nyuk."
Always wanted to start a column that way and never thought the opportunity would arise, but the recreation of "The Three Stooges" has presented the chance. Not sure how well the movie will do as the critics are being unkind. But if it does poorly, the main reason could be obvious:
Poor casting.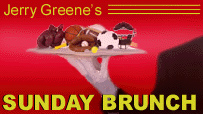 Nothing against the actors chosen but they are not exactly celebrities even though "Larry, Curly and Moe" are running away with the last Page 2 poll of picking your favorite "Big Three." What we should have polled is who would you have hired from the world of sports to portray the stooges? Here are a few suggestions:
• LeBron James, Dwyane Wade and, no, not Chris Bosh, but Pat Riley, who would be a natural as Moe.
• Rex Ryan, Mark Sanchez and Tim Tebow. (Don't get outraged, Tebowites, 'cause he'd probably love it.)
• Stan Van Gundy, Dwight Howard and Jeff Van Gundy. (I'd pay to see this version.)
• John Daly, John Daly and John Daly.
And in all these versions, a special cameo appearance by Charles Barkley as Shemp. Hey, he's playing a good-looking woman in a commercial so who says he can't handle being the forgotten Stooge?
---