Monday, July 16, 2012
Updated: July 17, 2:18 PM ET
Bracket of Awesome: Body Edition Championship

---
By Sarah Spain


TBD By Editorial
After a week of voting, it all comes down to this: The Championship Round of the Bracket of Awesome Body Edition. Two men and two women battling it out for the honor of the most awesome male and most awesome female body in sports.
On the women's side, two Olympic stars face off in swimming sensation Natalie Coughlin and soccer phenom Alex Morgan. Years of morning workouts have practically turned the 5'8' Coughlin into part-fish, her svelte, strong body leading her to eleven Olympic medals. She had a disappointing trials but will still make her third and final trip to the Games this summer as part of the 4 x 100 relay team.
While Coughlin prepares to say goodbye to professional competition after London, Morgan is just getting started. She was the youngest player on the USA roster at the 2011 World Cup but she didn't shy away from the spotlight, establishing herself as a major player on the field and a popular star off of it. Sprints up and down the soccer field have given her scultped abs and long, lean legs, not to mention a butt that even the biggest "Buns of Steel" devotees could only dream of.
There must be something in the water out in Berkeley, Calif., because both of the women finalists are proud Golden Bears.
Alex Morgan versus Natalie Coughlin
---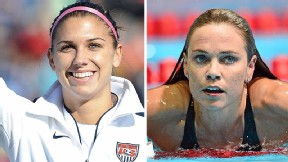 Alex Morgan, left, and Natalie Coughlin are both going for gold at the Olympics in London. Who will win out here?
tbd by editorial
The men's bracket matches up a soccer player and a swimming star, as well.
Portuguese striker Cristiano Ronaldo is taking on U.S. swimming's newest Golden Boy, Ryan Lochte. Ronaldo is not only one of the best players on the pitch, he also makes headlines as a player off of it, getting spotted with the likes of Paris Hilton, Kim Kardashian and Maria Sharapova. When he's not averaging more than a goal a game for Real Madrid, he's shooting ads for sponsors like Armani underwear. Ronaldo's 46.5 million Facebook fans and 11.5 million Twitter followers are proof he's got lasting appeal and every time he takes off his shirt he converts another doubter.
After hearing a resume like that, you can see how Lochte might be somewhat of an underdog, despite his No. 1 seed. He hasn't bared all for Armani yet, but his hard work in the pool is displayed every time he gets in the pool for a race. A six-time Olympic medalist and owner of four world records, Lochte is quickly becoming the face of U.S. swimming, despite racing alongside perhaps the greatest of all-time, Michael Phelps.
Cristiano Ronaldo versus Ryan Lochte
---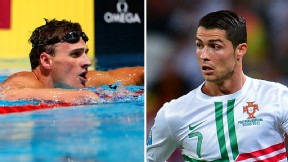 Ryan Lochte, left, is quickly becoming the Golden Boy or U.S. swimming. Can he win gold verses soccer star Cristiano Ronaldo?
All four of these athletes have strong, healthy, fit bodies, but only one man and one woman can own the title of Most Awesome Body in Sports.
---