71. The 14 combined drops/interceptions were tied for second most in the NFL.
72. Since 2008, there have been 20 receivers with more than 65 targets of at least 21 yards downfield. The only one not to drop a deep ball? Brandon Lloyd (88 targets).
73. Over the past two seasons, with Josh McDaniels as his head coach or primary offensive coordinator, Lloyd was the most targeted receiver on throws deeper than 20 yards downfield, with 73 such targets.
74. Calvin Johnson was second with 64.
75. Lloyd has done this with Kyle Orton, Tim Tebow, Sam Bradford, A.J. Feeley and Kellen Clemens as his quarterbacks.
76. Lloyd's quarterback this year is Tom Brady. And his offensive coordinator is Josh McDaniels.
77. A.J. Green was fourth in the NFL last season with 12 receptions of at least 30 yards.
78. Of Green's 19 end zone targets, he caught only five (26 percent).
79. If his rate went up to, say, just 53 percent of caught end zone balls, Green would have finished with at least 174 fantasy points, seventh most and two more than Roddy White.
80. Roddy White led the NFL last season in third-down receptions for a first down.
81. The second-most third-down catches for a first down? Antonio Brown.
82. Starting with his Week 7 breakout game against Arizona (seven catches, 102 yards), Brown was 12th in the NFL in targets and tied for 17th in receptions, and he had the eighth-most receiving yards.
83. Over that same time frame, Mike Wallace was tied for 40th in targets, tied for 44th in receptions and 32nd in receiving yards.
84. Wallace did have more touchdowns than Brown over that time frame.
85. Four touchdowns to two.
86. Wallace is going, on average, four to five rounds ahead of Brown.
87. Last season, Torrey Smith was targeted at least 30 yards downfield 20 times. He caught just five of those balls, with two touchdowns.
88. Smith dropped only one pass (5 percent of targets, better than Calvin Johnson, Hakeem Nicks and DeSean Jackson).
89. Joe Flacco had 18 overthrows on deep balls.
90. From 2008 to 2010, Flacco averaged just nine overthrows, and he had just six in 2010.
91. The Packers wideout with the best receptions-per-target percentage last year: Randall Cobb.
92. Cobb caught 25 of his 31 targets (80.6 percent) and led Packers receivers with 7.5 yards after the catch.
93. He's currently going outside the top 160.
94. Since 2008, only Drew Brees has thrown more balls and completed more passes to a tight end than Peyton Manning.
95. Manning's 71.8 percent completion rate to tight ends is second among quarterbacks with at least 200 attempts to tight ends.
96. Jacob Tamme, Manning's former teammate in Indianapolis, is now on the Broncos.
97. Among tight ends, Rob Gronkowski and Jimmy Graham were tied for first in end zone targets last season with 17. Third in the NFL with 15 end zone targets? Brandon Pettigrew.
98. Pettigrew dropped only one pass in the end zone, the same as Gronkowski, Graham and Jermichael Finley.
99. Had Pettigrew had the average completion percentage for a tight end in the end zone, that alone would have made him the eighth-best fantasy tight end last year.
100. Only Jimmy Graham had more games last season with five or more catches than...Tony Gonzalez.
Matthew Berry is the handsomest, kindest, smartest man in the world (according to his wife). Another good rule about "facts": Check the source.
CHECK OUT THE MAG'S POSITION PREVIEWS BELOW

IS THE ELITE CLUB WELCOMING A FEW NEW MEMBERS?
Christopher Harris VS. Tim Hasselbeck
A fantasy guru matches wits with a former NFL QB -- and enlightenment ensues.
CH: Last year, eight of the top 10 fantasy points producers were QBs. How early can you take a quarterback, given the volatility of the other positions?
TH: With the way the NFL rules are now set up, it's not unusual for someone to complete close to 70 percent of his passes and throw 40 times a game. And then you have a guy like Cam Newton, who might be the best goal-line running back in the NFL.
CH: So how many should go in the first round?
TH: Two, maybe three.
CH: I'd go with three. Rodgers, then Brady, then Brees.
TH: What about Cam? His rushing touchdowns are amazing. Until someone says, "This is going away," he could be more valuable than Brady and possibly Brees. You might get 40 touchdowns from Cam, with 15 coming from rushes. That's more valuable.
CH: So Cam is the big question. No quarterback who has run for more than eight touchdowns in a season has ever run for eight or more the next season.
TH: Yeah, but those quarterbacks didn't have the designed runs like Cam. Carolina's best play when it gets to the goal line is a run-pass option.
CH: I'm not too worried about Sean Payton's absence. Are you?
TH: It bothers me. Last year, Brees wanted those records and Payton wanted those records as much as anybody. They're throwing the ball when they have no business throwing. Now it's a different situation.
CH: What about Peyton Manning?
TH: I just think there are so many guys who are good with less risk. I'd rather just take Philip Rivers or Tony Romo.
CH: If you don't get Rodgers, Brady, Brees, Newton or Stafford, I think you should just wait.

---
KC JOYNER'S COUNTERINTELLIGENCE: DON'T DRAFT MICHAEL VICK EARLY
Vick was third in the NFL last season in QB rushing yards (behind Cam Newton and Tim Tebow) while playing just 13 games. But if you prorate his points over 16 games, he's still not a top-five QB. That's because Vick is not close to the 600-pass-attempt threshold that separates elite QBs from the rest. (Exceptions to the rule: Newton, whose rushing TDs are planned plays, and Aaron Rodgers, whose 502 attempts were goosed by an unreal 9.25 yap.)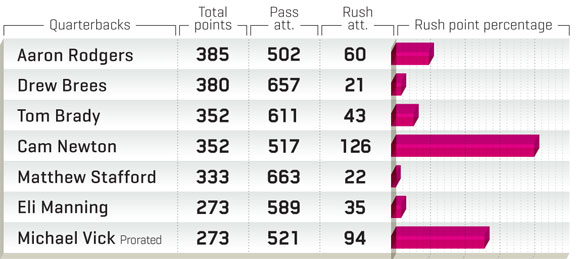 ---
TURF WARS
Christopher Harris breaks down this season's top QB battles.
Mark Sanchez vs. Tim Tebow (Jets): This is not what Sanchez needed. He'll start Week 1, but if the Jets get off to a slow start, fans and the inevitable media maelstrom will beg for Tebow Time. And for fantasy, Tebow would be the more attractive starter because of his potential for rushing scores and yards.
Matt Flynn vs. Tarvaris Jackson (Seahawks): Despite learning the QB art from Aaron Rodgers, Flynn is still almost totally untested. Meanwhile, Jackson has the arm strength and the athleticism advantage in this battle. But Flynn signed for $10 million guaranteed this winter, which makes him the favorite.
Matt Hasselbeck vs. Jake Locker (Titans): Hasselbeck had a great start to 2011, then faded in October. Locker has major accuracy questions. The winner will have fantasy weapons in hand, but this true training camp battle really is too close to call.
Blaine Gabbert vs. Chad Henne (Jaguars): Yuck. Gabbert needs a huge second-year leap to maximize Justin Blackmon and Laurent Robinson. He'll still start, if only because Henne has yet to throw more TDs than INTs in any of his four seasons.
Kevin Kolb vs. John Skelton (Cardinals): Arizona needs to prove its O-line is fixed before you think about investing here.
---
INJURIES ATWITTER
Stephania Bell's QB intel in 140 characters or fewer.

WHERE HAVE ALL THE GREAT RUSHERS GONE?
Christopher Harris VS. Tim Hasselbeck
CH: I think this might be the worst year ever for fantasy running backs. There are so few guys you can trust.
TH: I'd trust Arian Foster, LeSean McCoy, Ray Rice. Those are the big three. But I'd also believe in MJD and Matt Forte. Forte is as complete a back as there is in the NFL. There's separation after the first three and then again after the top five.
CH: Forte is not a good goal-line back. I'd rather have Ryan Mathews.
TH: Don't forget that Mike Tice is calling plays now. That will be a very good thing for Forte. He will run more.
CH: Do you see Chris Johnson bouncing back? People who had him last season were burned.
TH: I can't imagine it can possibly be as bad as it was last year, when he was talked about as the No. 1 overall pick. He's healthy and has been part of the offseason program. Plus, he's bruised by the embarrassment of how bad last season went. Most of all, he plays for a team that wants to run the ball.
CH: How good is Trent Richardson? Is he the next Adrian Peterson?
TH: No. He's a really good player who will touch the ball a lot, but you have to look at that team, where they are up front, what they are defensively and the other defenses in that division. When are they going to be winning and running the ball? They'll be running for three quarters, not four.
CH: What should people do about Jamaal Charles and Peterson, two stars with torn ACLs? I don't think they should be grouped together, because their injuries came at different times.
TH: I'm skeptical of these guys. Delay your draft any way possible. Have a family wedding. Get more information.

---
KC JOYNER'S COUNTERINTELLIGENCE: DRAFT TRENT RICHARDSON
Afraid to pick the Crimson Tide wunderkind because the Browns were next to last in 2011 with just 3.7 ypc? Don't be. These four running backs had impressive fantasy numbers last season behind terrible blocking.
* Good blocking rate (GBR): The percentage of running plays in which the offense doesn't allow the defense to do anything to disrupt the rush attempt.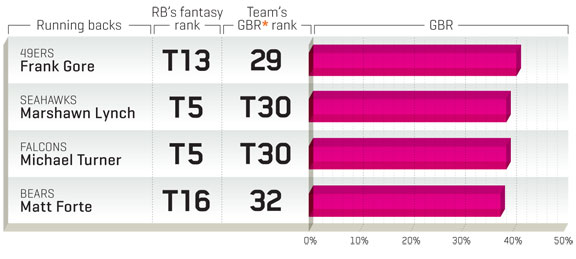 ---
TURF WARS
Christopher Harris breaks down this season's top RB battles.
Fred Jackson vs. C.J. Spiller (Bills): It's tough to imagine Spiller seeing only 3.1 offensive touches per game this year, as he did in 2011 before Jackson got hurt. Jackson could wind up being severely overdrafted in fantasy leagues as a result.
Roy Helu vs. Tim Hightower (Redskins): Don't be shocked if Hightower winds up starting games for flaky Mike Shanahan. Helu is another player who will be overdrafted this summer.
Jahvid Best vs. Kevin Smith vs. Mikel Leshoure (Lions): Detroit will baby the oft-injured Best, which means Smith and Leshoure (once his suspension ends after Week 2) will create a frustrating rotation.
Jonathan Stewart vs. DeAngelo Williams (Panthers): Another year, another fantasy mess in Carolina. But Cam Newton gets so many rushing TDs, there's no urgency to start either Stewart or Williams.
Stevan Ridley vs. Shane Vereen (Patriots): The Pats mess with fantasy owners. Ridley is the favorite for goal-line work, but you never know how New England will use these guys from week to week.
Doug Martin vs. LeGarrette Blount (Buccaneers): Blount fizzled as a starter in 2011, but the Bucs won't give the rookie Martin a pure starting role either. Expect a split of early-down work in Tampa.

---
INJURIES ATWITTER
Stephania Bell's RB intel in 140 characters or fewer.

MEGATRON AND EVERYBODY ELSE
Christopher Harris VS. Tim Hasselbeck
CH: So it's Calvin Johnson and a bunch of guys.
TH: We have to put Larry Fitzgerald up there too.
CH: True, but only if he had Matthew Stafford throwing to him.
TH: That will sort itself out. Fitzgerald had 80 catches with terrible QB play by John Skelton and Kevin Kolb. One of these guys has to play better.
CH: That's my concern. He won't repeat that with the same bad quarterbacks.
TH: I think the situation will improve, and then he'll be even better.
CH: Maybe, but Johnson and Fitzgerald are definitely the top two. There are great receivers after them, but there isn't much difference. Why reach?
TH: I think you may see almost half of the first 50 picks be receivers.
CH: I agree there will be a lot taken in the top 50 but not so many in the top 20. You don't need to take a guy like Greg Jennings that early.
TH: You're going to be playing three of them, since most likely you'll be flexing a receiver.
CH: Two guys I'm worried about are Victor Cruz and Jordy Nelson. I'm just not sure if those big plays are repeatable.
TH: I'm not worried. I just think that's who Victor Cruz is, a big-play guy. And Aaron Rodgers always gave Nelson that signal to go when he saw press coverage. Nelson never lost. It was crazy. And he'll play more with Driver getting less time.
CH: Do you have any sleeper receivers? It happens every year.
TH: Denarius Moore is a guy I'm excited about. He's so fast. And he can track the ball. There is so much upside.
CH: I love Titus Young opposite Johnson in Detroit. I can see him being a top-15 fantasy receiver.
---
KC JOYNER'S COUNTERINTELLIGENCE: DON'T SHOOT FOR TARGETS
Bulk chances may be the most important stat for picking running backs and QBs. But when it comes to wide receivers, target totals often deceive. Don't believe us? In each of the following cases, the players with the fewer targets scored more fantasy points last season.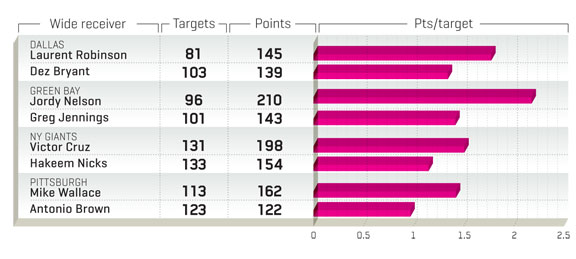 ---
TURF WARS
Christopher Harris breaks down this season's top WR battles.

Michael Crabtree vs. Mario Manningham vs. Randy Moss (49ers): Crabtree's familiarity makes him the safest, but who drafts for safe? Manningham and Moss are deep threats for a QB who doesn't throw deep. Don't bother drafting anyone out of this troika.
Robert Meachem vs. Malcom Floyd (Chargers): With Vincent Jackson in Tampa, Philip Rivers needs a new No. 1 WR. Both Meachem and Floyd offer a size-speed package. Meachem has missed only two games in four years; Floyd has played a complete slate only once in seven seasons. I'd take Meachem.
Titus Young vs. Nate Burleson (Lions): Detroit uses three-receiver sets a ton, so this fight is over targets. Last year, Burleson had 110 looks, Young 84. Expect those numbers to flip-flop. Go with Young.
Rueben Randle vs. Jerrel Jernigan vs. Ramses Barden vs. Domenik Hixon (Giants): Victor Cruz proved the Giants' No. 3 job can become a launching pad for fantasy value. Randle, a rookie with 4.5 speed, has a great shot to step in for Manningham.
Brian Quick vs. Chris Givens vs. Danario Alexander vs. Steve Smith vs. Greg Salas vs. Danny Amendola (Rams): Sam Bradford has to produce a fantasy-relevant receiver eventually, doesn't he? Quick, a rookie from App State, has big-play potential and should be the best fantasy draftee, but Amendola will amass more catches.
---
INJURIES ATWITTER
Stephania Bell's WR intel in 140 characters or fewer.

WHEN DO THE TIGHT ENDS GO?
Christopher Harris VS. Tim Hasselbeck
CH: Rob Gronkowski and Jimmy Graham had the two greatest tight end seasons ever, for fantasy or otherwise. But I don't think they should be first-round draft picks.
TH: They're off the chart. These guys have a unique skill set. They are both so big and still so athletic and strong. Patriots trainers would have to cut off Gronk's leg to keep him from playing. The matchups they create have become a huge problem that opposing coaches haven't figured out how to deal with. How do you stop Jimmy Graham when the Saints isolate him? You can't send a linebacker. You can't send a safety; he's too athletic. You can't do it with a corner because he's too strong and long.
CH: Yeah, but do you think they're first-round picks?
TH: If you're sitting there and the quarterback you like and the receiver you like and the running back you like are all gone, then going for Jimmy Graham is not horrible.
CH: I generally don't take a backup tight end no matter what. Free agent tight ends will be okay if Tony Gonzalez gets hurt.
TH: This idea about flexing tight ends, it sounds great. But if you take the 40th receiver, he'll probably get 100 points. The 10th fantasy tight end is going to have 100 fantasy points.
CH: Exactly, so the top 15 TEs aren't available, that's okay. No. 16 is Kellen Winslow. No. 17 is Martellus Bennett. If you get one of the top 12, you're not carrying another one. No question about it.
TH: Yeah, but people now will start to own two.
CH: With Gronkowski and Graham being so much better than the baseline tight end, maybe we can justify second or third round. But if you don't get one of those two guys, wait. They're all the same.
TH: Yeah, if you have Jermichael Finley or Vernon Davis, who cares?
---
KC JOYNER'S COUNTERINTELLIGENCE: GRONK HAS DEEP ISSUES
Think twice before passing up a top-five wideout for Gronk. Last year, the lockout toned down blitz packages, but teams now have a full summer to perfect schemes to exploit one hole in Gronkowski's game. While he was the NFL's top TE on short routes, he stumbled the farther he went downfield.

---
TURF WARS
Christopher Harris breaks down this season's top TE battles.

Jacob Tamme vs. Joel Dreessen (Broncos): Because Tamme is familiar with Peyton Manning from their Colts days, he figures to be the favorite target here. But Denver could use many two-TE sets, and remember Dreessen previously made a living vulturing value from Owen Daniels in Houston.
Rob Gronkowski vs. Aaron Hernandez (Patriots): Obviously, Gronkowski turned in the greatest fantasy season a tight end ever had last year, but Hernandez ain't chopped liver. If Gronk's ankle injury lingers, Hernandez gets even more looks in the red zone.
Dallas Clark vs. Luke Stocker (Buccaneers): If Clark has anything left in his tank, he'll be the pass catcher in the Tampa offense while Stocker focuses more on blocking and developing as a receiver. I'm not convinced that Clark is ready to leap back to fantasy relevance.
Zach Miller vs. Kellen Winslow (Seahawks): Miller didn't do much in 2011 when he was the unquestioned starter. Now K2 is on the depth chart too? Yikes.
Ed Dickson vs. Dennis Pitta (Ravens): Dickson's overall numbers from 2011 look better than Pitta's. But late in the season and especially in the playoffs, Pitta began to nose ahead. He has an edge in an annoying split on a team that will go two-TE a bunch.
---
INJURIES ATWITTER
Stephania Bell's TE intel in 140 characters or fewer.
Follow The Mag on Twitter (@ESPNmag) and like us on Facebook.
---