Tuesday, August 21, 2012
Updated: August 30, 9:32 AM ET
Uni Watch Power Rankings (76-100)

---
By Paul Lukas
ESPN Playbook



Welcome to Day 2 of the Uni Watch Power Rankings, as we continue our worst-to-first evaluations of all 122 uniform sets in the NFL, MLB, NBA and NHL. (If you missed Day 1, you can see some of the ground rules and parameters we're using here.)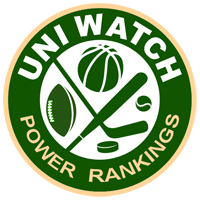 One thing that became apparent while compiling this project is that the current state of uniform design isn't all that terrible. With 122 teams in the mix, you'd expect the tipping point from bad to good to be at No. 65 or so. But the actual good-to-bad dividing line turned out to be in the mid-80s -- which happens to be part of today's installment. So even though we're still in lower portion of the chart, quite a few of the designs being assessed today aren't that bad.
Remember, you can click on each team's name to see its current uniform set, and we invite you to post your feedback in the comments or on Twitter, using the hashtag #UniRank. See you back here Wednesday.
---
Uni Watch Power Rankings 2012:
Nos. 101-122 | Nos. 76-100 | Nos. 51-75 | Nos. 26-50 | Nos. 1-25
Rankings by sport: MLB | NBA | NHL | NFL
Create your own rankings: MLB | NBA | NHL | NFL | Best in all of pro sports
What makes a great uniform? MLB | NBA | NHL | NFL | Lukas chat wrap
(Special thanks to Michael Barreras, Jared Hartung, Mark Meeks and Zack Tanner for their photo research assistance.)
Paul Lukas will never look at the number 122 the same way again. If you liked the Uni Watch Power Rankings, you'll probably like his daily Uni Watch web site, plus you can follow him on Twitter and Facebook. Want to learn about his Uni Watch Membership Program, be added to his mailing list so you'll always know when a new column has been posted, or just ask him a question? Contact him here.
---