Tuesday, February 19, 2013
Updated: February 22, 2:50 PM ET
Bracket Challenge

---
By ESPNLA 710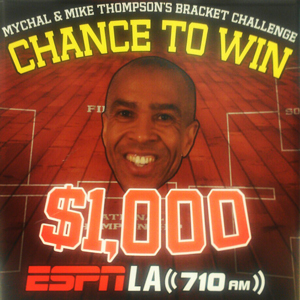 Enter the ESPNLA Mychal & Mike Thompson's RV Bracket Challenge for your chance to compete against our own Mychal Thompson and win $1,000 cash!.
Passionate about college basketball? Tired of filling out your brackets just to receive high-fives from your co-workers for winning first place? Is the office pool not enough for you? Head to your nearest Mike Thompson's RV as you hit the road on your way to being $1,000 richer!
Just follow these steps for your chance to win:
1) Pick up and fill out an entry form at any of the following Mike Thompson's RV Super Stores
2) Entries onsite will be accepted from February 23, 2013, 12:00 a.m. PT to March 10, 2013, 5:59 p.m. PT.
3) Twenty contestants will be selected at random, combined from the four locations on or about March 12, 2013 and be notified via phone and email.
4) The selected contestants will compete with ESPNLA's Mychal Thompson in the ESPN Tournament Challenge Online Game. The contestant that earns the most points in the ESPN Tournament Challenge Online Game will win $1,000.
Mike Thompson RV is the #1 RV Dealership in California serving you with the best brands, the friendliest staff, and the most convenient locations since 1972! For more info, visit Mike Thompson RV.
---