Wednesday, March 27, 2013
Can Chicago stop Miami's streak?

---
ESPN.com



That's 27 up, 27 down. Can the Miami Heat add to their historic winning streak? We break down tonight's Heat-Bulls showdown (8 p.m. ET, ESPN).



1. Fact or Fiction: Chicago would win the East with a healthy Derrick Rose.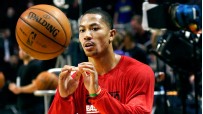 Dan Feldman, Piston Powered: Fiction. The Bulls might not win the East with a healthy, in-his-prime Michael Jordan. The Heat are on pace to win 66 games, a mark Jordan's title-winning teams met half the time. If a Jordan-led team is only about 50-50 to best these Heat, a Rose-led team hardly has a chance. Nick Friedell, ESPN Chicago: Fiction. The Bulls aren't as deep this year because they made the financial decision last summer to preserve potential cap flexibility down the line. The front office knows the Bulls need a second star to pair with Rose to beat Miami in the playoffs. Andrew Han, ClipperBlog: Fiction, but that isn't a knock on the Bulls or Derrick Rose. The past two years of Tom Thibodeau and Rose have yielded a Bulls win percentage of .756 and .758. And that was with a fully stocked Bench Mob. The Miami Heat's current win percentage? .800. Brett Koremenos, HoopSpeak: Fact. The Bulls actually had a higher point differential last season (when Rose missed 27 games) than the Heat do this season, despite their lengthy winning streak. That isn't to say Chicago would be a better team this season with a healthy Rose, just that Thibodeau tries to win at all costs during the regular season. That would give them the edge in securing the No. 1 seed in the East. Michael Wallace, Heat Index: Fiction. They've done it before when Rose was healthy for most of a season. But there's no way anyone was going to deny the Heat from reigning supreme and running away with the East this season. LeBron James, Dwyane Wade & Co. have been on a mission. Rose's Bulls would have been battling for second place, though.
---
2. Fact or Fiction: The streak previews what's to come in the playoffs.

Feldman: Fiction. Even Moses Malone's "Fo, Fo, Fo" 76ers went "Fo, Fi, Fo" -- and they played one fewer round than NBA Finals teams do today. Miami can keep playing great this postseason, but it's nearly impossible to win them all. If the Heat somehow do, though, we need to have a serious conversation about whether they're the best team of all time, ahead of the 72-10 Bulls. Friedell: Fact. The Heat are playing as well as they have since the Big Three united and LeBron James is far and away the best player in the world. That combination spells doom for everybody else. Han: Fact, only because the Heat reside in the Eastern Conference. Nineteen wins of Miami's current streak have come against East foes, six of whom are projected to make the playoffs (Brooklyn being the only projected playoff team to Euro-step a meeting with the Heat during the stretch). So where does the challenge come until the Finals? Koremenos: Fact. It's hard to see any team in the East coming close to challenging Miami in a playoff series. New York is faltering as it deals with a rash of injuries. Indiana could cause some matchup problems, but it has been wildly inconsistent at times. The only real challenge for the Heat will come when they reach the Finals, but even there they will still be a big favorite. Wallace: Fiction. I doubt the Heat will go 16-0 en route to defending their title. But this current streak offers a hint of how the Heat believe they are undeniable when they're locked in, especially on the defensive end of the court. There won't be any Bobcats, Cavaliers, Sixers, Wizards or Pistons to beat up on in the playoffs. But Miami's dominance is legit.
---
3. Fact or Fiction: Joakim Noah is the Defensive Player of the Year.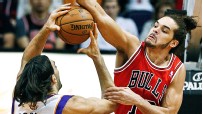 Feldman: Fact. His defensive-rebounding percentage, block percentage and steal percentage are each better than Marc Gasol's, although the Grizzlies allow fewer points per possession with Gasol playing than the Bulls do with Noah playing. The tiebreaker is Noah gives his team 2½ more minutes per game, because those extra defensive possessions can really make a difference. Friedell: Fact. Noah is the heartbeat of Tom Thibodeau's defensive system. He has elevated his game to an All-Star level this season and helped stabilize the Bulls without Rose on the floor. He plays 40 minutes a night and repeatedly changes shots. If he can fight off the plantar fasciitis and stay on the floor he should win the award. Han: Fiction. It's a close race, but Marc Gasol is the Defensive Player of the Year. Both Gasol and Noah do so much for their teams: calling out coverages, cleaning up rotational errors, locking down the paint. But Gasol is on the team with the better record and the better defensive efficiency (currently second to Chicago's sixth), so he has the edge. Koremenos: Fiction. He is certainly near the top, but it's hard to make a clear-cut case for him over Marc Gasol, Tim Duncan or Kevin Garnett. The Bulls' big man's agility, motor, rebounding and pick-and-roll coverage are top-notch, but those three players have their respective teams higher in defensive efficiency. Wallace: Fact. What Noah has done this season to keep the Bulls afloat amid Rose's absence has been nothing short of spectacular. Ranked among the leaders in rebounds and blocked shots, Noah gets the nod from me ahead of Larry Sanders and Avery Bradley.
---
4. Fact or Fiction: The Heat have no Achilles' heel.

Feldman: Fiction. The Heat have a big Achilles' heel: age. Miami is one of three teams with an average age, adjusted for minutes played, above 30. Just because Miami has so far avoided the injury problems of the league's other two above-30 teams, the Lakers and Knicks, doesn't mean the Heat will remain so fortunate. Dwyane Wade (31), Ray Allen (37), Shane Battier (34), Udonis Haslem (32), Mike Miller (33), Rashard Lewis (33), Joel Anthony (30) and Chris Andersen (34) are all at the age where the body increasingly struggles to keep up with the demands of NBA basketball. Also, let's not ignore that LeBron has played more minutes than any 28-year-old in NBA history. Friedell: Fact. Obviously, the Heat don't have a major advantage down low but they have enough talent to compensate for that. The only thing that could slow them down in the playoffs is the same thing that slowed down the Bulls last year -- injuries. All things being equal, I don't see any team beating James and the Heat in a seven-game series. Han: Fiction? A question mark exists because Miami was beatable once, a long time ago. But now they're near the top in almost every statistical category: half-court offense, transition offense, etc. No team is without flaw, but it'll take the best basketball minds to figure it out for this Heat team. Koremenos: Fiction. Every team has to worry about a key injury striking at an inopportune time. For the Heat, losing Chris Bosh for an extended stretch deeper in the playoffs -- particularly in the Finals -- would take them from being extraordinary to merely very good. That would be enough to stop them from winning another title. Wallace: Fiction. Miami does have a potential fatal weakness. But not many teams in this league are talented or tenacious enough to exploit it. Miami can be exploited in the paint by an aggressive big man. Efficient point guards who can shoot and penetrate also have had their way against Miami this season. There might be two teams that have both.
---
5. Fact or Fiction: The Bulls will stop the Heat's winning streak.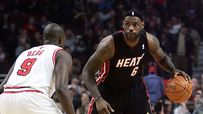 Feldman: Fiction. The Bulls have a better record (6-3) against the Heat in the Big Three era than any other team, but it would be foolish to bet against Miami in any game right now. The Heat want to win every game they play right now, and though the same could probably be said for a Tom Thibodeau team, Miami has a much higher ceiling when fully engaged. Friedell: Fiction. This game is going to be very close. The Bulls want to beat the Heat badly and already have beaten them once in Miami this season. But the Bulls are different now and may not even have Noah on the floor. The Bulls have plenty of heart, they just don't have enough offense to beat James & Co. right now. Han: Fiction. One of the biggest concerns for Miami during this run is simply summoning up the moxie to give a high level of energy nightly in the face of an entire league trying to stop them. That energy won't be an issue against Chicago, though, as the Bulls were the last team to defeat the Heat at home. And revenge is best served on a streak. Koremenos: Fact. I picked the Spurs in a recent 5-on-5 as the team to end the streak, but that was before Miami established the worrisome habit of checking out for the first half of games. If the Heat go down early to Chicago, it may be tough for them to grind out enough points to extend their streak to 28. Wallace: Fiction. Of course the Bulls are capable. They play hard and they defend as well as anyone in the league. But I'm just not convinced Chicago has the offensive punch to knock out the Heat with the game in the balance in the fourth quarter.



---