Monday, April 1, 2013
Bracket of Awesome: Title Game!

---
By Sarah Spain



After a week of awesomely tough battles, it all comes down to this: No. 11 seed Vegas Trip versus No. 2 seed Tropical Vacation for the Bracket of Awesome title.

The criminally mis-seeded Vegas Trip beat out Guy Who Plays Guitar, Date Night, Breakfast In Bed and Sunday Funday to earn a spot in the title game, while Tropical Vacation dispatched Lena Dunham, Beach Volleyball, Massage and Sleeping In en route to Monday's finale.

Which totally awesome escape will follow in the footsteps of last year's Bracket of Awesome champion, New Puppy? Will it be a fun-filled jaunt to Sin City for some gambling, dancing and drinking, or a sun-soaked getaway to a tropical locale?

The choice is yours, America. Choose awesomely.
Vegas Trip versus Tropical Vacation
---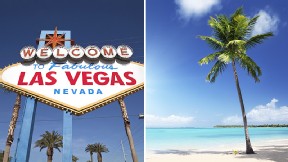 Leaving it all behind in Sin City, or sitting by the beach with a fruity drink?
---