Here is how it happens: An 8-year-old boy attends Cleveland Browns training camp with his father and watches -- mesmerized, really -- as the players hurry from station to station. The drills are as brisk and efficient as the man commanding them, head coach Paul Brown, for whom the team was named.
Thirty years later, after playing the game in high school and college, after refining his philosophy as an assistant with the Colts, Lions, Broncos and Giants, the kid's first NFL head-coaching job is (wait for it ...) in Cleveland with the Browns. At 39, Bill Belichick is the youngest coach in the league. Brisk and efficient -- he actually does an interview with ESPN while banging out a workout on the StairMaster -- are the tone and vibe in Belichick's first training camp in 1991.
Cincinnati Bengals owner Mike Brown, Paul's son, knows the connection -- because Belichick made it a point to explain it to him.
"He has said to me in recent years that over in New England, they pretty much do the same thing that he watched my father do many, many years ago," Mike Brown said.
Today, Belichick is arguably the best coach in the NFL. Many of his methods can be traced to Paul Brown, just like those of the man whose New York Giants beat his Patriots in their two recent Super Bowl matchups, Tom Coughlin.
Brown's Cleveland Browns teams won seven championships, four with the All-America Football Conference and three as an entry in the NFL. His combined regular-season record: 213-104-9 (.672).
As spectacular as those results were, it's fair to say Brown's influence on the coaches around him -- and the coaches they would one day influence -- was even more remarkable. Five of his former assistants or players -- Don Shula, Blanton Collier, Weeb Ewbank, Bill Walsh and Chuck Noll -- won a total of 13 championships.
Shula, who holds the NFL coaching record of 347 victories, played in a college system that was based on Brown's teachings. Then, fortuitously, he was signed out of John Carroll University by Brown himself in 1951.
"I was brought up on Paul Brown football," Shula said. "When I was drafted by the Browns, it was just a continuation of the same Paul Brown system."
The Browns lost in the NFL championship in both of Shula's two seasons in Cleveland. He was traded to the Baltimore Colts in 1953, and in 1954 his head coach became Ewbank, a college teammate of Brown's at Miami (Ohio) who preceded him as the team's starting quarterback. During World War II, Ewbank and Brown were reunited at Naval Station Great Lakes in Illinois, where they coached the football team together. Ewbank got his first professional coaching job from Brown with the Browns in 1949. Five years later, Colts owner Carroll Rosenbloom made Ewbank a professional head coach for the first time. He coached Shula for three seasons, and guided the Colts to the 1958 and '59 NFL titles. When Rosenbloom fired Ewbank after the 1962 season, he made another Brown disciple his head coach -- the 33-year-old Shula.
"My 33 years [as an NFL head coach]," Shula said, "that was pretty much from the Paul Brown playbook."
Brown was simply more organized and focused on detail than his peers. There was a time, back in the 1920s, when professional football was far less popular than college football. The late Giants owner Wellington Mara once said it was considered to be, believe it or not, the equivalent of professional wrestling.
Brown, perhaps more than any other coach, was responsible for putting the professional in football. He and his assistants made it a full-time job, a first in the game. His biggest innovations were practice routines that were broken down by position. Every phase of the game received individual attention. Every practice had an overarching theme and a set of opponent-specific goals that would, if executed properly, manifest themselves in the upcoming game.
Hall of Fame coach Sid Gillman once said, "I always felt before Paul Brown, coaches just rolled the ball out onto the field."
With growing concerns about head injuries today, NFL teams limit contact in practice. Similarly, Brown's practices were relatively brief -- he had read a book by a University of Illinois professor that said athletes had unusually short attention spans -- and involved little contact.
Brown, along with Gillman, was one of the first coaches to use game film to break down opponents. He created the draw play as a way to counteract a fierce pass rush, the trap play, too, and pioneered the idea of a taxi squad of spare players in case of injuries.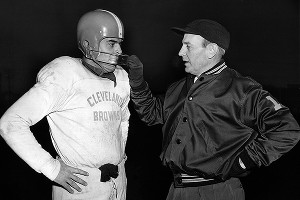 AP Photo Quarterback Otto Graham led Brown's teams to seven championships between 1946 and 1955.
In 1994, the NFL approved the use of a radio helmet to transmit play calls from the sideline to the quarterback. Thirty-eight years earlier, Brown and two Ohio inventors had collaborated on the first such model in 1956. It debuted during the exhibition season against the Detroit Lions, and Brown, who was regimented in his play calling, clandestinely radioed the calls in to quarterback George Ratterman. In the second game of the regular season, when the Pittsburgh Steelers were doing everything they could to destroy Ratterman's helmet and, not incidentally, his head -- league commissioner Bert Bell intervened, telling the Browns the only receiver they could employ was a wide receiver.
Sometimes Brown's innovations were based merely on common sense. In a 1953 game against the 49ers, Browns quarterback Otto Graham suffered a gash to the face that required 15 stitches. He was fitted with a large plastic face mask and returned to the game. Afterward, when he complained that it affected his vision of the field, Brown had a smaller version made.
"That's where the face mask came into pro football," Mike Brown said. "He learned from experience. He reacted to it, he did the sensible thing in many different areas and it made him a good coach."
Today, a number of active coaches beyond Belichick still benefit from Paul Brown's influence. Jeff Fisher, Mike Munchak, Jim Schwartz, Rex Ryan and Marc Trestman are all branches of the Paul Brown coaching tree.
The Browns won AAFC titles from 1946 to '49, but there were skeptics when they joined the NFL in 1950. In their first regular-season game, the Browns took on the reigning NFL champion Eagles -- and beat heavily favored Philadelphia 35-10.
"Thumped them," Mike Brown said. "After the game, Greasy Neale, the coach of the Eagles, said the Browns didn't really play football, that they played a form of basketball. All they did was pass and trap.
"Now we do wide-open football, but the Browns were early at it, ahead of their times, and that game was one my father was proud of. He had a niche. I think he knew that it was a significant one."
-- Greg Garber