Weeb Ewbank usually slides just under the radar in discussions about the NFL's greatest coaches. His Baltimore Colts and New York Jets produced a combined regular-season record of 130-129-7, barely a .500 winning percentage.
He didn't make ESPN's list of the 20 greatest coaches of all time -- our panel placed him at No. 23 overall -- but maybe he should have. Ewbank was on the sideline for two of the most important games in the history of the league. And his teams won them both.
Ewbank's Baltimore Colts took the breakthrough 1958 NFL Championship Game from the New York Giants in overtime, and a decade later his New York Jets stunned those same Colts in Super Bowl III.
"Those two games might have meant more to the league than any others," said Raymond Berry, a Hall of Fame wide receiver who played under Ewbank for eight seasons in Baltimore. "If you're going to talk about the greatest coaches in NFL history, when it's all said and done, if you pick just four or five to talk about, Weeb's got to be in that group."
Ewbank, who won another NFL title with the Colts in 1959, is the only coach to win championships in both the AFL and NFL.
Perhaps more than anything, Ewbank had exquisite timing. He played quarterback at Miami (Ohio) and his backup was Paul Brown, who would become one of the greatest coaches of all time. They were reunited during World War II when they coached the football team at Naval Station Great Lakes. Brown hired Ewbank to be an assistant on his Cleveland Browns staff prior to the 1950 season. Four years later, Ewbank parlayed that experience into his first job as a pro head coach, with the Baltimore Colts.
It's probably no coincidence that Don Shula played his first two professional seasons for Brown and later played for Ewbank's Colts.
"I got traded to the Baltimore Colts, and the coach there, Weeb Ewbank, was a Brown guy, too," Shula said. "My 33 years [as an NFL head coach], that was pretty much from the Paul Brown playbook."
This is significant because Shula went on to become the NFL's winningest coach, with 347 total victories.
Berry's father, a longtime high school coach in Texas, used to tell him, "Any fool can make coaching complicated." The key to Ewbank's coaching style, Berry explained, was keeping it simple and sound.
"That came directly from Paul Brown," Berry said from his home in Tennessee. "They had the exact same approach: Don't do too much, but what you do, execute it flawlessly. The system Weeb brought to Baltimore was the one they ran in Cleveland.
"The classic example of how powerful this approach was came in that 1958 championship game. The pass plays we had, there were no more than six different ones. Six! We just knew how to execute them against anything the defense did."
While Brown was famously zealous in calling the plays, Ewbank quickly recognized that quarterback Johnny Unitas was a uniquely intuitive player. Unitas called every play in that 1958 title game, and Ewbank was intelligent enough (and secure enough in his ego) to step aside and let him.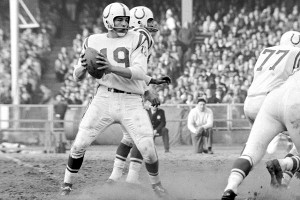 Kidwiler Collection/Diamond Images/Getty Images One of Ewbank's best decisions was to let Johnny Unitas call all the plays in the 1958 title game.
The combination of Unitas and his favorite receiver, Berry, brought the Colts back-to-back championships. Ewbank was fired after the 1962 season when the Colts went 7-7.
The AFL's Jets were happy to hire him the following season, though. To the roster of quarterbacks Ewbank had helped tutor -- Otto Graham, Unitas and even Joe Paterno at Brown University -- Joe Namath was added in '65.
In Super Bowl III -- the first ultimate game to bear that name -- the Jets were one of the biggest underdogs in history. The brash Namath had guaranteed victory before the game, but it was Ewbank's game plan that doomed the Colts at the Orange Bowl in Miami.
"If we run the football successfully," he told the Jets, "we'll win the game."
That's precisely what happened. Namath was the MVP, but he completed only 17 passes; the Jets ran the ball 43 times for 142 yards, including for their only touchdown, by Matt Snell. Three Jim Turner field goals helped give New York a 16-7 victory.
Another historic footnote: Earlier that year, Ewbank's Jets lost to the Oakland Raiders in the famous game in which NBC switched to the movie "Heidi" before the game was decided. The Jets were leading at the time of the switch, but Oakland scored two touchdowns in the final minute to win 43-32. The Jets came back to beat the Raiders 27-23 in the AFL Championship Game.
Ewbank, like Brown, never overworked his teams in practice. This was one of the elements Berry implemented when he became a head coach with the New England Patriots in 1984. He was the coach when the Patriots advanced to Super Bowl XX in New Orleans.
There is another underrated quality to Ewbank's coaching legacy. He had a sharp eye for discovering talent.
"In 1956, Johnny Unitas was a free agent in training camp," Berry remembered. "He had been cut by the Steelers. I was a 20th-round pick myself, and Weeb saw something in us when a lot of people would have sent us on our way."
As it turned out, Berry, Unitas and Ewbank himself were all on their way to the Pro Football Hall of Fame in Canton, Ohio.
-- Greg Garber