Sid Gillman coaching tree | Chuck Noll branch | Gillman coaching tree gallery

Tom Bass was an assistant to Don Coryell twice -- first at San Diego State in the early 1960s and then in the NFL in the 1980s.
He saw Coryell's evolution from small-college coach to conductor of the San Diego Chargers' dynamic "Air Coryell" offense. Yet over that long span -- from JFK to Ronald Reagan -- Bass says Coryell was the same guy, a man whose mind never stopped spinning with X's and O's or searching for mismatches to exploit.
"I remember one time when he came to me during the game and said, 'What do you think would happen if I moved a wide receiver in and lined him up as a tight end?'" recalls Bass. "And I said, 'Jeez, I don't know, Coach. I don't know if they'd bring the corner in or what.' He said, 'Well if they left the safety there we'd have a mismatch.' I said, 'You're right.' He did it and we scored a touchdown."
To those who played for him and coached with him, that was Coryell, one of the most innovative and influential coaches in pro football and the only coach to win 100 games in both college and the NFL.
"I always tell people that our greatest day of the week wasn't Sundays, it was Wednesdays when we would get the game plan and we would sit there and we would go, 'Yeah, well they can't stop that,'" said Hall of Fame quarterback Dan Fouts, now a CBS Sports analyst. "And, 'Shoot, they can't stop that one.' And, 'How are they going to stop this one?' We'd come out of the meetings a mile high because we knew we'd have success on Sunday."
Coryell, who died in 2010 at the age of 85, won everywhere he coached with an attitude many of his former assistants and players describe as "fearless," which isn't much of a surprise, considering Coryell's background as a boxer and World War II paratrooper.
At little Whittier College in California from 1957-59, Coryell went 22-5-1 and won three conference titles, first with the cutting-edge I-formation running attack and later with a wide-open, spread passing game. After moving on to USC as an assistant -- where he helped install the Trojans' version of the I -- he was hired as the head coach at San Diego State. He went 104-19-2 over 12 seasons with the nation's most sophisticated passing offense and an ability to improvise.
From there he took his offensive philosophy to the NFL's St. Louis Cardinals.
"I believe in a wide-open style of play," Coryell told the St. Louis media when he was hired. "I like to throw the ball. I believe in attacking the defense."
Soon, the previously hapless Cardinals won division championships in 1974 and '75. With quarterback Jim Hart, running back Terry Metcalf, receiver Mel Gray and tight end Jackie Smith, Coryell's Cardinals went 42-27-1 over five seasons.
When he returned to San Diego during the 1978 season to coach the Chargers, the offense took flight. Fouts, running back Chuck Muncie and a parade of brilliant receivers such as Charlie Joiner, John Jefferson, Wes Chandler and tight end Kellen Winslow prospered. The Chargers led the NFL in passing yards seven times in nine seasons. Five seasons they led the league in total yards. Though the Chargers never reached the Super Bowl under Coryell, they went 69-56 and reached the AFC Championship Game twice.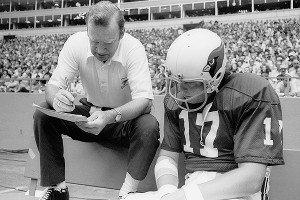 Herb Weitman/USA TODAY Sports Quarterback Jim Hart triggered Don Coryell's wide-open passing offense with the St. Louis Cardinals.
Coryell's impact on the game, however, went far beyond wins and losses or the teams he coached.
He changed the way the NFL game is played. His vertical passing schemes stretched the field and created space to open routes and create mismatches. His numbering system for receivers' patterns was simple, easy to learn and adopted as a standard. He was a pioneer of one-back, two-tight end sets after earlier being a champion of the I. His offenses used shifts and multiple formations and sometimes put the tight end outside and a wide receiver inside.
Coryell studied the schemes and ideas of passing game innovators such as Dutch Meyer of TCU (who wrote the book "Spread Formation Football" in 1952) and Rams and Chargers coach Sid Gillman -- then spun them through his own mind to create something new.
When Bass watches NFL pass offenses today, he sees Coryell's fingerprints. How much of it traces to Coryell?
"I'd say between he and Coach Gillman, about 100 percent," Bass says, laughing. "Because they took it to another level. Sid was not nearly where Don was as far as moving people around or using multiple wide receivers in the game, but that's where Don was so good, because he could just see that if we added a receiver here, it was going to create enormous problems for the defense. That's what he was thinking all the time."
Fouts said Coryell's goal was to force the defense to defend the entire field, "Not just the width of the field, but the length as well."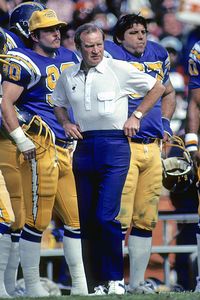 Al Messerschmidt/Getty Images The Chargers led the NFL in passing yards seven times under Coryell.
"To do that you had to threaten them deep every play," said Fouts. "And so not every play that we ran had a guy going deep, but I would say 90 percent of them did. And that was our first look. If you got it, you'd take it, regardless of down or distance or field position."
It was an offensive philosophy Coryell implemented at San Diego State, when he determined he could best compete with bigger programs by adopting a wide-open passing game. Brian Sipe led the nation in passing in 1971 under Coryell and went on to win an NFL MVP award during a 10-year pro career.
"I thought that the NFL was relatively conservative when I arrived, having played for Coach Coryell, and relatively easy, to be honest with you," says Sipe, who's now the quarterbacks coach at SDSU. "That was probably the main reason that I was able to get that foothold, having been a 13th-round draft pick … [because of] how I'd been prepared at San Diego State."
Coryell's assistants also recall a man whose approach was steeped in common sense. Bass said Coryell put a premium on receivers with great hands, even if they didn't have great 40 times. Ernie Zampese, a longtime NFL offensive coordinator who was with Coryell at SDSU and the Chargers, said Coryell had a talent for finding good coaches, putting them in positions to succeed and letting them do their jobs.
The list of assistants who worked with Coryell and later achieved notable success as head coaches or coordinators includes John Madden, Joe Gibbs, Jim Hanifan, Zampese, Rod Dowhower, Al Saunders, Bass and Jim L. Mora.
Coryell was the same way with his players, Zampese said.
"Don allowed people to do what they did well, as far as the offense," he says. "If you could run fast, catch the ball and be a great receiver, then he was going to let you do that. He wasn't going to hamstring you because he didn't like to throw the ball to the tight end. … He allowed them to be as good as they could be doing what they did best."
Fouts is in the Pro Football Hall of Fame. So are Madden and Gibbs and Joiner and Winslow. Not in is Coryell, the man who launched or molded their careers.
Said Madden at Coryell's memorial service in 2010: "You know, I'm sitting down there in front, and next to me is Joe Gibbs, and next to him is Dan Fouts, and the three of us are in the Hall of Fame because of Don Coryell. There's something missing."
-- Doug Williams