Sid Gillman coaching tree | Don Coryell branch | Gillman coaching tree gallery

The Pittsburgh Steelers beat the New England Patriots 24-3 on Dec. 9, 1990, at Three Rivers Stadium.
At first glance, it wasn't a notable game. Merril Hoge rushed for two touchdowns as the Steelers improved to 7-6 on the season, while the Pats' record dropped to a miserable 1-12. More interestingly, Chuck Noll won his 200th game as a head coach -- all with the Steelers.
Perhaps it was fitting that the milestone victory came against the Patriots, the franchise that passed him over for its head-coaching job in 1969.
It turns out that then-Patriots owner Billy Sullivan was considering two coaching candidates after the New York Jets defeated the Baltimore Colts in Super Bowl III. He selected Jets offensive coordinator Clive Rush off the staff of Weeb Ewbank, passing over Noll, defensive coordinator of the Colts under Don Shula. Sullivan later admitted he was worried about media reaction if he hired an assistant from the losing team, and soon after the Steelers hired Noll.
Rush went 5-16 with the Patriots and resigned halfway through the 1970 season.
Noll went on to become the only head coach to win four Super Bowls.
Looking back, it's not surprising Noll experienced such success. His NFL pedigree was impeccable, having served under legendary coaches Paul Brown, Sid Gillman and Shula. He played for seven seasons under Brown as a guard and linebacker with the Cleveland Browns. He cut his teeth in the coaching ranks as a defensive assistant under legendary innovator Gillman with the AFL's San Diego Chargers. Then he served as Shula's defensive coordinator with the Colts. Noll counted Tony Dungy and John Fox among his lieutenants over the years in Pittsburgh.
Few coaches were as organized as Noll. Coaching in the NFL isn't a 9-to-5 job, but Noll was efficient enough to make his schedule manageable. He'd drive to the Steelers' office in the morning and would leave in time to have dinner at a normal time with his wife.
There was no sleeping in the office. There were no ridiculously long meetings. Noll even told his assistants to get their work done in time to get home and spend time with their families. Yet Noll and his staff had perhaps the best prepared team in football.
Noll came to Pittsburgh with a mission. His focus in building a winning organization was as sharp as his game preparation skills. With the help of a talented scouting department, Noll built one of the greatest dynasties in NFL history.
From the moment Noll took the reins of the Steelers, he showed his maturity and patience in trying to build a winner. With a defensive background and some of the top assistants in football, Noll built the famed Steel Curtain defense around stalwart defensive tackle Mean Joe Greene.
Bud Carson was Noll's first defensive coordinator. Together, Carson and Noll came up with a plan in which Greene would angle his body in front of the center to give him the ability to beat the center or a guard on either side. This unique 4-3 alignment helped Greene become one of the dominating forces in his era.
Noll was a tremendous teacher, and his players displayed sound technique. Offensive linemen were smaller and more athletic. Linebackers were playmakers. Noll drafted physical and skilled players. The Steelers' 1974 draft -- in which the team selected future Hall of Famers Lynn Swann, Jack Lambert, John Stallworth and Mike Webster -- is widely hailed as the best in NFL history.
As the Steel Curtain got older, Noll shifted the Steelers into a more offensive, big-play team with Terry Bradshaw at quarterback and switched to a 3-4 defense.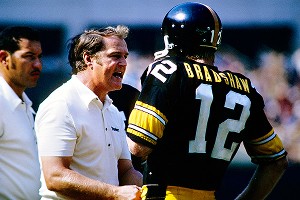 Malcolm Emmons/USA TODAY Sports Chuck Noll relied on quarterback Terry Bradshaw more and more as the Steel Curtain defense aged.
Despite being one of the greatest coaches in NFL history, Noll never tried to cash in nationally. He had a personal policy of not doing commercials, although he did a small local ad for a friend. That happened only once.
Noll is a humble man, and unlike many coaches who operate in secrecy and try to control how players act and talk, he kept practices open to the media and let his players speak their minds.
When the Steelers played in their first Super Bowl, in January 1975 in New Orleans, he told his players to enjoy Bourbon Street early in the week and get the partying out of their system. There were no curfews early in the week. Noll's teams were loose and confident and played their best in big games.
Despite his tremendous success, Noll was a well-rounded man who wasn't wholly consumed by football.
He typically set aside 15 to 30 minutes on Fridays for the media during the regular season to provide insight on the week. But football was sometimes a secondary topic. Noll would speak about weather patterns in Pittsburgh, explaining at length how the lake effect influenced the weather in western Pennsylvania and parts of New York. Often, Noll would discuss interesting things he learned from a local NPR station while he was driving to work. Any question about fine wine was answered with enthusiasm and in-depth reviews.
When the conversation got around to football questions, answers were quicker and to the point. Reporters wanted injury updates and background on how players were developing or being used. Those questions weren't much of a challenge. Football was Noll's specialty, but he was more than a coach. He realized there was more to life than just the game.
Games and practices allowed those who covered the team the chance to learn about Noll the coach. Those Fridays in his office gave them the chance to know Noll the person.
-- John Clayton