In his 70s and 80s, George Halas still lifted weights and rode a stationary bike in his office, swished his one and only shot at the grandkids' backyard hoop from a concrete landing five steps up from the court and a good 25 feet away and even took an at-bat during one memorable whiffle ball game.
"I didn't know at the time but he was a switch-hitter with the Yankees, and I remember when he got up, he batted lefty," said Chicago Bears chairman George McCaskey, one of Halas' 13 grandchildren. "And on the first pitch, he took a strong swing and lashed one to the outfield. I can't remember if someone ran for him or he ran himself, but even when he got older, he still had a fire in his belly and a glint in his eyes."
The Halas legacy, 30 years following his death at 88 from cancer, varies depending on whom you talk to, but it is no less dominant or enduring.
"Very simply, George Halas is the father of the NFL, no matter how you cut it," said Mike Ditka, the Hall of Fame tight end who played on Halas' 1963 world champion Bears and later was hired by Halas as head coach. "He persevered in bad times and made pro football where it is today with the first television contracts, robbing Peter to pay Paul in the beginning.
"There were obviously others, but he's the reason, I believe, that the NFL turned out to be what it is today. I think he was the foundation of everything."
Halas simply played the role of grandfather to the kids, said McCaskey, whose mother was one of two Halas children (son George Jr., nicknamed "Mugs," was the Bears' president when he died in 1979 at age 54).
"But he had such a dynamic presence," McCaskey said. "He was one of those guys who as soon as he walked through the door you knew he was there."
Halas' life story has almost mythical qualities. At age 20, as a part-time employee at Western Electric in Chicago, he was invited to take a day trip on the SS Eastland for what was to be a picnic in Michigan City, Ind. Halas was late to the dock and missed the capsizing of the Eastland, which killed 844 passengers and crew in the largest loss of life from a single shipwreck on the Great Lakes.
"He referred to it often," McCaskey said. "He talked about how lucky and how blessed he was."
A civil engineering major and football and baseball standout at the University of Illinois, Halas played briefly for the New York Yankees before an injury ended his career. He was a Navy ensign in 1918, serving during World War I, returned to duty in 1942 and was awarded the Bronze Star for his overseas service during World War II.
But it was a job with A.E. Staley -- a starch manufacturer in Decatur, Ill., for whom he was a sales rep and member of the company baseball and football teams -- that would spur his lifelong passion. A 1920 meeting at Ralph Hay's Hupmobile showroom in Canton, Ohio, in which Halas represented the Decatur Staleys as player/coach, gave birth to the American Professional Football Association, which became the National Football League in 1922.
Halas became the team's owner early on before moving it to Chicago in 1921 and renaming it the Bears the following year. Halas played until 1928, once returning a fumble by Jim Thorpe of the Oorang Indians 98 yards for a touchdown and setting an NFL record that would stand for 49 years. But he would receive his greatest recognition for his 40 years of coaching. He won six league championships and racked up 324 career wins before retiring from coaching on May 27, 1968, at 73.
Halas was credited with helping Clark Shaughnessy develop the T-formation, which set a man in motion for the first time, laying the foundation for today's wide-open offenses. He also popularized daily practices and introduced radio broadcasts and PA systems to the game. But it was always more about what he helped implement than what he created.
"[Halas] was signing all the best players, but in [the 1930s] he recognized the NFL needed to have a player draft," said Don Pierson, who covered the Bears and the NFL for the Chicago Tribune for more than 30 years beginning in 1969. "That was the thing about Halas. He was so powerful, and with the Bears in a big market and his background, even if it was not his idea, he had to agree with things in order for them to happen.
"[The draft] may have been [Philadelphia Eagles co-owner] Bert Bell's idea, but if Halas hadn't gone along, it wouldn't have happened. It was the same thing with sharing television revenue. It may not have been his idea initially, but they had to get him on board. He just as well could have torpedoed the league by going his own way."
McCaskey agreed, saying that while his grandfather's vision is one of his greatest gifts to the league -- "I don't know that he could have anticipated pro football would become what it is today, but he knew he had something; he just had to get America to pay attention to it." -- it was his wisdom that has the most lasting impact.
"[The NFL] is still benefiting from his determination to put the league first," he said. "He felt very strongly that what was good for the league was good for the Bears, and sometimes that meant casting a vote or backing a plan that was not necessarily in the best interest of the Bears short term but would benefit the league long term."
While the Bears and Packers have continued one of the longest and fiercest of NFL rivalries, Halas' support of Green Bay over the years was essential to keeping the franchise going. He traveled there to encourage voters to approve a 1956 referendum to build a new stadium.
"My grandfather said the NFL is like a wheel," said McCaskey's older brother Pat, who serves on the Bears' board of directors and is the author of two books on Halas. "The league is the outer rim and the teams are the spokes, and if you have a weak spoke, you have a weak wheel."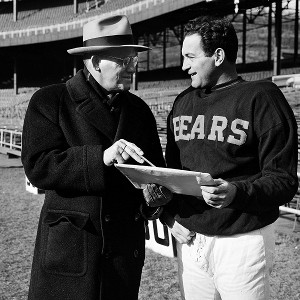 AP Photo Three of George Halas' six championships came with Sid Luckman as his quarterback.
Halas' reputation for prudent spending is still legendary after Ditka famously said the man they called Papa Bear "threw nickels around like they were manhole covers."
"That was a joke," said Ditka, who coached the Bears to a Super Bowl championship two years after Halas' death. "He was frugal or whatever you want to call it, but if he hadn't been, the league wouldn't have worked. He had to do it the way he did it."
"You hear his former players talk," said George McCaskey, "and they say he was a tough negotiator. But they will also say if you were ever in a jam he wouldn't hesitate to help you out and he was the first person they would turn to."
And those nickels he saved?
"They can now be thrown around like Frisbees -- very skillfully," joked Pat McCaskey.
Halas ran the Bears as its CEO until his death on Oct. 31, 1983, and Chicago's jerseys still bear his initials "GSH."
"When I was in the ticket office," said George McCaskey, "one of my favorite parts of the job was that people felt compelled to tell you how they got season tickets, and often it was, 'I was walking down the street and bumped into your grandfather and said, "Hey, Coach, how do I get season tickets?"' And my grandfather would say, 'Stop by my office and talk to my secretary.'
"They would tell me, 'That was 60 years ago, and the season tickets are still in my family.' But time after time, the thrust of the story was how approachable he was. For how prominent a person he was, that was one of his favorite things to do, talk to Bears fans."
--Melissa Isaacson