Mike Holmgren knew he had a good team in 1996. With an offense led by quarterback Brett Favre and a defense led by defensive end Reggie White, the Green Bay Packers breezed through the regular season, winning 13 games by an average of 21.3 points per game. In the playoffs, the Packers beat San Francisco by 21 points and then Carolina by 17.
And still, heading into the Super Bowl, where the Packers would face a New England Patriots team coached by the legendary Bill Parcells, Holmgren had this thought:
"Man, do belong here against this guy in this game?"
Holmgren belonged. He belonged because he was a master communicator, and because four seasons earlier, when he finally got the shot to be a head coach in the National Football League that he wasn't sure would ever come, he assembled a talented coaching staff that could effectively convey his message. Having learned the West Coast offense at the feet of the great San Francisco 49ers coach Bill Walsh, Holmgren was an innovative playcaller, a detail-oriented taskmaster, a straight shooter and a demanding leader.
Holmgren belonged because after endless meetings and countless grey hairs, he finally was able to "rein in," as he said, his young, risk-taking quarterback and get Favre to understand what it took to become a champion.
Holmgren more than belonged against a man he admired, and the Packers proved it on Jan. 26, 1997, when they beat the Patriots 35-21 to win Super Bowl XXXI. Holmgren got another shot a year later in Super Bowl XXXII against Denver with a team he felt was more talented, but he could not convince his players that the Broncos would be tough to beat. It is a game that haunts him still.
In 17 seasons as an NFL head coach, seven in Green Bay and 10 with the Seattle Seahawks, Holmgren's teams amassed a 161-111 regular-season record, a 13-11 postseason record, eight division titles and three NFC championships. He belongs in the discussion of the NFL's greatest coaches for a simple reason that Andy Reid, who was a part of Holmgren's original Green Bay staff, gave:
"I have a hard time believing anybody does it better than him," said Reid, who is entering his 15th season as an NFL head coach.
Holmgren's coaching career began at the high school level in his native San Francisco. He was the quarterbacks coach at BYU and worked with Steve Young for two seasons -- when Bill Walsh hired him in San Francisco in 1986. During his tenure as a 49ers assistant, Holmgren worked with Hall of Fame quarterbacks Joe Montana and Young. He became the offensive coordinator under George Seifert after Walsh's retirement.
In 1992, the Green Bay Packers hired Holmgren for his first head-coaching job at any level.
Holmgren took over a Green Bay team that had only two winning seasons in the previous 19 years and went 4-12 the year before his arrival. For years, he had given great thought about who he would hire for his coaching staff, and his initial staff became legendary: Jon Gruden, Steve Mariucci, Ray Rhodes, Dick Jauron and Reid, among others. Holmgren wanted teachers who understood the game and could communicate with players, because, as he said, "It doesn't matter how much I know; it's what I can get the player to do for me on the field."
That was never more true than with his quarterback. The Packers finished 9-7 in 1992, Holmgren's first season, and then made the playoffs with a 9-7 record in 1993, beating Detroit in a wild-card game and then losing to Dallas in a game in which Favre threw two touchdowns but also two interceptions.
Before the next season, Holmgren had what he called "a come to Jesus" meeting with Favre.
"Here's what I'd like to do," Holmgren told Favre. "We've got to get rid of these interceptions and play a little more controlled."
"Mike, that's how I play," Favre replied. "That's how I do things. And we got to the playoffs."
Holmgren knew Favre had a point.
"I hear you," Holmgren told Favre. "And you're right, but if you play like that, we're always going to be 9-7. We're always going to get to the playoffs, probably, and then lose. You don't want that. You want to be better than that."
Favre listened. The message resonated. About a year later, on a plane home from a game the Packers had won, Favre took the open seat next to Holmgren.
"You know what?" Favre said. "I got it."
"We became a very good football team after that," Holmgren said.
After seven seasons, three NFC Central division crowns and two Super Bowl appearances, Holmgren left what he calls the greatest coaching job in the NFL for a chance to have total control over all personnel decisions in Seattle. The Seahawks gave Holmgren an eight-year contract to be their head coach, executive vice president and general manager. Four years later in 2002, Seattle stripped Holmgren of the executive role. Two years after that, the Seahawks won their first of four consecutive division titles. In 2005, Seattle finished the regular season 13-3 and made the franchise's only Super Bowl appearance, losing to Pittsburgh.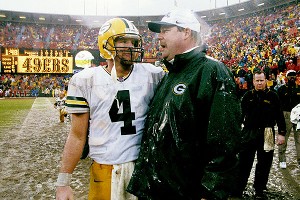 James V. Biever/Getty Images Mike Holmgren's Packers captured a pair of NFC championships with Brett Favre at quarterback.
Green Bay drafted Matt Hasselbeck in the sixth round in 1998, after the Packers' second consecutive Super Bowl appearance. Hasselbeck spent the first season on the practice squad.
"I never really knew if he knew my name," Hasselbeck said of Holmgren.
During a practice that season, rookie defensive end Vonnie Holliday ran over an offensive lineman and inadvertently hit Brett Favre. Holmgren went ballistic.
"'It's not like I don't have faith in Doug Pederson or Rick Mirer or uh, uh, uh,'" Hasselbeck remembered Holmgren saying. "He couldn't think of my name. Someone helped him. But he said, 'If No. 4 goes down, we're a .500 team at best. We're not going to wear pads, but we're going to learn how to protect the team and the quarterback.' I will never really forget that."
Nor will Hasselbeck forget how Holmgren mercilessly coached Andy Reid instead of Favre.
"He wouldn't yell at Brett," Hasselbeck said. "He would yell at Andy. It was an incredible motivational tool. A lot of times, the quarterback can handle someone yelling at him, and Brett could handle it. But when he would yell at Andy, it made you feel bad. You liked your position coach. And Mike would say, 'Andy, if Brett does that again, you're fired.'
"There's genius in that. He's a very charming guy, but on the football field he was as tough a coach as ever. As a quarterback practicing for him, the standard he set was so high and so difficult to attain that playing against a team on Sunday was no big deal."
Hasselbeck said he was shocked when Holmgren, then the coach of the Seahawks, traded for him in 2001. Of his 10 seasons in Seattle, Hasselbeck played eight for Holmgren. From 2003 to 2007, the Seahawks made five consecutive playoff appearances and reached Super Bowl XL, losing to Pittsburgh after the 2005 season.
"Probably the most beneficial piece of advice," Hasselbeck said, "and again, this is how he coaches, is he had this statement: 'Playing quarterback, you're not a blacksmith. You're an artist. It doesn't have to be a certain way. Throughout a game, you're painting a canvas.'
"I didn't understand it at first. He left the room, and I was like, 'What the heck did that mean?' I remember the moment when [Seahawks quarterbacks coach] Jim Zorn basically put it in words I could understand. He broke it down for me, again, the role of the position coach. It was like, oh. A light bulb went off. Watching cutups of [Joe] Montana or Favre or [Trent] Dilfer before me, you see them, this time they did that, this time they did something different. They're painting the canvas, and it doesn't have to be a certain way, and [Holmgren] was OK with that."
Holmgren was quick-witted and demanding as a coach, but there was more to him than just a man who was adamant that no one disturbed him in his office before a game.
"He was honest," Reid said. "He called it like he saw it. Very seldom did you go, 'What's he doing this for?' If you were on the side of the stick where you were getting ripped on, you kind of knew why. If you were being praised, you knew you deserved it."
Just like Holmgren knew, after winning Super Bowl XXXI, that he deserved it, too.
-- Ashley Fox