Kevin Arnovitz, TrueHoop: Overall, James, because whatever occurred in 2011, there's an inevitable sense he'll figure this out. Wade, on the other hand, is not healthy and, even worse, completely inattentive on the defensive end in half-court possessions. What's the definition of insanity? Doing the same thing over and over again and expecting a different outcome. Also known as Wade's weakside defense.
Sebastian Christensen, ESPN Deportes: Wade is clearly not healthy -- he has no legs in his midrange jumper and has thus far been limited to attacking the hoop. Not a bad thing, except he is not Flash anymore and is not finishing at the rim as he used to. LeBron has had a tough series, but he is still the best player in the court. If Wade were 70 percent healthy, the Heat would win these NBA Finals with more ease.
Kevin Pelton, ESPN Insider: Insider colleague Tom Haberstroh explained how Wade's inability to make plays off the dribble has allowed opponents to tilt their defense toward James' side of the floor, creating the packed paint he sees when he drives. So everything seems to start with Wade not being himself physically.
---
(Editor's note: This was published prior to Tony Parker announcing he will play in Game 4.)
Abbott: I'll be shocked if he doesn't play. Whether through professional commitment or raw grit, I have to believe he'll be out there. Meanwhile, I haven't seen the man's MRI and have no reason to doubt, but a muscle strain is the ultimate example of an injury that can be played up or down. By playing it up, just maybe the Spurs cost the Heat 20 minutes of game planning for the Parker-less Spurs, a lineup that would heavily feature the 3-point shooters who destroyed the Heat in Game 2.
Adande: It's tough because we don't know yet how the injury affects Parker. Will he be limited? Out entirely? The biggest change could be fewer open looks for the likes of Gary Neal and Danny Green if the Heat's defense doesn't have to dedicate as much attention to Parker.
Arnovitz: If Parker has to sit, Manu Ginobili will be the man on the spot and will have to carry the load as the Spurs get into their sets. The Spurs will have to calibrate their offense a bit -- not a whole lot, because the system can flourish irrespective of personnel. But we'd likely see fewer pick-and-rolls and, consequently, more selective pressure from the Heat.
Christensen: I expect Parker to play, and I don't expect him to be slowed down by the injury. But if he were to miss some time, it would be a devastating blow for the Spurs. Not only has Parker carried this team on his back all season, he is also the only true point guard on the roster. Ginobili handles the ball when Parker is not on the court, but the offense is not as fluid with him and he has a tendency to commit way more turnovers. No Parker, no title.
Pelton: Depends how close Parker can be to 100 percent. If he's only slightly limited, he's still capable of creating the same penetration that has broken down the Miami defense throughout the series. If he's badly hobbled, San Antonio would need Ginobili to fill that role, an uncertain proposition.
---
3. What's been most surprising about these Finals thus far?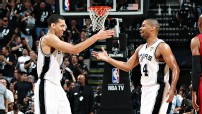 Abbott: San Antonio's high-risk, high-reward defensive scheme -- including packing the paint while leaving shooters open -- has been shockingly successful. The Heat are efficiency experts who prefer to take it to the rim. Without that option, they've been hesitant. But they still have plenty of ways to score.
Adande: That only one of the three games has been close. These are two deserving conference champions who have sound defensive principles, yet each team has been able to break free. Hopefully the rest of the series will be closer.
Arnovitz: How ineffective the Heat have been at making the Spurs move defensively, both in transition and in the half court. In the first half of Game 1, almost every Spurs miss resulted in a Heat ball handler bearing down on a backpedaling Spurs defense. It's hard to pack the paint when you're trying to pick up a locomotive in traffic. The Heat need to re-establish their tempo.
Christensen: The stars haven't been the main characters. Except for Parker's fourth quarter in Game 1, San Antonio's big three haven't been as important as Kawhi Leonard, Neal and Green. On the Heat's side, LeBron's triple-double was a quiet one, and Wade and Chris Bosh have been shadows of themselves. We knew these teams had depth, but we also expected more from their superstars.
Pelton: The back-to-back blowouts. Games 2 and 3 have been more lopsided than any games in either of the past two Finals. The great finish of Game 1 looked like the start of a series of close games. That may still prove to be the case, but surprisingly the past two have been anything but dramatic finishes.
---
4. What's the key to Game 4?
Abbott: Is LeBron ever going to take over?
Adande: Miami's Big Three. They are the very premise of the team, the foundation on which the Heat's championship hopes reside, and as Wade said, "It starts with us three. We have to do a better job of being that quote-unquote Big Three."
Arnovitz: The Heat have to find more creative ways to get James closer to the basket. For instance, LeBron needs to pick-and-post, something we saw only once or twice in Game 3. This strategy not only gets James inside but also drags the Spurs' defenders outside.
Christensen: The Heat shooters have to show up. The Spurs are going under screens and daring Miami's players to shoot. Why wouldn't they? LeBron and Wade have to start making their midrange jumpers, and the 3-point shooters have to show up. If that happens, spaces will open up, and the Heat would be able to be more aggressive. On the Spurs side, Tim Duncan has to be more aggressive when Udonis Haslem is not on him, and they have to keep the turnovers down.
Pelton: Is it as simple as which team gets more production from its role players, especially beyond the arc? It might be, not only because those shots are so important but also because open looks for role players also serve as an indicator that both offenses are working properly.
---
5. Who wins Game 4?
Abbott: The no-brainer pick is the Heat, and it makes sense. When they play ferociously, they are undefeated and they tend to get ferocious after losses. In the playoffs they have won big. But just for fun, I'll say the Spurs will win, which is really just an expression of belief in Gregg Popovich, home-court advantage and shooting ability.
Adande: Heat. We've come to another crossroads of LeBron's career. It's hard to believe he'd go out quietly right now in the prime of his career and at the peak of his powers. On the one hand, we keep having these make-or-break moments for LeBron. On the other hand, he must be doing something right if we keep having this discussion in June, if you know what I mean.
Arnovitz: Heat. Throughout the playoffs, the recent past for Miami has told us nothing about the immediate future. The Heat haven't lost consecutive games since the Ford administration. With that and Parker's injury in mind, Miami seems poised to bounce back.
Christensen: Heat. LeBron has said he will do whatever it takes to get it going, and although I highly respect Popovich, I wouldn't bet against the best player in the world. The Heat know this is practically a do-or-die game for them. They haven't lost consecutive games since Jan. 8 and 10, and they have shown the ability to bounce back from losses all season.
Pelton: Heat. Until proven otherwise, I'm going with the playoff-long trend that the Heat save their best basketball for the game after a loss. I think they win and turn the narrative of this series 180 degrees yet again.
---