It all comes down to this. Deadlocked at three games apiece, the Miami Heat and San Antonio Spurs play one more for the 2013 championship (9 p.m. ET, ABC). How will Game 7 go down? We ask seven of our star players seven questions on a big seventh game.
Gordian: Yes. Whether he's on the floor at the end of a close game is a different question, but for years he has been the emotional centerpiece of the Heat. He deserves to start. He has earned the faith of the fans and his teammates
Haberstroh: Yes. The plan should be to see how Wade's knee is feeling in the game and then go from there. Wade still has the potential to bust out a performance like in Games 4 and 5, but there's no margin for error Thursday. LeBron plays so much better with shooters, so the leash should be short. That won't be the easy move, but it may be smartest move.
Stein: I get the premise. I know there are numbers circulating to support the contention that both LeBron and D-Wade have more room to operate and are thus more dangerous when the other is sitting. But showing up Wade by benching him and messing with his mind before one of the two or three biggest games in franchise history? C'mon, man.
Wallace: Come on, really? Dwyane Wade is hurting, and in some stretches he's hurting the team. But Dwyane Wade is Dwyane Wade. He helps far more than he hurts. The Heat don't get here without him. Don't always buy into what the metrics say. Use common sense.
---
3. Should the Spurs start Manu Ginobili in Game 7?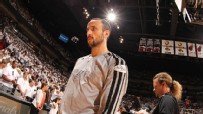 Abbott: No. The signature great coaching move of Game 5 was a dud in Game 6. The real reason I say "no," though, is because with so many reasons to feel strange in Game 7, normalcy has value. I bet he starts, though, because the last thing Spurs coach Gregg Popovich would do to a key player is send him out there with the deflation of demotion. Let Tiago Splitter deal with that.
Adande: Yes. As shaky as Ginobili was in overtime, there were some equally awful minutes with Tiago Splitter on the court earlier in the game. Game 7 might be a case where the start matters more than at any other point in this series. Whichever team can overcome the nerves and settle in the fastest could end up winning.
Christensen: Yes. Just as the Heat need Wade, the Spurs need Ginobili, especially with Tony Parker hampered by injury. Good news for San Antonio is it can't get much worse than last game for Manu.
Gordian: Yes. His best game came as a starter, and given the small lineup Miami is likely to roll out, Ginobili is the Spurs' best option. He needs to be both aggressive and humble if and when Pop shortens his leash.
Haberstroh: Sure. I'll say that the eight turnovers in Game 6 was an outlier, so I expect Ginobili to start and, more important, finish Game 7. But more important for the Spurs is whether Parker and Tim Duncan can gather enough energy to carry the offense; they're more integral to the Spurs' attack.
Stein: Yes. There's more of a case for the Spurs to make a change with Manu than Miami with Wade, but it's still a pretty bad idea. Why submarine Manu's confidence further when you need him to bounce back from the worst turnover game of his life?
Wallace: If Pop says so. At this stage, it's no longer about tweaks and major adjustments. It's Game 7 of the NBA Finals. It's about execution and effort. As LeBron said, one team knows the other team's plays and personnel to a fault. Manu doesn't have to be great for the Spurs to be effective. He just needs to be productive and confident.
---
4. Headband or no headband for LeBron?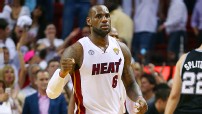 Abbott: It would be nice. Look, I'm nearsighted and sitting in the 300 level. Anything players can do to make it clear who's who is greatly appreciated. In Game 6 somebody asked me if Joel Anthony was in the game. No, no he wasn't. That was LeBron James. You can see the issue.
Adande: I'm going with what he jokingly said right before he met with the media yesterday: wear it, then ditch it if he gets off to a bad start. Every little thing to feel customary will help. The headband is too much of a habit at this point.
Christensen: I can't believe we are really talking about the headband. If I were LeBron I would wear it, just because his hairline is not an attractive one.
Gordian: He should absolutely wear the headband. It's an iconic look, and if he truly intends to raise another banner, he should do it looking however he'd prefer.
Haberstroh: No headband. This is personal for those of us in our late 20s fighting a receding hairline. Learn to embrace it, LeBron. It's who you are. Maybe I'm just a little bitter that I can't wear a headband to work without the bosses laughing at me.
Stein: Headband! If only so we can all obsess about whether he ditches the headband midstream if he gets off to another slow start. Drama!
Wallace: No. He was a different, more aggressive and desperate player in the fourth quarter and overtime after the headband was knocked off in Game 6. But just to get into his head and throw LeBron off his game, perhaps Boris Diaw should wear one when matched up with LeBron if it gives the Spurs any psychological edge.
---
---
5. What's the key to Game 7 for the Heat?
Abbott: The guy in the headband. Wish I had something more original to tell you. But it's LeBron's game to lose. And I'm not just talking about scoring. Undertold story of Game 6: James switched onto Tony Parker late. Parker virtually ceased to operate, and was on the bench for the last two plays of overtime looking exhausted. This is clearly the Spurs' best offensive player, that's the power of LeBron.
Adande: The type of rebounding and defensive effort Chris Bosh provided late in Game 6. I say that primarily because there's a chance no one else might say it, or remember it. Bosh's key plays -- especially the offensive rebound that led to Ray Allen's already-legendary 3-pointer -- really deserve to be recognized. And for the Heat, they sure could stand to be repeated.
Christensen: Start fast. The Spurs had the Heat down and couldn't knock them out. Now San Antonio is down and a good start will end up defeating the already affected psyche of the Spurs.
Gordian: Taking the 3-point shot away from San Antonio. The Spurs' best shot to win a title is if their shooters can find space and get hot. Preventing them from doing so will be critical in Game 7.
Haberstroh: Defensive intensity. Can they keep the shooters locked down on the perimeter while plugging the middle? Erik Spoelstra has been saying it all season long: The Heat's identity is their defense. In Game 7, we'll see if that was the truth or just an empty motto.
Stein: I've got three. They need more of the LeBron we saw after the third quarter Thursday night. They need a second 20-point scorer, whether that's Wade or Bosh. And they must continue to hound Parker and make him a jump-shooter.
Wallace: Forced turnovers. If the Heat can create turnovers or get blocks at the rim to lead to transition opportunities, they're essentially unstoppable. Both teams are mentally and emotionally gassed at this point in the series. But Miami needs a combination of blocks or turnovers totaling at least 20 to truly be the dominant, disruptive force they need to be to jump-start their offense.
---
6. What's the key to Game 7 for the Spurs?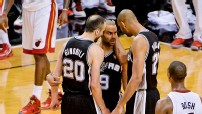 Abbott: Tony Parker. The Spurs' highest quality looks come from defenders eager to be two places at once -- at the rim to stop Parker, and at the 3-point line to stop everyone else. That leads to lots of rotating and scrambling, which is why so many of Tim Duncan's buckets come over small guys. But when Parker is tired and not getting to the rim, those defenders aren't jittery, and then Manu goes into hero mode.
Adande: Energy. That hasn't been an issue the past two games, but I've seen this team run out of energy in these playoffs and in previous years. They have to dig deep to generate effort after a grueling, depressing Game 6, at the end of a long playoff run, without the lift of a home crowd. They're a professional group, but it's possible there might not be enough gas in the tank.
Christensen: Perimeter shooting. Evidently a monster game from Duncan is not enough and five 3-pointers -- what they had in Game 6 -- won't cut it. They need Danny Green and Gary Neal to go back to fantasy land.
Gordian: Playing elite defense. They must force LeBron and Wade into difficult shots. That doesn't mean swarming them needlessly. It means waiting until just the right moment, then doubling, both preventing the pass and altering the shot. Making their lives hard is critical.
Haberstroh: Fighting fatigue. The average age of the Spurs' big three is five years older than the Heat's star trio. They'll need to turn back the clock a decade to hang with the Heat in Game 7, in front of a raucous home crowd. Can they do it? Of course they can. They're the Spurs.
Stein: The Spurs have to keep their turnovers low, rediscover the 3-ball, clean up their defensive rebounding at the very least and get Duncan going early so they can keep playing through him against a set defense as they did in Game 6.
Wallace: Danny Ginobili. Or should it be Manu Green? Either way you slice it, one or both of those players need to emerge from the Game 6 doldrums if the Spurs are to get over the hump in Game 7. The Heat took away Green's open 3-pointers and forced Ginobili into eight turnovers. Assuming Parker and Duncan have their normal impact, the Spurs will need someone else beyond Kawhi Leonard to fill in the production gaps to beat the Heat.
---
7. Who wins Game 7?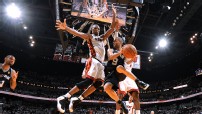 Abbott: In history, usually the home team. Here's why: Home court in every NBA game is worth about three points per game. A lot of playoff series are lopsided enough that three points won't decide it. Game 7s, though, by definition, feature evenly matched teams. In a contest like that, those three points become an imperfect, but interesting, predictor.
Adande: The Heat. Normally I give home teams an 80 percent chance of winning playoff Game 7s, based on the historical record. In this case, San Antonio's experience brings Miami's edge down to 60 percent. Still, home-court advantage could turn out to be the slightest of benefits for the Heat, which would turn this into a referendum on the importance of the regular season, something Miami cared about much more than San Antonio.
Christensen: Heat. A visiting team hasn't won an NBA Finals Game 7 since 1978. Tuesday's loss was a devastating defeat for the Spurs, which they will not soon forget.
Gordian: The San Antonio Spurs. While no one really has any idea, I imagine most people will pick the Heat. But LeBron, Wade, Bosh and their teammates will likely play for titles again. This is the last chance for several players on the Spurs, and I believe that will give them an unexpected emotional and mental edge.
Haberstroh: Heat. I picked Heat in 7 from the beginning and I'll stick to it because it'll make me look like I can see the future. And that's always a cool feeling, even if it's illusory.
Stein: San Antonio. Just have a feeling that the Spurs, because you are not supposed to be able to recover from a defeat as crushing as Game 6 was, will do just that and win Game 7. It would be a fitting capsule to sum up a series that has consistently defied logic.
Wallace: Heat. After dodging a huge bullet in Game 6, if such a thing as destiny exists it probably resides with Miami right now. I pick the Heat because of home-court advantage, too. But if any team in the league is built to have one big game on the road and coldheartedly snatch away a title, it's the Spurs.
---