Tuesday, June 25, 2013
Updated: June 26, 12:41 PM ET
2013 NBA Draft Prospect Rank: 11-20

---
ESPN.com

ESPN.com and the TrueHoop Network are ranking the top NBA draft prospects -- and counting them down on Twitter (@ESPNNBA), from No. 30 to No. 1. As the rankings are announced, you can also find them here on the pages of ESPN.com.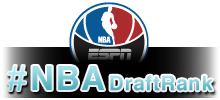 What is #NBADraftRank?
#NBADraftRank is the Twitter hashtag to use if you want to get involved in the discussion or just follow along. You can also follow along here: @ESPNNBA
How did we rank the players?
We asked our ESPN Forecast panel to rate each player on a 0-to-10 scale in terms of how good a prospect he is and what kind of career he will have.




Ties broken based on highest ratings for each player.




---