Tuesday, August 20, 2013
Where will you send the Blimp?

---
We're giving you the chance to determine which top college football matchup will have the honor of the world-famous Blimp flying above it this August! It's up to you to decide which college game is the most Blimpworthy™. Vote now then tune in to Numbers Never Lie on August 26th (noon ET, ESPN2) to see which game is declared the winner!
---
Which fan base will come through?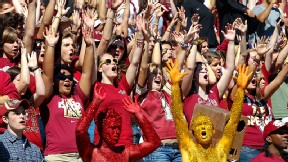 ---