Prolonged paydays
Bobby Bonilla isn't the only player who'll cash in after the final out
Updated:
May 2, 2012, 3:47 PM ET
By
Doug Mittler
| ESPN The Magazine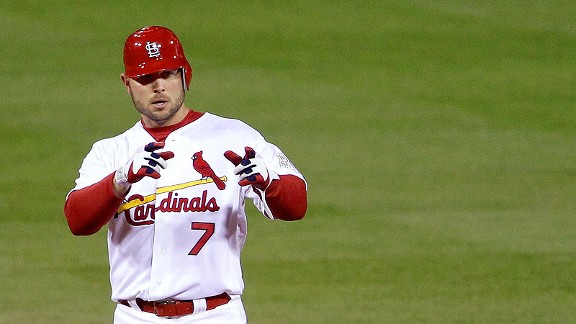 Doug Pensinger/Getty ImagesThe reason the Cardinals let Albert Pujols walk might be that Matt Holliday is so costly.
MLB CONTRACTS
Manny Ramirez
Ramirez won't be paid by the Athletics during his 50-game suspension, but he shouldn't have any trouble paying the bills. The Red Sox were desperate to unload Ramirez in the summer of 2008, but they are still on the hook for $32 million over 16 years. In fact, his first deferred payment was due July 1, 2011, to the tune of $1.968 million and change. The Sox will pay Ramirez through 2026, when he'll be 54. (Source: Boston Globe)
Matt Holliday
Maybe the reason the Cardinals let franchise icon Albert Pujols walk is because Matt Holliday is so costly. The Cardinals will be paying the outfielder through 2029 under the $120 million, seven-year contract signed in 2010. Holliday's contract includes a $17 million team option for 2017 with a $1 million buyout, and the Cardinals must decide whether to exercise it within five days of the end of the 2016 World Series. The option would become guaranteed if Holliday finishes among the top 10 in 2016 NL MVP voting. Depending on whether the option is exercised, Holliday will receive $1.4 million or $1.6 million each July 15 from 2020 until 2029. (Source: Denver Post)
Todd Helton
The Rockies' first baseman agreed to defer $13 million of his $19.1 million salary in 2011 over a 10-year period beginning in 2014. (Source: ESPN)
Ryan Zimmerman
The Nats' third baseman agreed to a long-term contract worth up to $132 million if the club picks up his $18 million option. The Nationals also will pay Zimmerman $10 million over five years after he's retired to continue working for the organization. (Source: Nats Insider)
Ryan Braun
It's been a good year so far for Braun, who became the first major leaguer to successfully appeal a suspension for violating baseball's drug policy. It will only get better as the years go by -- because of deferrals built into his new contract, Ryan Braun could be drawing paychecks from the Brewers until he's 47 years old. According to the Associated Press, the five-year, $105 million extension signed last year includes at least $18 million in interest-free deferrals to be paid in equal installments each July 1 from 2022 to 2031. (Source: Brewers Beat)
Gary Sheffield
The Tigers owe the retired outfielder between $1 million and $2.5 million annually until 2019, stemming from a deal he signed in 2006. (Source: MLB Trade Rumors)
Bronson Arroyo
He'll be getting paid by the Cincinnati Reds until 2021 thanks to deferred money from his three-year, $35 million deal signed with the team in 2010. (Source: Redlegnation)
Ichiro Suzuki
The Mariners will be paying their franchise icon until 2032 as part of a $90 million extension he signed in 2007. Once he retires, Ichiro will be paid in installments until at least 2032 or whenever the money runs out. (Source: ESPN)
Ken Griffey Jr.
When the Reds traded for Griffey and signed him to a nine-year, $116.5 million contract in February 2000, the star outfielder agreed to defer more than half the total value ($57.5 million) so the small-market club could stay competitive financially. The money will be paid out well into Griffey's 50s, when Junior is no longer a junior. (Source: Reds Enquirer)
NON-BASEBALL CONTRACTS
Kevin Garnett
Two sources told NBA.com that the Celtics forward will still have $35 million coming after he retires. He'll be due $5 million annually for seven years, the result of deferred salary Garnett and agent Andy Miller got in each of his past two contract extensions. Whatever portion is due from this season might be affected by games lost to the lockout, but it's not as if Garnett's financial spigot gets turned off next spring. (Source: NBA.com)
Wayne Gretzky
Gretzky was still owed about $8 million by the Coyotes in deferred payments for his services in his last season, and he has an additional claim for nearly twice that amount as a minority owner pending the sale of the club. He was classified as an unsecured creditor and has yet to receive any payments. How much of his claim he will ever recover remains an open question. (Source: NY Times)
Rick DiPietro
The Islanders will fork out $4.5 million a season to the injury-prone goaltender until 2021. He's managed to play just 47 games over the past four seasons. (Source: ESPN)
Ilya Kovalchuk
Kovalchuk signed a 17-year, $102 million deal with the Devils in 2010, a deal that will keep him on the books through the 2026-27 season. Kovalchuk will earn $6 million this season, $11.5 million for the following five seasons, $10.5 million in the 2017-18 season, $8.5 million for the 2018-19 season, $6.5 million in 2019-20, $3.5 million in 2020-21, $750,000 the following season and $550,000 for the final five years of the unprecedented deal. (Source: ESPN)
Follow The Mag on Twitter (@ESPNmag) and like us on Facebook.
Rumor Central
MLB Rumor Central writer
Researcher/Reporter for ESPN The Magazine.
ESPN The Magazine: May 14, 2012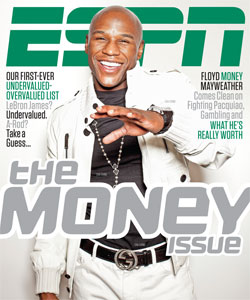 FEATURES IN THE MONEY ISSUE

COLUMNS

MORE FROM THE MONEY ISSUE