Charles in charge of rankings
Originally Published:
December 3, 2013
ESPN SportsNation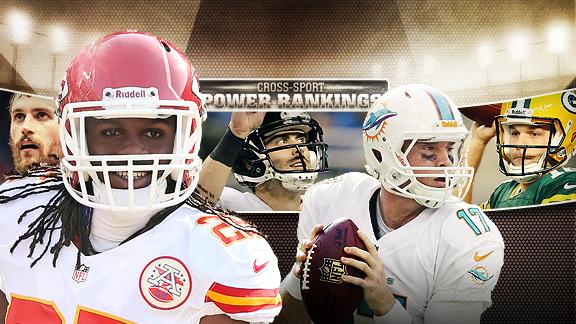 Cross Sport Power Rankings: Chiefs' Jamaal Charles No. 1
Jamaal Charles scored 5 TDs for the Chiefs as they routed the Raiders. Charles is No. 1 in the Cross-Sport Power Rankings while Dolphins QB Ryan Tannehill is the runner-up. Kevin Love of the Timberwolves is fourth,
Tags:
NFL
,
Jamaal Charles
,
Chiefs
,
Ryan Tannehill
,
Dolphins
,
NBA
,
Kevin Love
,
Timberwolves
,
Cross-Sport
,
Power Rankings
Cross Sport Power Rankings: Chiefs' Jamaal Charles No. 1
NEXT VIDEO
We might have guessed that Chiefs running back Jamaal Charles was about to do something special when he scored the very first time he touched the ball, catching a screen pass and running it 49 yards for a touchdown.
By the time his day was over, Charles had caught eight passes for 195 yards and four scores and run for another 34 yards and a fifth TD as the Chiefs routed the Raiders and clinched a playoff berth. And Charles' epic day earned him the No. 1 spot in the Cross-Sport Power Rankings for his week.
This week's rankings took on a surprise AFC team flavor, as the Dolphins' Ryan Tannehill and Ravens kicker Justin Tucker finished second and third for their efforts in keeping their teams in playoff contention. Kevin Love and Alex Ovechkin, who were both scoring machines for their respective teams, placed fourth and fifth, respectively.
2013 Cross-Sport Power Rankings panel: Sara Walsh, John Buccigross, Robert Flores, Michael Smith, Bram Weinstein, DJ Gallo, Jim Basquil, Kevin Connors, Jeff MacGregor and Steve Weissman
Last week: Tre Mason No. 1 | Cross-Sport Power Rankings archive »
Cross-Sport Power Rankings: Dec. 11-Dec. 16
Player
Comment
1. Jamaal Charles, Chiefs

Monday, you could tell Jamaal Charles fantasy football owners (and Chiefs fans) by their broad smiles -- and the opponents of Charles' fantasy owners by their forlorn appearance, lack of grooming and repeated grumbling about the Raiders' defense. Charles had a career day and make an MVP case for himself as the Chiefs won in a rout, clinched a playoff spot and pulled back into a tie with the Broncos atop the AFC West.
(Last week's rank: NR)
2. Ryan Tannehill, Dolphins

Appearing this week in the role of Tom Brady: Ryan Tannehill, who threw for 312 yards and three touchdowns and engineered a late game-winning drive as the Dolphins beat the Patriots at their own game. The second-year quarterback has thrown eight touchdowns during Miami's current three-game win streak as the Dolphins have emerged from chaos to challenge for an AFC playoff bid.
(Last week's rank: NR)
3. Justin Tucker, Ravens

Justin Tucker majored in music at Texas, sings opera in seven languages and once rapped in a Dr. Pepper commercial. These are all cool things, but they're not the reasons he's in this week's rankings. That would be his right foot, which produced all 18 of the Ravens' points, including a 61-yard game-winner, as Baltimore knocked off the Lions and kept its playoff push alive.
(Last week's rank: NR)
4. K. Love, Timberwolves

Cue up the late Barry White's Love Unlimited Orchestra: Kevin Love has averaged 30.2 points per game in his last five games, posting double-doubles in four of them, as the Timberwolves went 3-2 for the week. He has seven games with 25-plus points and 15-plus rebounds this season and tied a franchise record by making eight of nine 3-point attempts in a loss to the Spurs.
(Last week's rank: NR)
5. Matt Flynn, Packers

Flynn led five consecutive scoring drives in the second half and threw four second-half TDs as the Packers matched the biggest comeback in franchise history. In a year in which he was let go by three teams, Flynn has come full circle in returning to Green Bay as a backup and authoring a memorable win. After all, it was a strong performance as the Packers' backup that led Flynn out of Titletown in the first place.
(Last week's rank: NR)
6. Alex Ovechkin, Capitals

Ovechkin's career renaissance continued in Washington with a four-goal game in a shootout win over the Lightning and a goal and an assist in a victory over the Flyers. As of Tuesday he's leading the NHL in goals with 27 and also leading the league in power-play goals and shots on goal. With the Sochi Games around the corner, it will be interesting to see if Ovechkin keeps this run going with Russia's national team.
(Last week's rank: NR)
7. Jameis Winston, FSU

Winston became the second redshirt freshman to win the Heisman Trophy and the youngest player ever honored with the award. The Seminoles QB claimed the Heisman with the fifth-largest margin of victory in its 79 seasons. He also took home the Davey O'Brien and Walter Camp awards as college football's best QB and best player, respectively.
(Last week's rank: 3)
8. L. Aldridge, Trail Blazers

A 31-point, 25-rebound performance against Dwight Howard and the Rockets capped a solid week for LaMarcus Aldridge as the surprising Trail Blazers won four straight and improved to an NBA-best 21-4 entering Tuesday's games. Aldridge is leading the Blazers with 23.5 points and 10.9 rebounds per game, both of which are well above his career averages.
(Last week's rank: NR)
9. Neymar, Barcelona

Neymar recorded his first hat trick with Barcelona and just the fifth player in that club's long, distinguished history to score three goals in a Champions League game. He netted all three of his goals in the second half as Barcelona routed Celtic 6-1 and clinched first place in its Champions League group. At 21 years old, he's already developed a knack for making big plays in big moments.
(Last week's rank: NR)
10. Ryan Getzlaf, Ducks

Getzlaf has scored a goal or an assist in 16 straight games, a stretch in which the Ducks have gone 10-5-1 and maintained their hold on first place in the Pacific Division, ahead of the Kings, Sharks and Canucks. Entering Tuesday's game in Detriot, Getzlaf was leading the Ducks in assists (23) and points (39).
(Last week's rank: NR)
Honorable mention: Keenan Reynolds (Navy), Steven Holcomb (Team USA bobsled), Marcos Maidana (boxing), Marcus Paige (North Carolina) and Eddie Lacy (Packers).
The Cross-Sport Power Rankings week runs from Tuesday to Monday, covering all sporting events in that seven-day span.
SPONSORED HEADLINES
ESPN TOP HEADLINES
MOST SENT STORIES ON ESPN.COM
EDITORS' PICKS
Which NFL teams will pick up big wins this weekend?
Pick 'Em! »

Who are your top NFL MVP candidates?
Rank 'Em! »

Will Mack Brown's resignation help or hurt Texas?
Vote »