Cabrera powers his way to the top
Originally Published:
May 21, 2013
ESPN Playbook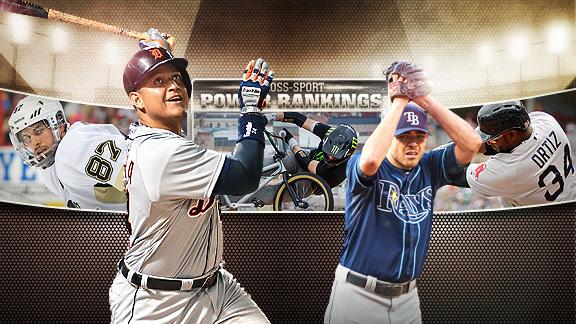 Cross-Sport Power Rankings: Miguel Cabrera Crowned
Tigers' Miguel Cabrera has his sights set on another Triple Crown and is our No. 1 after a three-home run, five-RBI outburst. Rays LHP Matt Moore, who improved his record to 8-0, is runner-up. A hat trick for Penguins' Sidney Crosby nets fourth place.
Tags:
Miguel Cabrera
,
Matt Moore
,
Sidney Crosby
,
Cross-Sport
,
Power Rankings
,
Detroit Tigers
,
Tampa Bay Rays
,
Pittsburgh Penguins
Cross-Sport Power Rankings: Miguel Cabrera Crowned
NEXT VIDEO
It's been a good week for baseball's power hitters as they made history, surpassed legends and bookended our top five. Miguel Cabrera had his name etched in the record books again after becoming the first player to blast three home runs in a single game the season after winning the Triple Crown. Another power player, David Ortiz, hit his 38th multi-HR game, which put him ahead of the legendary Ted Williams for the most in Red Sox history.
In the heart of the order is a young pitcher, Matt Moore, who continues to prove his dominance and garner Cy Young talks. We jump from a novice to a veteran in the third spot, as Jamie Bestwick landed a X Games-best eighth straight gold medal in the BMX Vert via a tiebreak. In the cleanup position is Sidney Crosby for scoring his 100th postseason point in just his 75th game.
That's how our panel ranked them. Do you agree? Check out the complete top 10 and let your voice be heard in the comments.
2013 Cross-Sport Power Rankings panel: Sara Walsh, John Buccigross, Robert Flores, Michael Smith, Bram Weinstein, Mike Hill, Jorge Andres, Charissa Thompson, DJ Gallo, Jim Basquil, Kevin Connors, Jeff MacGregor and Steve Weissman
Last week: Tiger Woods No. 1 | Cross-Sport Power Rankings archive »
Cross-Sport Power Rankings: May 14-20
Rank
(Last week)
Player
Comment
1
(NR)
Miguel Cabrera
Tigers


Will Miguel Cabrera become the first player to win baseball's Triple Crown in back-to-back seasons? That was the question on everyone's mind as the Tigers third baseman went 4-for-4 with four runs scored, five RBIs and three home runs in Sunday's game against the Rangers. Too bad it came on a day when Detroit lost its third of a four-game series with Texas.
2
(NR)
Matt Moore
Rays


Matt Moore accomplished a lot in just seven innings of work Sunday against the Orioles. Moore became the first pitcher to win eight games this season and the youngest lefty (23 years old) to start a perfect 8-0 since Babe Ruth did it in 1917 while also breaking the franchise record with his ninth consecutive win. Tampa might have back-to-back Cy Young winners on its hands.
3
(NR)
Jamie Bestwick
X Games


Jamie Bestwick knew this was going to be a special competition, as he had a shirt made that had Barcelona, his name and the number eight printed on it. Guess the 41-year-old X Games veteran foresaw the future, because he topped his record-setting seventh straight BMX Vert win last month in Brazil with an eighth gold medal at X Games Barcelona.
4
(NR)
Sidney Crosby
Penguins


Sid the Kid is up to his old tricks ... hat tricks, that is. Sidney Crosby netted three goals in the Penguins' Game 2 win over the Senators, the first of which was his 100th career postseason point. Crosby's output also put him alongside Mario Lemieux as the only players in franchise history with multiple postseason hat tricks.
5
(NR)
David Ortiz
Red Sox


Big Papi is swinging a big bat these days. During this past seven-day stretch, a stretch in which Boston won five of six games, Ortiz went 11-for-24, hit .458 with three home runs, scored five runs and knocked in 11. In the Red Sox's past outing, Ortiz blasted two homers, passing Ted Williams for the most multi-HR games in franchise history.
6
(NR)
Tony Parker
Spurs


There's no other way to put it: Tony Parker is straight hooping. The Spurs' veteran point guard put up 25 points and 10 assists, and 13 and eight, in back-to-back games to close out the Warriors in the first round of the NBA playoffs. In Game 1 of the Spurs' second-round series against the Grizzlies, Parker's stat line read 20 and nine.
7
(NR)
Vitor Belfort
MMA


It started with neither man wanting to shake hands and ended 2 minutes, 32 seconds later. Vitor Belfort said "I'm stronger than ever," and it was evident Saturday. Belfort took down Luke Rockhold with a spinning kick to the head and finished him off with punches as Rockhold lay on the ring floor for a first-round knockout.
8
(NR)
Paul George
Pacers


Paul George has been solid all season long, so numbers like these should no longer be a surprise. In the final three games against the Knicks, the Pacers' lone All-Star averaged 21.3 points, 5.7 assists and 8.3 rebounds. Next up, the Heat ... a team against which George netted 18, 4.3 and 7.7 in three regular-season games.
9
(NR)
Oxbow
Horse racing


"I get paid to spoil dreams." Those were the words of Wayne Lukas, trainer of Preakness winner Oxbow. Well, it was money well spent, as Oxbow ruined Orb's dreams of possibly winning the Triple Crown this year. A 15-1 shot to win this prestigious race, Oxbow led from start to finish, taking home a purse of $1 million.
10
(NR)
Brad Marchand
Bruins


Watch out: Brad Marchand is becoming a major scoring threat. The left winger has a goal and an assist in each of the Bruins' first two games against the Rangers, a series that Boston leads 2-0. Marchand's first goal was the winner in a 3-2 overtime victory in Game 1, and his second was netted in the third period of a 5-2 win in Game 2.
Honorable mentions: Justin Masterson (Indians); Lucas Matthysse (boxing); Tejay van Garderen (cycling); Serena Williams (tennis); Rafael Nadal (tennis)
The Cross-Sport Power Rankings week runs from Tuesday to Monday, covering all sporting events in that seven-day span.
SPONSORED HEADLINES
ESPN TOP HEADLINES
MOST SENT STORIES ON ESPN.COM
CROSS-SPORT POWER RANKINGS 2013

Cross-Sport Power Rankings compare the best athletes across all major sports. Check out the rest of our individual sport power rankings.