Messi's record-breaker tops CSPR
Originally Published:
May 8, 2012
ESPN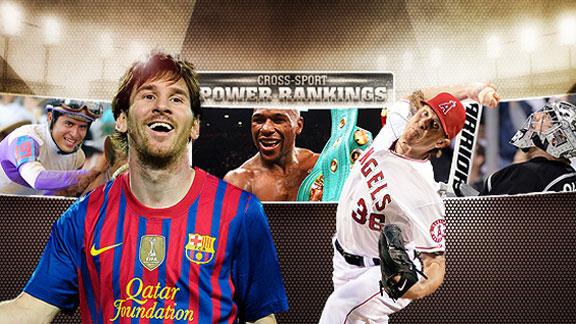 Cross-Sport Power Rankings: Lionel Messi kicks his way to the top
Cross-Sport Power Rankings: Lionel Messi kicks his way to the top
What's more impressive than throwing a no-hitter? How about breaking a record that covers more than 100 years of soccer across all of Europe? That's what Lionel Messi did this week, earning him the top spot in the Cross-Sport Power Rankings. Messi scored seven goals in his last two games, giving him 72 for the season, breaking the mark of 67 set by Gerd Muller in 1972-73. That was enough to put Messi atop the rankings for the second time this year.
Jered Weaver didn't set any records, but he did make some history, throwing a no-hitter against the Twins. It was the Angels' 10th no-hitter ever, but their first at home since 1975. Weaver's nine strikeouts edged him past Floyd Mayweather Jr., who couldn't score a knockout but did win a 12-round decision against Miguel Cotto to remain undefeated.
For the second time in three weeks, the top five in the rankings represent five different sports. Check out the full rankings below and let us know what you think in the comments section. If you impress our panel with your critique, you could be featured as a guest ranker for next week's edition.
2012 Cross-Sport Power Rankings panel: Sara Walsh, John Buccigross, Robert Flores, Michael Smith, Bram Weinstein, Mike Hill, Jorge Andres, Charissa Thompson, DJ Gallo, Jim Basquil, Kevin Connors, Will Selva, Jeff MacGregor and Steve Weissman.
Last week's ranking: LeBron James No. 1 | Cross-Sport Power Rankings archive »
Cross-Sport Power Rankings: May 1-7, 2012
Rank (LW)
Player
Comment
1
(NR)
Lionel Messi
Barcelona


Messi started the week by scoring three goals against Malaga, then topped himself with four goals against Espanyol, giving him 50 for the La Liga season and 72 across all European competitions in 2011-12. Barcelona won't win La Liga -- falling short of rival Real Madrid -- but Messi has truly put together a season for the ages.
2
(NR)
Jered Weaver
Angels


Weaver always seemed destined to throw a no-hitter -- he came close in 2008, missing out on a combined no-hitter with Jose Arredondo on a rules technicality -- and he finally came through against the Twins. His one-walk, nine-strikeout effort was made even better by the fact he did it at home in front of his family.
3
(NR)
Floyd Mayweather Jr.
Boxing


Miguel Cotto challenged Mayweather more than any fighter he'd faced in years, but in the end, the undefeated champion's speed and agility were too much. Mayweather doesn't always pack the hardest punch (though Victor Ortiz may disagree), but you can't beat what you can't hit, and no one's beaten Money yet.
4
(NR)
Mario Gutierrez
Jockey


Just a few weeks ago, Gutierrez was being heralded as the unlikeliest Kentucky Derby jockey. Safe to say, then, that the 25-year-old from Mexico would rank among the most unlikely Derby winners ever. Riding I'll Have Another, Gutierrez ended up in the winner's circle in his first Run for the Roses.
5
(10)
Jonathan Quick
Kings


Before 2012, the Kings had never won a best-of-seven series in fewer than six games. Thanks to the hot goaltending of Quick, they've now done it twice. They finished off a sweep of the second-seeded Blues, a series in which Quick posted a goals-against average of 1.50 and stopped 94 percent of the shots he faced.
6
(7)
Chris Paul
Clippers


The Clippers have won three games in their series against the Grizzlies by a combined six points, and no one has come up bigger in the clutch than Paul. The team and potential league MVP has scored at least 24 points in each of his last three games, averaging eight assists and three steals per game in that span.
7
(NR)
Brad Keselowski
NASCAR


It had been five races since any last-lap leader held on to win at Talladega, but Keselowski turned that trend on its head, taking the white flag and the checkered to earn his second win of the season. It was his second win in seven career Sprint Cup starts at Talladega and he now sits 12th in the Sprint Cup standings.
8
(NR)
Carmelo Anthony
Knicks


The last time the Knicks won a playoff game, Anthony was a junior in high school. The nine-year NBA vet put an end to that drought, scoring 41 points -- including 12 of the Knicks' last 16 -- to lead New York to a Game 4 win over the Heat. Since being held to 11 points in Game 1, Anthony is averaging 31.0 ppg against Miami.
9
(NR)
Bryce Harper
Nationals


The 19-year-old Harper is already making waves, just two weeks into his big league career. He's made a name for himself with his laser throws from the outfield, he responded to an intentional hit-by-pitch by stealing home, and, oh by the way, he's got a .924 OPS. Not bad for a guy who still can't buy beer.
10
(NR)
Martin Brodeur
Devils


Brodeur turned 40 on Sunday and celebrated by making 20 saves in a 4-2 win over the Flyers, giving the Devils a 3-1 lead in their conference semifinal series. According to the Elias Sports Bureau, Brodeur is the first goalie in NHL history to appear in a playoff game as a teenager and a 40-year-old.
Honorable mention: James Harden (Thunder), Dustin Brown (Kings), Taylor Phinney (cycling), Usain Bolt (track and field), Rickie Fowler (golf)
SPONSORED HEADLINES
ESPN TOP HEADLINES
MOST SENT STORIES ON ESPN.COM
CROSS-SPORT POWER RANKINGS 2012

Cross-Sport Power Rankings compares the best athletes across all professional sports. Check out the rest of our individual sport power rankings.