LeBron James' Vertical Leap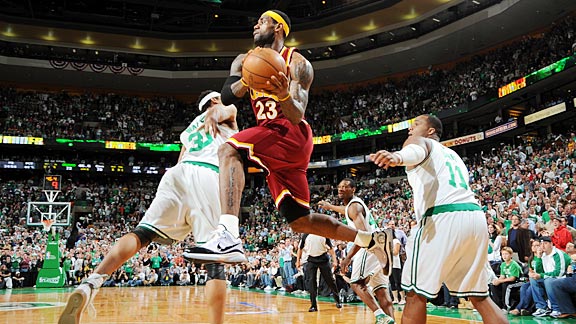 Dynamic Flexibility
Increase blood flow, elongate muscles actively, and activate your nervous system.
FORWARD LUNGE ELBOW TO INSTEP
Groin, hip flexor, glutes and hamstrings
Step forward into a lunge with your left foot.
Place your right hand on the ground and your left elbow to the inside of your left foot. Hold the stretch for one to two seconds.
Place your left hand outside of your foot and push your hips towards the sky
Drop your hips and crawl into the next repetition with the right leg.
Complete 1 set of 4 repetitions.
HANDWALKS
Hamstrings, shoulders and torso
Bend over at the waist and walk hands out into a pushup position.
Keeping knees straight, walk toes toward hands.
When you feel the stretch, walk the hands back out and repeat
Complete 1 set of 4 repetitions.