LeBron James' Vertical Leap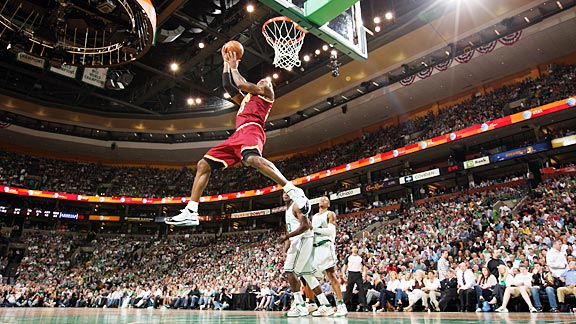 Plyometric Training
Improve your power and elasticity.
SQUAT JUMP
Hips, knees and ankles
Starting position: Stand with your feet just outside of shoulder width with your hands behind your head.
Sit back and down into a squat position, keeping your knees behind your toes.
Immediately jump vertically by extending completely through your hips. Do not pause at the bottom of the movement.
Pull your toes to your shins in midair to prepare for landing in the squat position.
Reset to start position and repeat.
Complete 2-3 sets of 5 repetitions.
HURDLE HOP
Hips and legs
Starting position: Stand on one leg in front of a line of small hurdles.
Hop over one hurdle, landing and holding on the same leg. Land softly by absorbing through your hip and glutes.
Continue over remaining hurdles.
Repeat with other leg.
Complete 2-3 sets of 5 repetitions each leg.