LeBron James' Vertical Leap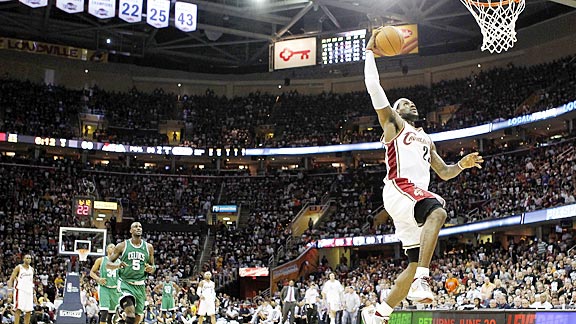 Strength Training (continued)
PILLAR BRIDGE - DIAGONAL ARM LIFT
Shoulders and core
Start in a push-up position, keeping your core tight and your head in line with your spine. There should be a straight line between your ear and your ankle with no sagging or bending.
Push your neck and sternum as far up and away from your forearms as possible
Lift one arm and hold for two seconds.
Switch arms.
Widen your feet if necessary to reduce difficulty.
Do 3-4 sets 8 repetitions each side.
SPLIT SQUATS - REAR FOOT UP
Glutes, hamstrings, quads
Stand in a split stance holding dumbbells in each hand and with the rear foot up on a bench behind you.
Lower hips toward the floor by bending the front knee. Lower until the thigh is parallel to the ground. Do not let the front knee slide forward over the toes.
Return to the starting position by pushing up with the front leg.
Complete 3-4 sets of 5-8 repetitions on each side.