A Miami Mouthful — Seductive, Playful, Sleepless
Updated:
January 29, 2007, 6:10 PM ET
Associated Press
Miami: Plan Trip | Hotel | Flight | Super Bowl tickets | Miami city guide
For additional coverage on the site of the Super Bowl, click here.
---
MIAMI — When 75,000 fans pack into Dolphin Stadium on Feb. 4 for Super Bowl XLI, when the coin is finally tossed and that ball is first kicked, this city will become, temporarily at least, the football capital of the world.
But no matter how many tens of millions of homes the game is beamed into, Miami is like a runway model wearing an oversize football jersey that hangs to her knees. This city can't hide its seductive, playful, sleepless nature behind a facade of pigskin and turf.
Power Weekend
The ESPN SportsTravel Power Weekend is meant to give you inspiration to go on a sports-centric getaway of your own.

We select dream weekends when the sports schedule in a given city (or cities) lines up just so.

To help build a trip for any special weekend of your choosing, use our City Guides, which are replete with metropolitan overviews, including details on food and drink, hotels, sport experiences and major attractions.

Here's what you'll need for your Super Bowl odyssey:
Miami: Plan Trip | Hotel Flight | Buy Super Bowl tickets Miami city guide
Those that descend here for the Big Game will be greeted by the sandy coastline and pulsating clubs that have long been synonymous with this tropical playground, but also a lively arts scene, distinct neighborhoods and surprisingly serene escapes.
As game day nears, the opportunities for a visitor are as diverse as this city, which is at once sleek and gritty, authentic and artificial, boisterous and serene:
Football
Game festivities kick off Jan. 29 at the Seminole Hard Rock Hotel & Casino in Hollywood (1 Seminole Way, Web site), with Hootie & the Blowfish performing and stars of Super Bowls past, including Jerry Rice, in attendance.
Dozens of other events are scattered throughout game week, too, including Super Saturday Blast on Biscayne and a free pep rally at Bicentennial Park in Miami (1075 Biscayne Blvd., Web site) at 5 p.m., Feb. 3, that is capped by fireworks.
Families
An interactive football theme park, NFL Experience, will be open in the Dolphin Stadium parking lot (2267 Dan Marino Blvd., Web site) Jan. 27-28 and Feb. 1-3.
Among other things, the NFL Experience offers visitors the chance to test their play-by-play broadcasting skills, experience a drive to the end zone while harnessed to a Bungee and test their passing accuracy using special targets.
Meanwhile, the Miami Children's Museum (980 MacArthur Causeway, Web site) is offering its own football program, giving kids a chance to learn referees' signals, dress up in football gear and try to kick a field goal.
Art
The city's profile in the art world has grown exponentially since Art Basel, the decades-old Swiss festival, established an American outpost on Miami Beach five years ago.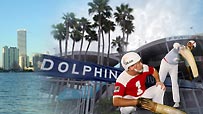 Miami tourists will enjoy a city that is both sleek and gritty, authentic and artificial, boisterous and serene.
You're too late for the December event, but art lovers will find numerous other options, including the spectacular exhibit of glassblower Dale Chihuly's work at the
Fairchild Tropical Botanic Garden
in Coral Gables (10901 Old Cutler Road,
Web site
). Thousands of pieces of the artist's work hang from trees, rise from the ground and float on water; they're particularly impressive if you visit at night, though the Fairchild stays open late only on Thursdays.
Elsewhere, Lorna Simpson's collection of photographic and video works closes at the Miami Art Museum (101 W. Flagler St., Web site), on Super Bowl Sunday. And "The Syringa Tree," a tale of growing up in apartheid-era South Africa, closes at the Rose & Alfred Miniaci Performing Arts Center in Fort Lauderdale (3100 Ray Ferrero Jr. Blvd., Web site) a day earlier.
Music
From Fergie to the Florida Grand Opera, musicians are packing in for concerts surrounding the game. Dolphin Stadium will play host to the Pepsi Smash Super Bowl Bash on Feb. 1, with Kanye West and John Legend among the performers. The sounds of Caribbean and Latin American music will be featured Jan. 27 in Nations in Rhythm at
John U. Lloyd Beach State Park in Dania Beach (6503 N. Ocean Ave., Web site).
Steve March Torme, son of the late Mel Torme, and the Hungarian Symphony Orchestra will both be in West Palm Beach on Jan. 30; The Super Bowl Gospel Celebration is in Miami on February 2; and Willie Nelson takes the stage at the glittering new Carnival Center for the Performing Arts in Miami (1300 Biscayne Blvd., Web site) on Jan. 31.
Beach
Special events abound on Miami Beach during Super Bowl week. On Feb. 3, 350 fashion models from around the world face off in Volleypalooza (Web site), a volleyball tournament at Eighth Street and Ocean Drive billed as the "sexiest sporting event of the year." Clubs will likely be packed as game day nears, including Penthouse Magazine's Going Deep party at Club Mansion (136 Collins Ave., Web site), on Feb. 3, with Snoop Dogg performing.
And in yet another what-it-feels-like-to-be-in-the-NFL-type event, Ocean Drive between Fifth and 15th streets will be closed to vehicle traffic to create the Motorola Mile. Visitors can take a walk through exhibits highlighting Super Bowl milestones and step onto an interactive football field that allows a chance to experience scoring the winning touchdown or simply perform an end-zone dance.
All that said, visitors would be remiss to omit a day at the beach from their visit, as they would to leave without a nod to Cuban culture or Art Deco architecture.
Flavors
Joe's Stone Crab restaurant (11 Washington Ave., Miami Beach, Web site), is a South Beach institution, and locals say it's worth the long wait for tables for the crab specialty.
In Little Havana, you can dine at another Miami icon, the Versailles Restaurant (3555 S.W. Eighth St.). While you're in the neighborhood, listen to the tiles clatter during games in Domino Park (a k a Maximo Gomez Park, 801 S.W. 15th Ave.) or watch workers roll cigars at El Credito factory, (1106 S.W. Eighth St.).
The unexpected
For all the chaos the Super Bowl will unleash on South Florida, visitors will likely still be able to enjoy quiet escapes. A nighttime walk from South Pointe, along the South Beach shoreline is inescapably serene.
The Holocaust Memorial (1933 Meridian Ave., Web site) is a moving, typically hushed spot that allows a guest to stand beside statues of the tortured, panicked and heartbroken.
And Espanola Way on South Beach feels like a lower-key Mediterranean oasis for dinner or drinks. In Coopertown, less than an hour from downtown Miami, you can take an airboat through the Everglades and visit an alligator exhibit.
Back in Miami, visitors will notice the massive construction boom — including dozens of new hotels, AmericanAirlines Arena (601 Biscayne Blvd., Web site) and the Carnival Center — that has happened since the last time the Super Bowl stopped here, seven years ago.
And one look skyward at countless cranes giving way to still more high rises, promises that the city will transform itself again before the big game returns in 2010.
Miami: Plan Trip | Hotel | Flight | Super Bowl tickets | Miami city guide

Copyright 2007 by The Associated Press
SPONSORED HEADLINES
ESPN TOP HEADLINES
MOST SENT STORIES ON ESPN.COM