• Map and locater index | Photo gallery
From time to time, in golf and in life, it's good to get outside of your comfort zone. Way outside.
It's good to test yourself, to throw yourself into that burning ring of fire, to tee off from the all-the-way backs at Bethpage Black on the hottest day of the summer, as four Golf Digest editors did a few years ago (and they're still talking about it).
To help you discover what you're really made of — and in honor of Golf Digest's first "toughest course" ranking from the 1960s — we've identified 50 of the most diabolical courses in the country.
These are courses that grab you by the collar on the first tee, slap you around for five hours, then reluctantly agree to let you limp your sorry carcass back into the clubhouse for resuscitation.
They are courses meant for drag-out, high-stakes battles at high noon. Courses where they should sell "I survived a round at … " T-shirts in the golf shop. Fields of bad dreams.
This is not a scientific or even definitive ranking. It's our list of layouts that have battered and bruised us, ruined our scorecards and made us want to weep … and the first we've rated these most diabolical courses in 41 years.
You probably know some tough ones that we've missed. Regardless, find one near you and take it on (32 of our 50 are public-access courses).
Stand tall. Be strong. Cross the Rubicon. If you survive, tell us all about it. And if you don't, make sure you go down fighting.
So, without further adieu:
• America's 50 Toughest Golf Courses (Nos. 1 to 25)
• America's 50 Toughest Golf Courses (Nos. 26 to 50)
See our map and locater index to get a lay of the land, er, fairways: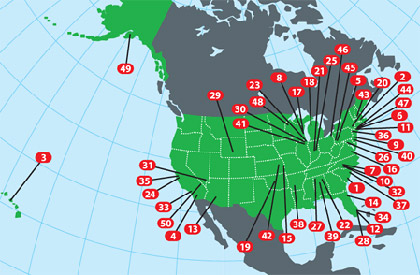 AMERICA'S TOUGHEST COURSES AT A GLANCE

FIRST 25 (Key: Courses in boldface are public; the rest are private.)

1.

THE OCEAN COURSE | Kiawah Island, S.C.

2.
THE INTERNATIONAL | Bolton, Mass.

3.
KOOLAU | Kaneohe, Hawaii (Oahu)

4.
PGA WEST/STADIUM | La Quinta, Calif.

5.
OAKMONT | Oakmont, Pa.

6.
BETHPAGE/BLACK | Farmingdale, N.Y.

7.
TOT HILL FARM | Asheboro, N.C.

8.
WHISTLING STRAITS | Haven, Wis.

9.
PINE VALLEY | Pine Valley, N.J.

10.
TOBACCO ROAD | Sanford, N.C.

11.
WINGED FOOT/WEST | Mamaroneck, N.Y.

12.
MEDALIST | Hobe Sound, Fla.

13.
DESERT MOUNTAIN/RENEGADE | Scottsdale, Ariz.

14.
TPC SAWGRASS | Ponte Vedra Beach, Fla.

15.
HALLBROOK | Leawood, Kan.

16.
ROYAL NEW KENT | Providence Forge, Va.

17.
BLACKWOLF RUN/RIVER | Kohler, Wis.

18.
GRAND TRAVERSE/BEAR | Acme, Mich.

19.
OAK TREE | Edmond, Okla.

20.
CONCORD/MOSTER | Kiamesha Lake, N.Y.

21.
WOLF RUN | Zionsville, Ind.

22.
SILVER LAKES | Glencoe, Ala.

23.
BUTLER NATIONAL | Oak Brook, Ill.

24.
SPYGLASS HILL | Pebble Beach, Calif.

25.
PURGATORY | Noblesville, Ind.

SECOND 25
26.
P.B. DYE | Ijamsville, Md.

27.
THE SHOALS/FIGHTING JOE | Muscle Shoals, Ala.

28.
OLD MARSH | Palm Beach Gardens, Fla.

29.
ROCHELLE RANCH | Rawlins, Wyo.

30.
BULL VALLEY | Woodstock, Ill.

31.
WOLF CREEK | Mesquite, Nev.

32.
PINEHURST/No. 2 | Pinehurst, N.C.

33.
LA PURISIMA | Lompoc, Calif.

34.
LOBLOLLY | Hobe Sound, Fla.

35.
BAYONET | Seaside, Calif.

36.
CRYSTAL SPRINGS | Hamburg, N.J.

37.
LEGENDS/MOORLAND | Myrtle Beach, S.C.

38.
DIAMANTE | Hot Springs Village, Ark.

39.
ROSS BRIDGE | Hoover, Ala.

40.
STONE HARBOR | Cape May Court House, N.J.

41.
MEDINAH/No. 3 | Medinah, Ill.

42.
COLBERT HILLS | Manhattan, Kan.

43.
THE SHATTUCK | Jaffrey, N.H.

44.
YALE | New Haven, Conn.

45.
MONTOUR HEIGHTS | Coraopolis, Pa.

46.
THUNDERHILL | Madison, Ohio

47.
ORONOQUE | Stratford, Conn.

48.
TEAL WING | Hayward, Wis.

49.
MOOSE RUN/CREEK | Fort Richardson, Alaska

50.
FURNACE CREEK | Death Valley, Calif.

Text provided by Golf Digest.