Commentary
Baseball's Best Seats: Oh-So-Special Spots in the Majors, Minors
Updated:
May 10, 2008, 11:09 AM ET
By
Josh Pahigian
| Special to ESPN SportsTravel
• Travel Ten photo gallery: Baseball's Best Seats
It doesn't take a veteran explorer of baseball's blue highways to make the observation that just about every professional ballpark has its share of plum seats — head for the first rows behind home plate, ye neophytes.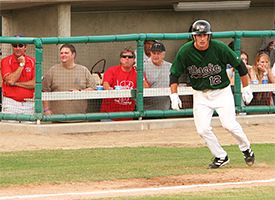 Photo by Ken WeisenbergerThe California League home of the Visalia Oaks has a third dugout for the fans to examine the game up close & personal. (See ballpark No. 8.)
Or that each stadium has its share of prunes — those clunkers architects squeezed too close to pedestrian walkways, or stranded too far from the infield, or placed facing in the wrong direction.
The savvy baseball wanderer also knows, however, that certain parks offer access to special seating locations unlike the ones they'll find anywhere else in the baseball world. Some of these spots offer sightlines that can't be beat, while others offer the types of intangibles that are hard to quantify until you've actually enjoyed them for yourself.
At Midway Stadium, home of the American Association St. Paul Saints, for example, fans enjoy the game from the comfort of a massage chair set up along the third-base side, where Sister Rosalind Gefre, a professional massage therapist who just happens to also be an 80-year-old nun, works away any tension they may have carried into the ballpark.
"When you're getting a massage your eyes are either closed or looking down at your feet, so for 15 minutes you're in another zone," said Annie Huidekoper, a spokeswoman for the Saints who admits to stopping by for a massage from Sister Ros once a week or so.
"Usually about halfway through, I think, 'Wow, those hot dogs smell good tonight.'"
At the Major League level, too, innovative stadium locations like Petco Park's "Beach" — where the multitasking fan can make a sandcastle while watching the game — offer fans their own array of unique ballpark experiences.
Just about every ballpark has its share of special seats, but here are 10 Major League stadiums and 10 minor-league parks that stand above the rest when it comes to offering fans original ways to enjoy the game:
• The Best of the Major Leagues
• The Best of the Minor Leagues
Josh Pahigian is the author of several baseball travel guides, including the recently released "Ultimate Minor League Baseball Road Trip."
SPONSORED HEADLINES
ESPN TOP HEADLINES
MOST SENT STORIES ON ESPN.COM