Commentary
Down-home charm revealed at Camden
Smalltimore is reflected in Oriole Park, the stadium that started the retro-design craze
Updated:
June 16, 2009, 4:17 PM ET
By
Eric Angevine
| Special to ESPN SportsTravel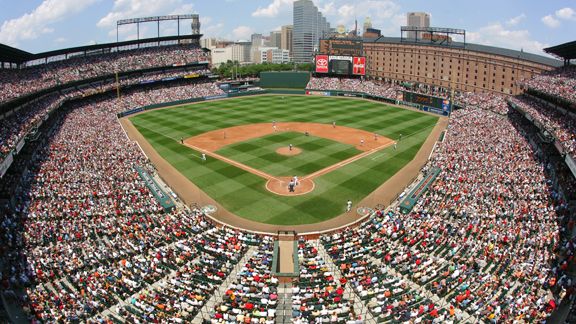 Jamie Squire/Getty ImagesSpending a day in the warm embrace of Oriole Park is an excellent way to experience civic pride.
•
Photo gallery: Oriole Park at Camden Yards
|
Buy Orioles tickets
BALTIMORE -- As we removed our caps for the national anthem, Ed Schott turned to me, mopping his brow.
"Listen for the 'O,'" he said.
I admit I was perplexed when the music started, but I soon found out what he meant. At the crescendo, as the words, "Oh, say, does that star-spangled banner yet wa-aaave?" were uttered, the orange-clad faithful in Oriole Park at Camden Yards roared out the initial vowel sound -- "O!!" -- as a hometown tribute to their beloved Orioles.
Welcome to Birdland!

For a gallery of images of Oriole Park at Camden Yards, click here.
"Some people think that's disrespectful to the anthem," Schott confided, "but I think it's great."
Since Francis Scott Key penned "The Star-Spangled Banner" during the British fleet's bombardment of Baltimore in 1814, we can cut Birds fans some slack, right?
Schott, 52, of Baltimore, was decked out in a white shirt with "Orioles" stitched in orange above the breast pocket. He was the team employee in charge of Section 354 in the upper deck. I had stepped onto his turf 10 minutes before and was clicking snapshots of the Baltimore skyline when Schott took a break from showing families to their seats to talk to me about another view.
"Can you believe some people in town wanted to tear down that warehouse?" he said. "They wanted Camden to have a view of the harbor. The harbor's four blocks away! No way."
Ah, the warehouse. When the Orioles decided in the late 1980s to move out of Memorial Stadium, they chose to build on the city's old railroad yards, known as Camden Station. The team had history there already -- when the franchise came to Baltimore in 1954, team employees got off the train at Camden. Also of note, the great Babe Ruth was born just two blocks away, in a row house typical of the city's downtown residences.
If you're going …

Before and after attending an Orioles game, you may wish to consider visiting these eateries and drinkeries.

Brewpub
Pratt Street Ale House
206 W. Pratt St.
Baltimore, MD 21201
410-244-8900 | Web site
Beer brewed on premises. Stop in for sweet air conditioning, sandwiches and the Ironman Pale Ale.

Steak
Sullivan's Steakhouse
One E. Pratt St., Suite 102
Baltimore, MD 21202
410-962-5503 | Web site
Luxurious 1940s jazz-club ambience and glorious, bloody steak.

Seafood
Phillips Seafood
301 Light St.
Baltimore, MD 21202
410-685-6600 | Web site
Hundreds of seats indoors and out, with a harbor view. Whole lobsters available, but we recommend the crab cake for the uninitiated.

Italian
La Scala
1012 Eastern Ave.
Baltimore, MD 21202
410-783-9209 | Web site
Veal is on the menu, as is seafood and every other manner of Italian delicacy. There's also an indoor bocce ball court for serious gamers.
Construction on B&O Warehouse by Baltimore and Ohio Railroad began in 1899, when the Babe was just a tot. It is 50 feet wide and nearly a quarter-mile long, faced with quarried stone. It looms behind the right-field wall, presenting an inviting target, but only one player has ever managed to hit it. A round plaque is embedded in the stone one inch from a lucky window, marking the time and place where a ball blasted by Ken Griffey Jr. struck during the 1993 Home Run Derby.
These days it's just about impossible to imagine Camden without the signature warehouse. Joe Spear, lead architect of Oriole Park, insists the team and his designers agreed early on to keep the warehouse.
"The Orioles were very interested in returning to that nostalgic time of baseball that many of them remembered," Spear said. "They wanted the warehouse to inform but not dictate the design of the ballpark."
It was a crucial decision that would have a lasting impact on the next decade of ballpark design. Spear and his colleagues at HOK Sport Venue Event (now Populous) had built their first old-school ballpark just four years prior, for a minor-league team in Buffalo. But the larger edifice at Camden Yards would get the credit -- or the blame? -- for starting the national craze for retro construction. Spear and his team soon built classic downtown stadiums in Cleveland and Denver, with many others to follow. The phrase "just like Camden Yards" began to be bandied about. That irks Spear.
"Camden is designed to fit in downtown Baltimore," he contends. "When we design a new park, we always spend time in the city getting to know which structures are points of civic pride. We incorporate those elements so each one says something about the community it represents."
After snapping off a few photos of the warehouse, I asked Schott for three recommendations for first-time visitors to Oriole Park.
"First thing you should do, always, is eat at Boog's," he said without pausing. "Then you should check out all of the plaques on Eutaw Street. And, if it's a night game, get in early and take the tour."
We were at a day game, so I was out of luck for the tour. But I was obliged to follow my nose to Boog's. The beloved former O's infielder Boog Powell has become even more renowned since opening his barbecue joint inside Oriole Park. Whereas food at many stadiums seem to appear from mysterious back rooms, Boog's showcases spice-rubbed, bowling-ball-size hunks of meat, sizzling away on massive open-air grills. Turkey, pork and beef are sliced thin and piled high on puffy rolls. They're delicious with or without condiments.
Boog's is on Eutaw Street, which is like a nine-inning block party during home games. Before the ballpark was built, this stretch of Eutaw was a road like any other in Baltimore. But now it's a pedestrian walkway situated between the bleachers and the warehouse in Oriole Park. Fans stream in through the turnstiles on Babe Ruth Plaza, where Baltimore sports legends are immortalized. Statuary preserves sweet memories of Cal Ripken, Eddie Murray, Brooks Robinson and the Babe himself.
SPONSORED HEADLINES
ESPN TOP HEADLINES
MOST SENT STORIES ON ESPN.COM