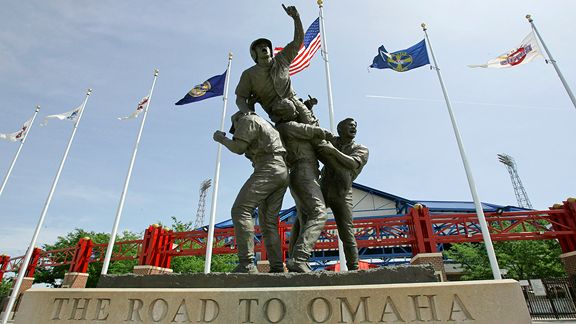 AP Photo/Nati HarnikParticipating CWS teams and their fans line up every June to pose with "The Road to Omaha" statue.
•
Photo gallery: Rosenblatt Stadium
|
Buy CWS tickets
For many fans, the scene outside the stadium is as important as the one inside. Tailgating is serious business in the Rosenblatt parking lot, where I was surprised to see fans clad in LSU purple mingling freely and sharing food and drink with those donning Texas orange and Southern Mississippi yellow.
"Whatever happens in there shouldn't affect what happens out here," said Southern Miss fan Joey Grant, 45.
"Out here it's all friendship and good times, right? Besides, we're gonna kick their butts anyway."
[+] Enlarge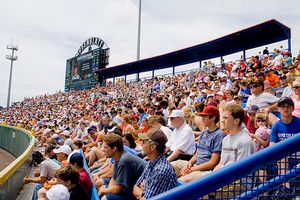 Eric Angevine for ESPN.comFans crowd into Rosenblatt's bleachers, often leading to standing-room-only accommodations. The aluminum stands vibrate to the sound of stomping feet during tense moments in elimination games.
The 20-somethings in burnt orange next to him replied with several memorable but unprintable retorts. They were smiling and handing out drinks, so the taunts were taken with a pinch of salt. And lime.
Drinking and eating are never a problem in Omaha. The unwritten code of the parking lot calls for grilling and sharing. Fans line up at the Omaha Steaks concession right inside the front gate throughout every game. And postgame celebrations often move to the Old Market district, where dozens of bars and restaurants line the brick streets.
The legendary 13th Street scene is so named for the road that runs along Rosenblatt's western boundary. It is at once a mercantile market, with sales tents and licensed T-shirt shops packed cheek by jowl, and an outdoor festival, all bookended by two very busy eateries -- King Kong, with its statue of the giant ape palming two massive cheeseburgers; and Zesto, which anchors the southern end of the open-air party.
"Zesto is a place that most people don't want to miss," CWS organizer Diesing said. "You can go in there and get a cone or a banana shake after a hot day in the bleachers."
Diesing cited Rosenblatt's bleachers as his favorite place to experience the raw passion of the College World Series, so I made sure to pay them a visit. As I shouldered my way up the stairwell under the stands, I heard what sounded like thunder rumbling overhead.
The entrances were packed tight with standing-room-only fans, so I squeezed past Tar Heels, Tigers and Sun Devils to find the source of the noise. It turned out to be hundreds of feet, pounding in rhythm during a crucial juncture of a game, making the aluminum reverberate loudly. With so many partisan fans in one place, I couldn't exactly determine which team was being rumbled for or against, but the energy was palpable.
Another aural treat at Rosenblatt can be enjoyed from any seat in the place. In an era when most ballparks play recorded music over loudspeakers, celebrated local organist Lambert Bartak, 90, is still pumping out tunes, as he has since the 1950s. His magic fingers regaled fans with old faves like "Baby Face," and his seventh-inning rendition of "Take Me Out to the Ballgame" was as crisp and lively as ever. The refrain was taken up by everyone in the stadium, and I felt like it could have been 1959 just as easily as 2009. Eat your heart out, Wrigley.
The view of the diamond was excellent. There were no obstructions to sit behind, and the field was the very picture of emerald, baseball glory fanning out before my eyes. Behind me was one of Rosenblatt's most telegenic landmarks: the geodesic dome that encloses the desert exhibit at neighboring Henry Doorly Zoo.
Growing up, I lived for weekend mornings in front of the television, watching Marlin Perkins and animal wrangler Jim Fowler tangle with exotic beasts on "Mutual of Omaha's Wild Kingdom." Being very young, I thought that all of those lions and wildebeests filmed in Africa actually lived in Nebraska. Turns out, some of their brethren do.
Founded in 1894, Omaha's zoo has grown into one of the nation's finest, with an indoor rain forest, desert exhibits and the new Skyfari lift that gives visitors a bird's-eye overview of the expansive zoological garden. The lift climbs a couple of feet higher when it reaches the giraffe enclosure to clear the long necks.
Omaha is a baseball-mad city. And while the Series may be the biggest ticket in town, it's certainly not the only one. The demolition of Rosenblatt also will displace Creighton University's baseball team and the Triple-A Omaha Royals. Rosenblatt is the largest non-MLB stadium in the U.S., and neither team can fill all 25,000 seats on a regular basis. The Royals have secured their own new stadium deal with nearby Sarpy County, where they plan to seat fewer than 5,000 per game. At this time Creighton apparently is undecided where to play.
"The Pacific Coast League restricts the size of venues that their teams can play in," said Minda Haas, a member of the O-Royals promotions staff. "We had to get a special dispensation to play in Rosenblatt, and that meant we had to cover most of the seats. I love going to the Series there, but it was probably time for the Royals to have our own place."
TD Ameritrade Park Omaha will have similar capacity and field dimensions as Rosenblatt, with all the modern amenities fans and players have come to expect.
The new facility will be closer to the river pathways, the downtown restaurants and bars and a plethora of parking garages featuring some 9,000 parking slots in the surrounding blocks.
The parking crunch created by the zoo's close proximity to Rosenblatt was just one issue that contributed to the decision to move to a new stadium. The NCAA and College World Series of Omaha Inc. recently signed off on a deal that will keep the CWS in town through 2035. A key component of early negotiations was the governing body's desire for the tournament to be played in a new facility with significant upgrades.
Everything related to the Series that can be moved to the new site will be. "The Road to Omaha" statue is going, as are the many plaques and other mementos. The memories will live on in the hearts of the fans, coaches and players who have made this a second home for two weeks every June. But we'll all miss the big, blue building known as Rosenblatt.
We know that money talks these days. TD Ameritrade Park Omaha will never have the same ring as Johnny Rosenblatt stadium. It won't look the same, sound the same or even smell the same. But all the important people will be there, helping to make new memories. Visiting fans, baseball-crazy Omaha residents and teams from all over the country will still want to be photographed in front of the iconic statue.
So if you want to make it for Rosenblatt's swan song in 2010, you should probably get started planning right now.
It's going to be a tough ticket, no doubt about it. But don't wait to see if your team makes it; don't even worry about tickets.
Just don't miss your last chance to find your own magic moment at Rosenblatt Stadium.
"Every year's a tough ticket to get," Diesing said. "But it'll be even more fun next year. We want to make sure it's a celebration that would be fitting for the home of the CWS for the last 60 years, and we want to celebrate what Rosenblatt has meant to college baseball."
Eric Angevine is a freelance writer from Charlottesville, Va. He pens the weekly Auction Block column for ESPN The Magazine and can be reached at collectespn@gmail.com. Additional reporting for this article provided by Brian Angevine.
SPONSORED HEADLINES
ESPN TOP HEADLINES
MOST SENT STORIES ON ESPN.COM