Commentary
Neyland Stadium: The color orange
Rocky Top has seen some rocky times of late, but its draw and tradition are unbowed
Updated:
November 23, 2009, 7:04 PM ET
By
Eric Angevine
| Special to ESPN SportsTravel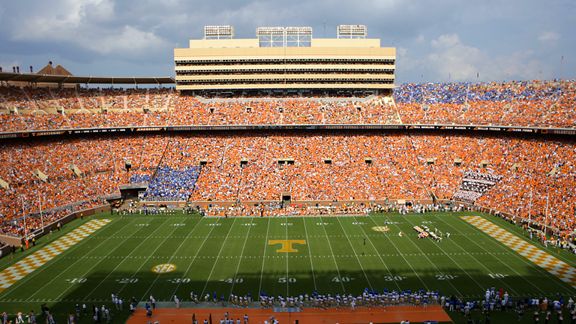 Joe Murphy/Getty ImagesAt 102,037 capacity, Neyland Stadium, on the banks of the Tennessee, is one of college's largest.
•
Photo gallery: Cal Memorial Stadium
|
Buy Tennessee football tickets
Editor's note: It's been a rough week in Knoxville, with the arrests of three Tennessee football players on charges of attempted armed robbery and the subsequent lopsided loss to Ole Miss. Rocky Top has seen better days, to be sure, but its reputation as a college football mecca, and six national titles, certainly makes it Pilgrimage worthy.


KNOXVILLE, Tenn. -- A small, portable fan hung from cords attached to the roof of the tent, blowing cool air over Bob Eby as he grilled hot dogs and hamburgers. It was 85 degrees and muggy in early September, so his wife, Jean, kept their guests supplied with cold drinks: water, sweet tea, margaritas or beer in custom orange-and-white cans.
Bob's apron boasted that he was a member of the no doubt rigorously trained Tennessee Volunteers Grilling Team. An occasional cool breeze from the river below wafted the scent of sizzling meat into the air, where it mingled into that easy mixture of laughter, music and coconut-scented sunscreen that marks a good Southern tailgate.
Like a Dream(sicle)

For a gallery of images of Neyland Stadium, ole Rocky Top, click here.
Darn near everything around me was orange.
It is a very specific shade of orange, falling on the color wheel somewhere between a traffic cone and a cold scoop of sherbet. Most of us can walk around our hometowns for days without seeing a fellow citizen wearing this color. It's a little showy, if not downright garish.
In Knoxville, Tenn., however, this precise mixture of red and yellow is crucial to the local identity. Without Dreamsicle-hued hats, shirts, sundresses, overalls, fright wigs and body paint, venerable Neyland Stadium would be just another noisy place to play SEC football. Drape it over the backs of 100,000 football-crazed graduates and fans of UT, and you have a roaring, singing, stomping bowl of bright, orange misery to dunk opponents in every Saturday.
If you're going ...
Here are a handful of dining and drinking options to consider when in Knoxville:
Stadium food
Petro's Chips and Chili
Three locations inside Neyland Stadium
Web site
Dates back to the 1982 World's Fair, held here. Corn chips, chili, cheese, green onion, tomatoes and sour cream, all in a little Styrofoam bucket. A glorious mess.
Barbecue
Backroom BBQ
100 N. Central St.
Knoxville, TN 37902
865-637-4255
Locals call it the best barbecue sandwich around. The funky space in Knoxville's Old City district features a pool room that requires a sawed-off half-cue to shoot from the north edge of the table.
Pizza
Barley's Taproom & Pizzeria
200 E. Jackson Ave.
Knoxville, TN 37915
865-521-0092 | Web site
Another Old City treasure, built in what once was a train station. Live music downstairs; pool and darts upstairs. Beer from around the world and the best pizza in town.
Vegetarian
The Sunspot
1909 Cumberland Ave.
Knoxville, TN 37916
865-637-4663 | Web site
A favorite spot for morning-after brunches; consistently voted the best vegetarian restaurant in Knoxville. Which is not to say that they don't serve meat. I mean, c'mon, this is a football town.
Brews and live music
Preservation Pub
28 Market Square
Knoxville, TN 37902
865-637-4255 | Web site
Myriad beers and great tunes in a high-ceilinged historic building. Some proceeds go to local parks. Market Square parking garage is free all weekend long.
Wish that I was on ole Rocky Top,
Down in the Tennessee hills.
Ain't no smoggy smoke on Rocky Top,
Ain't no telephone bills.
The University of Tennessee's sports teams bear the nickname Volunteers. Pitching in to lend a hand when necessary is a tradition of long standing, and not just in Knoxville. A militia of 1,500 sharpshooters from the state marched 600 miles overland to answer Andrew Jackson's call to defend Louisiana from the British in the war of 1812. Jackson praised the motley assemblage of Tennessee riflemen for their crucial role in securing victory in the Battle of New Orleans.
It should come as no surprise, then, that Neyland Stadium -- the magnificent football edifice on the banks of the Tennessee River -- was born in a similar outpouring of civic pride.
Long before it became one of the largest stadiums in collegiate sports -- official capacity is 102,037 -- this section of the UT campus was seven acres of mud and trees, purchased by the university realty company in 1912 to serve as the future home of Volunteers football.
Progress crept along until 1917, when students pledged "$2,000 in cash, and 2,000 hours of labor" to the effort. University trustee W.S. Shields paid off the remainder of the promissory note on condition that the school should proceed immediately to complete the football field, which eventually was named Shields-Watkins in honor of his family.
The steep site was made level with dirt from the top of the hill, where another landmark -- Ayres Hall -- was being built. Steel-and-concrete stands were erected, and the university community pitched in again. Classes were canceled on March 16, 1921, for Campus Day, and the entire faculty and student body worked together to put the field right in time for baseball season, which was scheduled to begin just three days later. That autumn, the gridiron Vols beat Emory and Henry College 27-0, and Tennessee football had found a permanent home.
In those days, Nashville's Vanderbilt University had the clear upper hand in the intrastate rivalry. The Commodores became the first opponent to win on Shields-Watkins Field, taking a 14-6 victory on Nov. 4, 1922. Vandy QB Jay Cutler led his team to victory in Knoxville in 2005, but UT has claimed every sectarian matchup since then.
Once there was a girl on Rocky Top,
Half bear the other half cat.
Wild as a mink, sweet as soda pop,
I still dream about that.
If you plan on attending a game on Rocky Top, don't trouble yourself with the kickoff time printed on your ticket. Only a fool would arrive so late.
"Most people get here at 0-dark-thirty to start setting up," said UT fan Mike Baker. "Especially for SEC games."
Standing on a long, concrete slab that overlooks the river, just steps away from Neyland Stadium, we were surrounded by food and drink, laid out under rows of portable awnings that came in two color schemes: orange with a white "Power T" or predominately white with the orange logo.
Tailgating is an art form at Tennessee, but it's been a long time since anything as pedestrian as the bed of a truck has been involved.
To the best of my knowledge, Tennessee fans have yet to figure out how to grill meat in an aircraft before kickoff, but they've got land and sea well-covered.
OK, not the sea, but the nearby river, named for the state it flows through, is fair game. The Vol Navy -- a flotilla of personal watercraft that dock in view of Neyland on game days -- is a tradition that dates to 1962, when UT broadcaster George Mooney opted to beat street traffic and come in by boat.
Today, demand for berthing slips far outstrips the supply, so tony cabin cruisers dock so closely together that visitors to the outermost boats must treat the aft ends of the closer craft as a makeshift walkway. This willingness to share space, even among the social elite, is one of Knoxville's most disarming qualities. Kindness is extended to friend and foe alike.
"I was raised to believe that, outside the stadium, you treat visitors right. Offer them food, give them a drink, talk football," said Holly Anderson, a 27-year-old UT grad. "Then when we get inside, we can hate each other all we want."
Once two strangers climbed on Rocky Top,
Lookin' for a moonshine still.
Strangers ain't come back from Rocky Top,
Guess they never will.
Since the entire school turned out to pour some sweat equity into the field in 1921, the stadium site has gone through several upgrades. The first game at Shields-Watkins Field was played in front of just 1,200 fans, who braved a drizzly day to see the historic victory. Today it holds a roiling mass of humanity that has come to be known as the "sea of orange."
Neyland Stadium (pronounced Nee-lund) officially came into being in 1962. It is named for the man who turned UT into a powerhouse: Robert R. Neyland.
The Texas native and former West Point football star came to Rocky Top as a professor of military science who coached defensive ends part-time. He became head coach of the Volunteers a few days before Christmas in 1925, and remained in that position (off and on) for 21 years.
Neyland was nicknamed "The General" by local fans, which was no mere hyperbole. An Army captain when he started his tenure at UT, Neyland attained the rank of brigadier before retiring from the service in 1946. His coaching career was interrupted by two periods of active military service, including a tour in the Far East during World War II.
The stadium would have no doubt been named for him anyway, due to a distinguished coaching career that included four national titles, seven SEC championships and an incredible 17-game streak of shutout victories. The fact that The General took a direct hand in designing the building that would one day bear his name probably sealed the naming deal.
"See those windows up there?" said 1975 UT graduate Jim Anderson, pointing at the superstructure of the stadium. "Those used to be dorm rooms. The only way Coach Neyland could get money from the state for improvements was to tell them he was going to build housing."
Students can no longer roll out of bed and hit the game without touching pavement, but the space isn't going to waste, either. Graduate students have offices inside Neyland's concrete walls, and some classes are still taught here. Talk about majoring in football.
Jim Anderson also recalled the time he took a date to Neyland, before red-brick buildings began to encroach on the stadium environs.
"This was a pretty steep slope over here," he reminisced. "I gave her a playful little push and she ended up sliding all the way down that hill ... in white pants." Needless to say, there was no second date.
"The spark just wasn't there," he deadpanned.
The most recent addition to the stadium is an immense video board that some call "The Godzillatron". A small army of technicians and photographers -- all clad in orange shirts that proclaim the crew to be "the best" -- work feverishly to fill the board with stats, scores, instant replays and crowd shots.
Discussion of the big screen takes up dozens of pages on the Vol Nation message board. As often happens when a treasured stadium is upgraded, fan reaction to the change is mixed, but most seem to like it. Perhaps 20 years from now, today's freshmen and sophomores will be telling stories about that old screen from back in the day.
Corn won't grow at all on Rocky Top,
Dirt's too rocky by far.
That's why all the folks on Rocky Top
Get their corn from a jar.
All this singing about moonshine is no act. Distilled corn squeezin's are as much a part of life in Tennessee now as they were during Prohibition. Now, however, the clear liquor is legal and clean, and it can be found in even the swankiest of digs.
Knoxville's Joe Hollingsworth has been celebrating his home state's bootlegging history for 32 years, to the point where his annual pregame party has become a well-heeled event attended by politicians and other local luminaries. The Big Orange Shine '09, an impressive shindig, took place on the top floor of The Boathouse, a multistory brick building that overlooks the river and the Vol Navy.
The barrels and copper tubing are for show, however. Pre-mixed bowls of Volunteer orange-hued 'shine fed into bubbling, elaborate punch bowls. Spotless, handled mason jars were arrayed around a series of booze fountains next to the indoor bar, ready to be filled from the eternally flowing spigots that curved from the middle of each contraption.
The mixture tasted faintly of Tang (the drink of astronauts), and went down entirely too smoothly.
"Wow," said one of my companions, "that doesn't even taste like it has alcohol in it."
One eight-ounce jar later, however, each of the members of my party detected a distinct tingling sensation that made our lips feel foreign to our faces. We took that as a sign to forgo another round, and instead headed into the stadium for kickoff.
I was beginning to understand what all the hollering was about.
Now I've had years of cramped up city life,
Trapped like a duck in a pen.
Now all I know is it's a pity life
Can't be simple again.
SPONSORED HEADLINES
ESPN TOP HEADLINES
MOST SENT STORIES ON ESPN.COM