Commentary
Backyard Brawl
Pittsburgh and West Virginia are fixin' for the 102nd edition of this spirited border war
Updated:
December 7, 2009, 12:48 PM ET
By
Eric Angevine
| Special to ESPN SportsTravel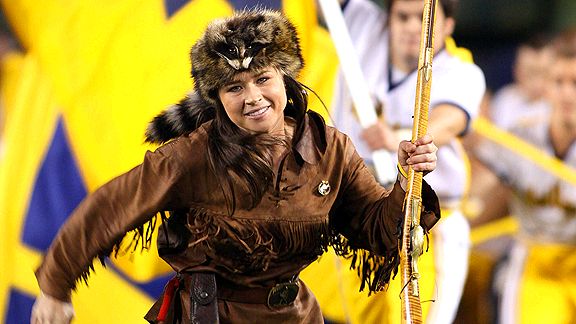 D. Jay Talbott/Icon SMIWest Virginia hosts the Brawl on Friday at Mountaineer Field, a house of horrors that seats 60,000.
If you've ever had a big family get-together for the holidays, you're probably familiar with the phrase "Take it outside!" We used to hear it in my grandmother's place all the time, as cousins who saw one another only once or twice a year got rambunctious inside the house. Banished, we'd go and play touch football in the yard until we couldn't feel our fingers.
Imagine that scenario, but with 50,000 people living and dying on each play. That's what the annual Pittsburgh-West Virginia game feels like, and that's why the 102-game-old rivalry has earned the moniker Backyard Brawl.
Five brilliant Brawls
1994 at Pitt Stadium: West Virginia was up 31-6 in the second quarter, but things started to come apart as Pitt cool-headedly fought its way back to take a 41-40 lead with 1:30 to go in the game. West Virginia marched down the field in the final seconds, and Eers quarterback Chad Johnston zipped one to walk-on Zach Abraham to cement a 47-41 West Virginia victory. "I think both teams set defensive football back 50 years," Mountaineers coach Don Nehlen said.
2004 at Heinz Field: West Virginia had the Big East championship and a BCS bid in its hip pocket coming into this game, or so the Eers thought. WVU led 10-6 at halftime, and each team mustered a field goal in the third quarter. Pitt's Tyler Palko gave the Panthers a 16-13 lead on a late touchdown run, and the visitors were unable to respond. Pitt forged a three-way tie atop the Big East the next weekend and went to the Fiesta Bowl on the strength of the head-to-head win over its rival.
1997 at Mountaineer Field: Pitt football was down and headed for a sixth straight losing season when the Panthers came to Morgantown. They grabbed the lead early and maintained a 28-18 edge into the third quarter. Marc Bulger and Amos Zereoue led the WVU comeback, and regulation ended deadlocked at 35. It was the first season of the current overtime rules, and both teams put it to the test, burning through three OT periods before Pitt QB Pete Gonzalez hit Jake Hoffart on fourth-and-17 for the deciding score. Pittsburgh won the game 41-38 and became bowl-eligible for the first time in eight years.
1975 at old Mountaineer Field: Pitt came in ranked No. 20, led by all-star running back Tony Dorsett. West Virginia played a bizarre 5-3-2-1 defense that day (yes, you read that right), hounding Dorsett all over the field. Nonetheless, it was 14-all near the end of regulation when Mountaineer Randy Swinson snagged a sideline pass to get his team in field goal range. Morgantown hero Bill McKenzie banged home a 38-yarder on the final play of the game for a 17-14 win. It was Dorsett's only loss to the Mountaineers in his college career.
1989 at Mountaineer Field: This was one of those prodigal-son-comes-home games, as West Virginia native Alex Van Pelt quarterbacked Pitt in Morgantown. No doubt Mountaineers fans hoped to send the traitor off with a drubbing, and their team was leading 31-9 at the end of the third quarter. WVU never scored again. Van Pelt threw four picks in the game, but he made up for the miscues with 366 yards passing, becoming deadly accurate when it counted. Pittsburgh scored 22 unanswered points, and Ed Frazier kicked a 42-yard field goal as time expired to end the game on a sister-kissing tie at 31 (there was no OT at that time). WVU lost its next game, too, but a revitalized Pitt knocked off Texas A&M to win the Sun Bowl that year.
The two schools sit just 75 miles apart, connected by a short stretch of Interstate 79. But the respective campuses couldn't be less alike.
The Pitt campus is seamlessly integrated into the center city of Pittsburgh, a classic urban setting. The Panthers must compete with professional franchises -- Pirates, Penguins and Steelers -- for a game-day draw, and the prevalence of Penn State and Notre Dame alums in Pittsburgh means the D-I stalwart can't even count on citywide support on Saturdays. In fact, when Pitt hosts the big game, the teams play at Heinz Stadium, home of the Steelers, a few miles from the university.
"If you drive down the streets of Pittsburgh the week of the game, you're not going to see signs that say, 'Let's Go Pitt' or 'Beat West Virginia,'" said Sam Sciullo Jr., author of "Tales from the Pitt Panthers" and other books about his hometown sports scene.
However, signs lauding the home team can be seen all over West Virginia during rivalry week. "It's just the geography and demographics of the situation," Sciullo said.
West Virginia hosts the 102nd edition of the Brawl at 7 p.m. ET Friday. ESPN2 camera crews will set up shop at Mountaineer Field, a convivial house of horrors that seats 60,000 screaming fans, and conveniently abuts the nearby medical center. That's 60,000 people in a town of 27,000 residents. On game day, Morgantown's cup runneth over with rival hatred.
"Down here, there are people who literally don't have one good thing to say about Pittsburgh," said John Antonik, a state native and author of "West Virginia University Football Vault: The History of the Mountaineers."
It's more than just a city vs. country thing. Because of their proximity, the two schools often run into one another on the recruiting trail as they dig for athletic gold in the coal-mining country that dominates the area.
Pennsylvania natives Mike Ditka (from Carnegie), Tony Dorsett (Rochester) and Dan Marino (Pittsburgh) all stayed home and became legendary Panthers, and Jeff Hostetler (Hollsopple) and Marc Bulger (Pittsburgh), chose to abscond south of the state line and become Mountaineers.
Pro Football Hall of Famer Sam Huff made the short trip to Morgantown from the delightfully named Edna Gas, W.Va. Stud Mountaineers linebacker Darryl Talley came down from Cleveland.
"There are plenty of guys who had big games that you've still never heard of, like Bill McKenzie and Mike Sherwood," Antonik said. "This game has a way of making stars out of players that outsiders probably never hear of."
Best of all, however, is the story of the Martha brothers. Siblings from Pittsburgh, Paul and Richie Martha literally split their parents up when they chose separate sides of the rivalry.
"I remember our mother sat on one side [West Virginia] and dad sat on my side [Pitt]," Paul Martha told the Pittsburgh Post-Gazette in 2008. "It was tough playing against your brother and it was a very competitive game. I know how much I wanted to win. I know how much he wanted to win."
Richie Martha was a defensive back for WVU in the 1963 matchup, and his brother was the star running back for an undefeated Pitt squad. The Mountaineers' defense was grinding out what looked like a 10-6 win when Paul Martha broke free for a 46-yard touchdown in the fourth quarter, sealing the victory for Pitt and likely causing an icy silence on the ride home the next day.
SPONSORED HEADLINES
ESPN TOP HEADLINES
MOST SENT STORIES ON ESPN.COM