Madness March -- Regionals, Final Four
Updated:
March 22, 2010, 5:36 PM ET
Special to ESPN SportsTravel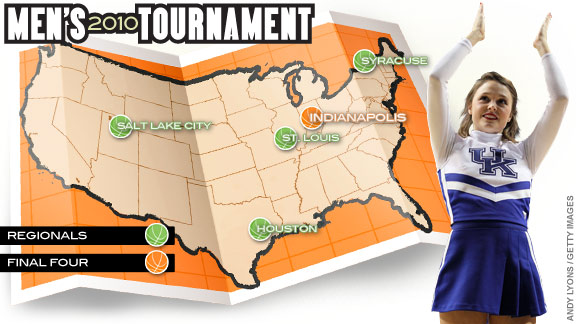 Graphic by Eliot Krohn
Quick clicks: Mouse over the basketballs on the map above or click on the list of cities immediately below to get to the NCAA tournament host of choice.
Regionals and finals: Syracuse | Salt Lake City | St. Louis | Houston | Indianapolis
---
•
Photo gallery: Memories of the Madness
|
Passport: Log your game
Now that you know just where your team will be playing in the Sweet 16, you'll want the scoop on the host city. Consult our Tournament Travel Guide below for everything from restaurants to nightlife, tickets to seat maps and sports bars to cheap eats.



REGIONALS -- MARCH 25 and 27

SYRACUSE -- East Regional
• Arena: Carrier Dome
• Host: Syracuse University
• Address: 900 Irving Ave., Syracuse, NY 13244
• Phone: 888-366-3849
• Web site | Seating chart | Buy tickets
• Nightlife: Downtown Syracuse (Armory and Hanover squares) after hours is alive with activity, whether you're looking for a club for live entertainment and dancing, a sports bar for happy hour, a quiet corner tavern, a wine bar with the finest imported and domestic vintages, or a cigar bar with comfy sofas. Choose from nearly 30 bars, pubs and restaurants. Marshall Street on the Syracuse University campus offers a variety of nightlife options.
• Sports bars: The Beginning II (Route 290, East Syracuse; 315-463-5080) -- offers a full
More Madness
Can't get enough of tourney time? Flash back to the 2009 bracket in this photo tour.
menu, a laid-back atmosphere and a place to play darts, shuffleboard, pool and video games. BII is known primarily for its chicken wings. Faegan's Cafe & Pub (734 S. Crouse Ave., Syracuse; 315-472-4721) -- a favorite of Syracuse University students, located in the heart of SU's Marshall Street. Joe Reddick's Sports Bar (2960 Erie Blvd. East, Syracuse; 315-445-8899) -- local basketball star Joe Reddick's establishment, with big screen TV and avid fans, is located inside the New Fuji Buffet, an all-you-can-eat Asian restaurant with fresh sushi. Joe's father played for the Harlem Globetrotters.
•
Restaurants:
Dinosaur Bar-B-Que (246 W. Willow St., Syracuse; 315-476-4937) -- considered by some to be the best barbecue in the Northeast. Fair warning: Waits can be long. Ale 'n' Angus Pub (238 Harrison St., Syracuse; 315-426-9672). Coleman's Authentic Irish Pub (100 S. Lowell Ave., Syracuse; 315-476-1933) -- on Tipperary Hill, home to the country's only inverted stoplight (green on top, red on bottom). Empire Brewing Company (120 Walton St., Syracuse; 315-475-2337). Kitty Hoynes Irish Pub and Restaurant (301 W. Fayette St., Syracuse; 315-424-1974). Lemon Grass (238 W. Jefferson St., Syracuse; 315-475-1111). Mission Restaurant (304 E. Onondaga St., Syracuse; 315- 475-7344).
•
Cheap eats:
Jake Hafner's Restaurant & Tavern (5224 W. Taft Road, North Syracuse; 315-458-5108) -- features a 110-inch big screen and Wednesday trivia night.
•
Attractions:
Onondaga Lake Park, Maple Syrup Time at Beaver Lake Nature Center; Rosamond Gifford Zoo; Carousel Center; Everson Museum; Erie Canal Museum.

SALT LAKE CITY -- West Regional
• Arena: EnergySolutions Arena
• Host: University of Utah
• Address: 301 W. South Temple, Salt Lake City, UT 84101
• Phone: 801-325-2000
• Web site | Seating chart | Buy tickets
• Nightlife areas: Keys On Main (242 S. Main St., Salt Lake City; 801-363-3638) -- dueling piano bar. The Red Door (57 W. 200 South, Suite 102, Salt Lake City; 801-363-6030) -- eclectic martinis and cocktails. Gracie's (326 S. West Temple, Salt Lake City; 801-819-7565) -- a gastropub and a step above the normal "bar scene." Poplar Street Pub (242 S. 200 West, Salt Lake City; 801-532-2715) -- eclectic twist on bar food, and deceptively spacious. The Sandbar (122 Pierpont Ave., Salt Lake City; 801-819-7575) -- a taco bar until 10 p.m., then tables are moved to open up a dance floor.
• Sports bars: SkyBox Sports Grille at the Gateway (Four S. Rio Grande St., Salt Lake City; 801-456-1200). Green Street (602 E. 500 South, Salt Lake City; 801-532-4200). Green Pig (31 E. 400 South, Salt Lake City; 801-532-7441).
• Restaurants: Squatters Pubs & Beers (147 W. Broadway, Salt Lake City; 801-328-2329) -- innovative restaurant with world-class beer. Settebello Pizzeria Napoletana (260 S. 200 West, Salt Lake City; 801-322-3556) -- wood-fired pizza. Market Street Grill (48 W. Market St., Salt Lake City; 801-322-4668) -- Salt Lake City's trendy seafood restaurant, it has earned numerous culinary awards. Desert Edge Brewery (602 S. 500 East, Salt Lake City; 801-521-8918) -- located in historic Trolley Square, features hand-crafted beer and handmade, pub-style food. Bambara (202 S. Main St., Salt Lake City; 801-363-5454) -- a stylish American restaurant located in the luxurious Hotel Monaco downtown.
• Cheap eats: B&D Burger (222 S. 1300 East, Salt Lake City; 801-582-7200) -- a favorite burger joint of University of Utah students.
• Attractions: Alta, Snowbird, Brighton and Solitude ski resorts; Utah Olympic Park; Clark Planetarium; Utah Museum of Fine Art; Utah Museum of Natural History.

More in the ESPN SportsTravel City Guide: Salt Lake City



REGIONALS -- MARCH 26 and 28

ST. LOUIS -- Midwest Regional
• Arena: Edward Jones Dome
• Host: Missouri Valley Conference
• Address: 701 Convention Plaza, St. Louis, MO 63101
• Phone: 314-342-5201
• Web site | Seating chart | Buy tickets
• Nightlife areas: Washington Avenue (between Tucker Boulevard/12th Street and 21st Street in downtown) offers cutting-edge clubs. Laclede's Landing (just north of the Gateway Arch grounds) is an entertainment district that houses clubs in restored 19th-century warehouses with and area of nine square blocks. Five minutes south of the Gateway Arch is the Soulard neighborhood, where blues clubs are tucked away in buildings of red brick. If you are looking for funky and trendy clubs, head to The Loop, a vibrant, six-block entertainment and shopping district northwest of Forest Park (along Delmar Boulevard).
• Sports bars: Bar 101 Soulard (1724 S. Broadway, St. Louis; 314-621-5400) -- outdoor recreation, patio. Maggie O'Brien's Restaurant (2000 Market St., St. Louis; 314-421-1388) -- features 27 TVs with three 10-foot big screens. The Over/Under Bar & Grill (911 Washington Ave., St. Louis; 314-621-8881) -- 37 HD TVs, patio. Paddy O's (618 S. Seventh St., St. Louis, 314-588-7313) -- this old-fashioned tavern has a patio, 25 satellite TVs and two, 120-inch projection screens. Pujols 5 Westport Grill (342 Westport Plaza, St. Louis; 314-439-0505) -- American cuisine, dozens of TVs and Albert Pujols memorabilia.
• Restaurants: Flamingo Bowl (1117 Washington Ave., St. Louis; 314-436-6666) -- the only bowling alley and nightclub in downtown St. Louis. Enjoy the Cuban sandwiches, wraps and veggie paninis. Schlafly Bottleworks Restaurant (7260 Southwest Avenue, St. Louis; 314-241-2337) -- features handcrafted Schlafly beers and a menu celebrating the Midwest. Blueberry Hill (6504 Delmar in The Loop, St. Louis; 314-727-4444) -- one of The Loop's most popular restaurants and music venues, where rock legend Chuck Berry performs regularly. This local landmark is filled with pop culture memorabilia and good food. Triumph Grill (3419 Olive St., St. Louis; 314-446-1801) -- located adjacent to the Moto Museum, Triumph Grill is done up in vintage motorcycle motif.
• Cheap eats: Sundecker's (900 N. First St., St. Louis; 314-241-5915) -- daily specials include Burger Madness Thursdays and 99-cent chicken wings during happy hour. And, of course, take in the view from the sun deck.
• Attractions: Gateway Arch; Anheuser-Busch Brewery; City Museum; Forest Park, home to St. Louis' major museums -- the Saint Louis Art Museum, Missouri History Museum, Saint Louis Science Center and Saint Louis Zoo.

More in the ESPN SportsTravel City Guide: St. Louis



HOUSTON -- South Regional
• Arena: Reliant Stadium
• Host: Houston/Rice
• Address: One Reliant Park, Houston, TX 77054
• Phone: 832-667-1400
• Web site | Seating chart | Buy tickets
• Nightlife areas: Downtown/Midtown (VOICE, La Carafe, Houston Pavilions complex, 3rd Bar, REEF), West University (Little Woodrow's, The Ginger Man, Baker St. Pub & Grill), Montrose (Anvil Bar & Refuge, Poison Girl), River Oaks (Red Room, Haven), Washington Avenue (Ei8ht, Roosevelt, Pearl Bar, Max's Wine Dive).
• Sports bars: The Mezzanine Lounge (2200 Southwest Freeway, Suite 150, Houston; 713-528-6399) -- upstairs provides more of a lively atmosphere with poker tournaments and several TVs, even TVs in the restrooms. Downstairs is more laid-back. Little Woodrow's (5611 Morningside Drive, Houston; 713-521-2337) -- a favorite of Rice University students and it's not hard to see why, what with 100 beers on tap and lots of specials. There also is a Little Woodrow's in Midtown.
• Restaurants: Irma's Restaurant (22 N. Chenevert St., Houston; 713-222-0767) -- very small and has the look of a house. Known for having no menu, Irma's serves some of the city's top Mexican food. Pappasito's Cantina (2515 S. Loop West, Houston; 713-668-5756) -- situated near Reliant Park (with many other locations around town), this Tex-Mex favorite has often culinary kudos. Kata Robata (3600 Kirby Drive, Houston; 713-526-8858) -- in River Oaks, this place offers one of Houston's unique menus, with traditional and modern Japanese dining, as well as tapas.
• Cheap eats: The Breakfast Klub (3711 Travis St., Houston; 713-528-8561) -- chicken wings and waffles for breakfast? Why not. Niko Niko's (2520 Montrose Blvd., Houston; 713-528-1308) -- about five miles north of Reliant Stadium in Montrose, Niko Niko's always draws a crowd (that's part of the fun to some) and serves hearty portions of its Greek and American cuisine.
• Attractions: Space Center Houston; Museum of Natural Science; Downtown Aquarium; Houston Zoo; The Galleria; Houston Museum District.

More in the ESPN SportsTravel City Guide: Houston



FINAL FOUR -- APRIL 3 and 5

INDIANAPOLIS
• Arena: Lucas Oil Stadium
• Host: Butler University/Horizon League
• Address 500 S. Capitol Ave., Indianapolis, IN 46225
• Phone:317-262-8600
• Web site | Seating chart | Buy tickets
• Nightlife areas: Broad Ripple is one of the city's six cultural enclaves, an eclectic gathering of pubs, boutiques and restaurants just 10 minutes north of downtown. Roughly six square blocks devoted to nightlife. One hidden gem is Plump's Last Shot, owned by Bobby Plump, who made the winning shot for Milan to beat Muncie Central in 1954 state basketball championship, inspiring the movie "Hoosiers." Also, check out Broad Ripple's Corner Wine Bar (6331 Guilford Ave.; 317-255-5159).
• Sports bars: Scotty's Brewhouse (One Virginia Ave., Indianapolis; 317-571-0808) -- surrounded by a brick exterior, it features non-traditional sports bar fare in a wide variety. Weather permitting, try the outdoor patio seating. Harry & Izzy's (153 S. Illinois St., Indianapolis; 317-635-9594) -- it's just a Peyton Manning toss from the stadium, and this NFL MVP is an investor in the restaurant and bar.
• Final Four official gathering restaurants: West Regional -- Ram Restaurant & Brewery (140 S. Illinois St., Indianapolis; 317-955-9900); Midwest Regional -- Champps Americana (49 W. Maryland St., Indianapolis; 317-951-0033); South Regional -- Buffalo Wild Wings (Seven E. Washington St., Indianapolis; 317-951-9464); East Regional -- Scotty's Brewhouse (One Virginia Ave., Indianapolis; 317-571-0808).
• Restaurants: The Rathskeller (401 E. Michigan St., The Athenaeum Building, Indianapolis; 317-636-0396) -- gourmet German cuisine and contemporary fare. R Bistro (888 Massachusetts Ave., Indianapolis; 317-423-0312) -- only 17 tables and the chef sources local ingredients. A true farm-to-table experience. Cafe Patachou (225 W. Washington St., Indianapolis; 317-632-0765) -- great breakfast place, hot spot for Indy 500 drivers and locals alike. Walkable from the stadium.
• Cheap eats: King David Dogs (15 N. Pennsylvania St., Indianapolis; 317-632-3647) -- top your dog with a myriad of ingredients, anything from jalapeno mustard to baked beans and bacon to white chicken chili. Slippery Noodle Inn (372 S. Meridian St., Indianapolis; 317-631-6974) -- the oldest bar in Indiana (established in 1850), features live blues music daily.
• Attractions: NCAA Hall of Champions; duckpin bowling at Fountain Square; Eiteljorg Museum of American Indians and Western Art; Indianapolis Motor Speedway Hall of Fame Museum; Indianapolis Museum of Art.

More in the ESPN SportsTravel City Guide: Indianapolis
SPONSORED HEADLINES
ESPN TOP HEADLINES
MOST SENT STORIES ON ESPN.COM