Commentary
Detroit, the Frozen Four ... and more
Stars align in Motor City, with college hockey, Red Wings, Pistons, Tigers' Opening Day
Updated:
April 8, 2010, 2:16 AM ET
By
Tony Guadagnoli
| Special to ESPN SportsTravel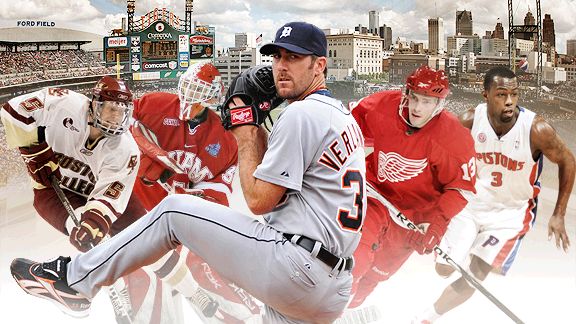 ESPN.com IllustrationDetroit may be the nation's hot spot this week, especially with the Frozen Four and Tigers on tap.
The college basketball season is finishing up, Major League Baseball is here and one can almost sniff the azaleas at Augusta with the Masters right around the corner, amen. The fight is on for the final few playoff spots in the NHL and NBA. Hints of summer are finally starting to get you pumped after a long, and in some cases nasty, winter for much of the country.
Naturally you want to head to ... Detroit.
Go ahead and scoff, but Detroit is still one of America's great sports towns and this week it will be one hopping place, especially for hockey aficionados, as the Frozen Four comes to the Motor City.
Frozen Four
The college ice hockey national championship is coming to Detroit, and here's what you'll want to know about it if you're going:
•&nbspSemifinals: Wisconsin versus RIT, 5 p.m. (all times Eastern), Thursday; Miami (Ohio) versus Boston College, 8:30 p.m., Thursday. Final Saturday, 7 p.m. (Bracket | Schedule/results)
•&nbspArena: Ford Field
•&nbspAddress: 2000 Brush St., Detroit, MI 48226
•&nbspPhone: 313-262-2000
•&nbsp Web site | Seating chart | Buy tickets
•&nbspDesignated Frozen Four fan-gathering restaurants: Miami (Ohio) -- Hockeytown Cafe, 2301 Woodward Ave., Detroit; 313-965-9600, Web site. Boston College -- Bookies Bar & Grill, 2208 Cass Ave., Detroit; 313-962-0319, Web site. RIT -- Angelina's, 1565 Broadway, Detroit; 313-962-1355, Web site. Wisconsin -- Detroit Beer Co., 1529 Broadway, Detroit; 313-962-1529, Web site).

•&nbspSports bars: Just down the street from Ford Field is Cheli's Chili Bar (47 E. Adams St., Detroit; 313-961-1700), owned by longtime Red Wings defenseman Chris Chelios (now 48 and with the Atlanta Thrashers), where the rooftop bar is packed when the weather is good. Figure this place to be jammed with fans from Wisconsin, where Chelios played in college. Located directly across from both Ford Field and Comerica Park, the art deco-influenced Elwood Bar and Grill (300 Adams St., Detroit; 313-962-2337) is a great place to grab a beer and bite before and after any sporting event. Cobo Joe's (422 W. Congress, Detroit; 313-965-0840) is considered the city's home of the Stanley Cup. It is located right by Joe Louis Arena.

•&nbspRestaurants: Slows Bar BQ (2138 Michigan Ave., Detroit; 313-962-9828) may be the city's most popular restaurant (people wait up to three hours on the weekends to get a seat). Slows serves homemade sauces and -- what else? -- slow-cooked meat. PizzaPapalis (553 Monroe St. Detroit; 313-961-8020) in Greektown is one of a half-dozen restaurants in this local chain that is big on Chicago-style deep-dish pizza. Side by side on Lafayette Boulevard sit two Coney Island restaurants. Don't be surprised if the wait staff of either restaurant tries to lure you in before you walk into the other Coney Island. Here they are: American Coney Island (114 W. Lafayette, Detroit; 313-964-6542) and Lafayette Coney Island (118 W. Lafayette, Detroit; 313-964-8198).

•&nbspAttractions: Motown Historical Museum, Fox Theatre, Detroit Institute of Arts, Detroit International Riverfront, Greektown, Detroit Historical Museum, Detroit Science Center, Eastern Market, GM Renaissance Center, The Garden Bowl, Comerica Park, Joe Louis Arena and the history attraction known as "The Henry Ford" in Dearborn

• City Guide: Detroit
OK, so it's not Maui. But for this week, you can do much worse trying to find sports entertainment. In a span of five days, today through Sunday, all major Detroit professional venues will be in use. Pick and choose your sporting action, but it all comprises an extended Power Weekend to Detroit. Consider:
Opening Day for the Tigers on Friday -- a veritable holiday in the city -- is sandwiched between Thursday's Frozen Four semifinals and Saturday's championship at Ford Field.
Tonight at 7:30 (all times Eastern) fans can take in a Red Wings game against Columbus at Joe Louis Arena (buy tickets) or see the Pistons host the Hawks at the Palace of Auburn Hills, also at 7:30 (buy tickets).
There is more for fans who can stick around the entire weekend.
"We think this is an exciting week for sports fans in Detroit, not only because of the Frozen Four, but also because of all the other great sporting events that will take place that week," said Sean Krabach, director of the local organizing committee for the Frozen Four.
"If you love sports and want to experience what a great sports town Detroit is, there is not a better time to visit our city."
Indeed, sports are the glue that has held many Detroiters together in tough economic times. The Red Wings won the Stanley Cup two years ago. The Tigers went to the World Series in 2006. The Pistons took the NBA championship in 2004 and the Lions ... well, they also were in the news a lot in 2008, but for going 0-16. (Hey, it was a rallying point, right?)
The D, as Detroit is called, has come to stand for defensive. The Motor City has built sparkling sports venues in recent years, with Ford Field and Comerica Park the bright spots in a once robust city that is a shell of its former self. Detroit has taken a beating in the media in recent years for its dying auto industry, high unemployment, record number of foreclosures, increased crime and general blight as a major American city. More than half of its peak population of 1.8 million in 1950 is gone.
So it's no wonder some college hockey purists are not happy with the selection of Ford Field, home of the Detroit Lions, as the host for the Frozen Four. They consider it sacrilegious to play the championship round on a football field that many say will not afford good viewing.
But Krabach disputes that notion.
"The setup in hosting the Frozen Four at Ford Field not only puts the event in one of the nation's premier sporting venues, but also provides excellent sight lines and provides an opportunity for a record number of fans to witness the championship in person," Krabach said.
When Ford Field was awarded the Frozen Four in 2005, it was expected all of the 60,000 seats would be made available. But a tanking economy and dwindling ticket sales forced the NCAA to scale back and offer 36,000 tickets. The ice rink was originally to be placed at midfield, but instead will be built in the west end zone of Ford Field. Risers will be set up to the east of the ice surface.
The men's Final Four was played at Ford Field last year, attracting more than 72,000 fans for each of its three sessions. It also was criticized by some as not being an intimate place for most college basketball fans.
The Frozen Four has already sold nearly 30,000 tickets, although the chatter on fan message boards is that the actual attendance will be much lower based on the economy, the perceived poor sight lines and the distance some teams and fans will have to travel. Michigan lost 3-2 in overtime to Miami (Ohio) earlier in the bracket, and that may have hurt the city's chance at attracting a few thousand additional fans.
Nevertheless, the attendance should far exceed the record of 19,432 set in 2007 in St. Louis.
"The impact of hosting a Frozen Four in Detroit is significant," Krabach said. "Over the last six or seven years, Detroit has hosted some of the largest sporting events in the nation, including the Ryder Cup, a Super Bowl and the NCAA Final Four.
"The Frozen Four provides us with another chance to showcase our city to the nation and once again reaffirm our city as one of the nation's premier sports destinations."
The Frozen Four won't be the most significant event during the weekend to most Detroiters, as that title undoubtedly goes to Opening Day on Friday, when the Tigers host the Indians at 1:05 p.m. at Comerica Park. (Buy tickets.)
Expect general craziness most of the day as Tigers fans will use the opener as an excuse to start their weekend early. The Tigers also will host the Indians on Saturday and Sunday at 1:05 p.m.
(For those who can stay on longer, the Tigers begin a three-day series with Kansas City on Monday. All games begin at 1:05 p.m. Meanwhile, the Pistons close their regular-season home schedule with Toronto on Monday night at 7:30. Buy tickets.)
Want a little levity with your sporting action? The Palace is hosting the Harlem Globetrotters on Sunday at 4 p.m. (Buy tickets.)
---
Quite apart from all of the sporting events, there will be plenty else to keep you entertained:
At the Detroit Historical Museum (5401 Woodward Ave.), you can learn about Detroit coaches in the exhibit "Fabulous 5: Detroit's Beloved Sports Coaches." The exhibit features: George "Sparky" Anderson, William "Scotty" Bowman, Chuck Daly, Will Robinson and Dick Vitale.
On Friday, the Detroit Institute of Arts (5200 Woodward Ave.) will host "Friday Night Live!" The event is free with museum admission. Performing will be the Northwood Improvisers at 7 and 8:30.
If you are looking for the Motown sound, head to the Motown Historical Museum (2648 W. Grand Blvd.), which celebrates the Detroit musical roots of such legends as Marvin Gaye, the Temptations, Smokey Robinson, and Diana Ross and the Supremes. The museum is open Tuesday through Saturday, from 10 a.m. to 6 p.m.
At the Charles H. Wright Museum of African American History (315 Warren Ave. E.), you can get a boxing lesson on the Brown Bomber, Joe Louis, who moved to Detroit as a teenager in 1926 and became one of its most iconic figures. The exhibition features "The Joe Louis Story" and "The American Story." Louis' biography is displayed in chronological order against the backdrop of American history.
Many sports tourists will stay inside the mile or so quadrant of downtown Detroit. But 10 miles west in Dearborn is The Henry Ford (20900 Oakwood Blvd., Dearborn, Mich.). Detroit's much smaller version of the Smithsonian, The Henry Ford is Americana at its best, with myriad exhibits. You can see a Ford F-150 being built, in addition to presidential limousines, including the car in which John F. Kennedy was assassinated.
You can, of course, be entertained 24 hours a day by the city's three downtown casinos -- MGM Grand Detroit, MotorCity Casino Hotel and Greektown Casino.
And, just across the Detroit River via tunnel is Windsor, Ontario, which has a younger drinking age than Michigan (19 compared with 21), casinos, Cuban cigars and other diversions not readily accessible or legal in the United States.
In addition to the sports action in Detroit, comedian Tim Allen will perform at the MotorCity Casino Hotel's Sound Board on Thursday and Friday, while Daughtry plays at Joe Louis Arena on Saturday.
And you thought you might be bored in Detroit in early April? Not a chance.
Tony Guadagnoli is a freelance writer in western Washington.
SPONSORED HEADLINES
ESPN TOP HEADLINES
MOST SENT STORIES ON ESPN.COM
2010 FROZEN FOUR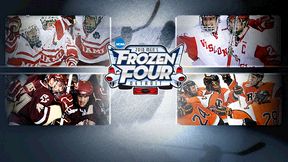 Follow all the 2010 NCAA Frozen Four action. College Sports