Commentary
On the trail of Babe Ruth
Finding the Sultan of Swat's haunts, 75 years after his last Opening Day
Updated:
April 16, 2010, 11:00 AM ET
By
Christopher Klein
| Special to ESPN SportsTravel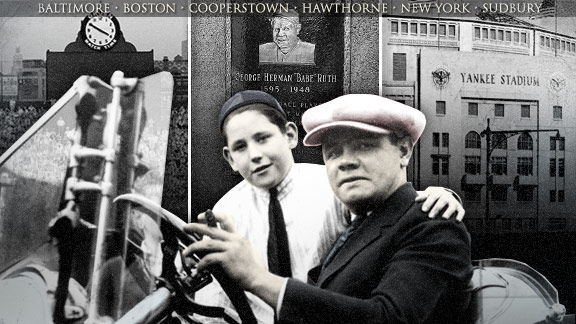 ESPN.com Illustration/Babe Ruth photo courtesy National Baseball Hall of Fame LibraryJump on board and take the tour of important locales in the life and times of Babe Ruth.
•
Photo gallery: Babe Ruth's stomping grounds
Seventy-five years after he took to the field for his final Opening Day on April 16, 1935, Babe Ruth remains not just a baseball hero, but an American icon. Unlike other sporting greats of the past who have faded from memory, the Bambino's popularity endures.
"The Babe epitomizes what America is all about," said Mike Gibbons, executive director of the Babe Ruth Birthplace Museum. "America thinks of itself as big, important and confident. As long as we think of ourselves in those terms, he'll be a towering figure."
While The House That Ruth Built is now shuttered, baseball fans can still celebrate the Babe's legacy by hitting the road from Baltimore to Boston to see some of the Bambino's other haunts. Just don't emulate Ruth's driving style.
While the Babe didn't demonstrate blinding speed on the base paths, he certainly did on the road. Ruth's litany of speeding tickets, traffic violations and automobile accidents was nearly as prolific as his 714 home runs.
Baltimore
If you're going ...
Here are the vitals for all the places you'll go on the trail of Babe Ruth:
Babe Ruth Birthplace Museum
216 Emory St.
Baltimore, MD 21230
(410) 727-1539 | Web site
The row house where Babe Ruth was born in an upstairs bedroom is filled with Bambino memorabilia.
Oriole Park at Camden Yards
333 W. Camden St.
Baltimore, MD 21201
(888) 848-2473 | Team Web site | Tour site
A statue of Babe Ruth stands outside the Orioles' home field, which is open for public tours.
Cardinal Gibbons School
3225 Wilkens Ave.
Baltimore, MD 21229
(410) 644-1770 | Web site
The Babe got his baseball baptism on the fields of this campus, when it was home to St. Mary's Industrial School.
Yankee Stadium
One E. 161st St.
New York, N.Y. 10451
Tickets: (718) 293-6000 | Team Web site
Tours: (718) 579-4594 | Tour Web site
The Babe remains a prominent presence in the new Yankee Stadium, with his plaque in Monument Park and jerseys hanging in the stadium museum.
ESPN Zone
1472 Broadway
New York, N.Y. 10036
(212) 921-3776 | Web site
An 8-foot-tall portrait of the Babe inside the main entrance is comprised of more than 1,000 Yankees baseball cards.
Gate of Heaven Cemetery
10 W. Stevens Ave.
Hawthorne, N.Y. 10532
(914) 769-3673
The soaring headstone that marks the Babe's final resting place usually is lined with offerings left behind by his legions of fans.
Kensico Cemetery
273 Lakeview Ave.
Valhalla, N.Y. 10595
(888) 536-7426 | Web site
Ruth's teammate, Lou Gehrig, and the Red Sox owner who sold Ruth to New York, Harry Frazee, are buried in this cemetery adjacent to Gate of Heaven.
National Baseball Hall of Fame
and Museum
25 Main St.
Cooperstown, N.Y. 13326
(607) 547-7200 | Web site
Ruth occupies a special place of honor as a member of the Hall's inaugural class, and an entire gallery is devoted to him.
Willis Pond
Butler Road
Sudbury, MA 01776
Ruth lived along the pond's shores, and legend has it his piano lies at its murky bottom.
Home Plate Farm
558 Dutton Road
Sudbury, MA 01776
This private residence once was the Babe's house on a sprawling 155-acre farmstead.
Nickerson Field
Harry Agganis Way
Boston, MA 02215
Web site
This Boston University athletic field once was the site of Braves Field, where the Babe spent his final days in the major leagues.
Fenway Park
4 Yawkey Way
Boston, MA 02215
Tickets: (877) 733-7699 | Team Web site
Tours: (617) 226-6666 | Tour Web site
Boston's baseball cathedral is the place where the Babe played his first major league game ... and apparently left his curse for some 86 years.
The small Baltimore row house at 216 Emory St. doesn't look like much from the outside, but it's holy ground for baseball fans -- the place where the game's messiah was born.
Today, "The House That Built Ruth" has been preserved as the Babe Ruth Birthplace Museum, and pilgrims can peer into the upstairs bedroom where a bambino by the name of George Herman Ruth Jr. entered the world on Feb. 6, 1895.
"It's almost a reverential experience for baseball fans because this is where it all started," Gibbons said.
The rest of the house is filled with fascinating artifacts, including an extremely rare baseball card depicting Ruth as a member of the 1914 minor league Baltimore Orioles; his catcher's mitt and jersey from St. Mary's Industrial School; and his first known autograph, signed on a St. Mary's hymnal, which reads: "George H. Ruth World's Worse [sic] Singer, World's Best Pitcher."
Gibbons said his favorite item is an autographed baseball that Ruth sent to Johnny Sylvester, a sick 11-year-old boy, during the 1926 World Series along with the inscribed promise, "I'll knock a homer for you in Wednesday's game."
Not only did the Babe homer in Game 4, he hit three dingers, and little Johnny staged a miraculous recovery, adding to Ruth's legend.
Oriole Park at Camden Yards is little more than a Baltimore chop away from the museum, and a statue of a young Ruth stands just outside Gate H.
While the site of one of the bars operated by the Babe's father is now Oriole Park's center field, the location of another saloon where Ruth tended bar and lived upstairs still stands at the corner of Eutaw and Lombard streets and is now occupied -- perhaps appropriately given the Babe's notoriously lecherous ways -- by a strip club.
Before leaving Baltimore, visit the campus of Cardinal Gibbons School, which was the site of St. Mary's Industrial School, where the incorrigible Babe spent much of his childhood. The Babe's love of baseball blossomed on the school's ball field, now named in his honor.
New York City
When Yankee Stadium opened in 1923, Ruth christened it with a three-run homer against his former team, the Red Sox. And when the Bronx Bombers opened their modern pinstriped playpen across 161st Street last year, the bat Ruth used to swat that home run was laid across home plate before the bottom of the first inning to baptize the new joint.
Babe's bat may have worked some magic, as homers soon sailed over the stadium fences at a Ruthian clip while the Yankees marched to their 27th World Series title.
The facade of The House That George (and New York taxpayers) Built is a throwback to the original exterior of The House That Ruth Built, and Monument Park -- that shrine to a pantheon of Yankees gods -- has been relocated to the new stadium.
A monument bearing the likeness of the Babe stands alongside that of Miller Huggins, the manager he used to torment. Underneath Ruth's distinctive, moon-faced visage is an inscription that seems to perfectly capture his legacy with its utter simplicity: "A great ball player. A great man. A great American."
Ruth's No. 3 also is among the long row of circular plaques in Monument Park bearing the bold, blue numerals of the franchise's 16 retired jerseys.
Fans with tickets to Yankees games can visit Monument Park up to 45 minutes before the first pitch, and they can check out the new Yankees Museum during the game. Naturally, the Babe plays a prominent role in the museum, and two of his road jerseys, from 1929 and 1932, hang in the display cases.
The team also offers stadium tours that include Monument Park, the museum and the Yankees dugout. While in New York, check out the ESPN Zone in Times Square and its huge portrait of Babe Ruth, which is composed of more than 1,000 individual Yankees baseball cards.
Hawthorne, N.Y.
After the Babe passed away in 1948, an estimated 100,000 people lined the route of his funeral cortege from Manhattan's St. Patrick's Cathedral to Gate of Heaven Cemetery, 30 miles north in Westchester County.
Today, legions of well-wishers continue to pay their respects at the plot in Section 25 of the cemetery where Ruth and his second wife, Claire, are buried. Befitting such an oversized figure, the Babe's gravesite is marked by a soaring headstone, which depicts Jesus with his arm around a young boy.
Many of Ruth's fans come bearing gifts -- offerings, if you will, to a baseball deity. Lining the base of the grave on a recent visit were weather-beaten mementos, such as Yankees caps, bats and baseballs scribbled with personal messages. One ball signed by a young boy read: "Babe Ruth you'll never be forgotten your fan Anthony."
While most of the items at the grave were Yankees-related, a miniature Red Sox helmet cleverly camouflaged amid the overhanging trees sat atop the grave marker, trying to remain incognito.
Just up the hill from the former home run king is the grave of another Yankees great, Billy Martin, while Lou Gehrig and Harry Frazee -- the Red Sox owner who sold Ruth to the Yankees -- are buried in adjacent Kensico Cemetery.
Cooperstown, N.Y.
Babe Ruth's plaque in the National Baseball Hall of Fame describes him as the "greatest drawing card in [the] history of baseball," and according to John Odell, curator of history and research at the facility, Ruth is still Cooperstown's biggest draw and without question the Hall's most popular enshrinee.
"Although many of his records have been broken, Ruth remains the touchstone of greatness," Odell said. "He remains head and shoulders above all of baseball, and his stature is so broadly understood, even among those who aren't big baseball fans."
A life-size wooden statue of the Sultan of Swat, ready to swing for the fences, greets you as soon as you walk through the doors of the Hall of Fame. Ruth is such a legend that an entire gallery is devoted to him. It's filled with items you expect to see, such as his home run bats and locker from Yankee Stadium, and those you might not, such as the Babe's golf trophies and bowling ball.
Among the most popular items are the bat Ruth used in the 1932 World Series, when he allegedly called his shot, and a letter of encouragement Babe wrote to a polio-stricken boy.
"The letter gives some insight into how the Babe was so much bigger than life, not just because of his feats on the diamond, but because of his link with kids," Odell said.
Sudbury, Mass.
Even after he joined the Yankees, Babe Ruth called the rural town of Sudbury, 20 miles west of Boston, his home for many years. During his years with the Red Sox, Ruth lived in a cabin overlooking Willis Pond, where he spent his days chopping firewood, ice fishing, hunting and playing hockey with the neighborhood kids.
Legend also holds that the Babe once pushed a piano onto the ice during a party here, only to watch it sink to a watery demise. The cabin is gone, but you can drive by the pond and see if the scuba-diving search for the baby grand continues.
Although it's hard to imagine the Bambino swinging a pitchfork, Ruth also owned a 155-acre farmstead here from 1922 to 1926, which he named Home Plate Farm. Not surprisingly, life as a Yankees farmer suited the Babe about as well as if he had been sent down to the Yankees' farm system. All that remains of Home Plate Farm is the old farmhouse on Dutton Road, which now is a private residence.
Boston
The Babe's major league career began in Boston, of course, with the Red Sox. But many fans forget Ruth ended his career here, too, with the Boston Braves.
Ruth only played a handful of home games at defunct Braves Field before retiring in 1935, but he also pitched 14 innings there during the 1916 World Series in a Game 2 victory for the Red Sox, who had shifted the game from Fenway Park to its more spacious neighbor. (Boston won the Series, four games to one, over the Brooklyn Robins.)
Some vestiges of Braves Field's grandstand remain at Boston University's Nickerson Field, and a plaque behind the former ticket office, now home to a child-care center and the campus police, commemorates the ballpark.
Venerable Fenway Park, where the Babe made his big league debut on July 11, 1914, is the final stop. Ruth's pitching prowess, maybe more than his bat, helped the Red Sox capture three World Series titles, the last famously in 1918.
Whatever ghosts of the Bambino that may have haunted the franchise were clearly exorcised after the Sox stormed back on the Yankees after being down 3-0 in the 2004 American League Championship Series, en route to their first World Series title in 86 years. The Boston faithful may point to one 2004 regular-season incident at Fenway as a weird harbinger, when a Manny Ramirez foul ball sailed into the stands and knocked two teeth out of Red Sox fan Lee Gavin, who, by wild coincidence, lived in Ruth's old Sudbury farmhouse.
If you can't get tickets to one of the perpetually sold-out Red Sox games (or can't afford the sky-high ticket prices), you can still see Fenway on one of the daily tours.
Or head into the new Bleacher Bar on Lansdowne Street, where ticketless fans can catch a glimpse of the action through the expansive center-field window that looks directly onto the emerald field. After all, what better way to end a Ruthian road trip than by bellying up to a bar and raising a toast to the Babe?
Christopher Klein is a Boston-based freelance writer and the author of "The Die-Hard Sports Fan's Guide to Boston." He can be reached at chris@christopherklein.com.