Commentary
Baseball's own Old Faithful
Fenway Park: Where a Nation was born and a full house is a common deal
Updated:
May 18, 2010, 12:56 PM ET
By
Christopher Klein
| Special to ESPN SportsTravel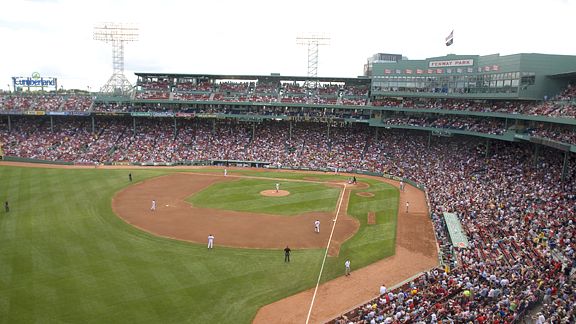 Julianne Varacchi for ESPN.com"Fenway has an immediate aura and sense of history ... ," said Indians general manager Mark Shapiro.
•
Photo gallery: Pilgrimage to Fenway
|
Red Sox tickets
|
Fenway Park Stadium Guide
BOSTON -- "Ladies and gentlemen, boys and girls, welcome to Fenway Park."
In a city that worships its sporting heroes like gods, the familiar greeting of Fenway's public address announcer has been a civic call to prayer for generations of Red Sox fans.
Since the first of those acolytes entered Boston's baseball cathedral in 1912, more than 20 major league stadiums have come and gone. Earlier this month the final sections of another hardball shrine, old Yankee Stadium, were torn to the ground. The House That Ruth Built is now dust in the wind, but Fenway Park -- even though a decade older and significantly smaller -- endures.
See more of "Friendly Fenway"

To get a more complete view of Boston's famous landmark, click here for a gallery of Fenway Park images.
Fenway's survival and the demise of the original Yankee Stadium reflect the differing characters of Boston and New York. Change occurs glacially in tradition-laden Boston, as the two decades it took to complete the infamous Big Dig highway tunnel proved beyond a shadow of a doubt.
Change doesn't generate the same angst in New York; in fact, it's the lifeblood of the hustling and bustling metropolis. New York long ago made a pact to sacrifice history for capitalism when it steamrolled its colonial landscape to build soaring commercial temples. It's the same impulse that led to the gutting of the original Yankee Stadium in the 1970s to make it more economically viable.
In Boston, history confronts you around every corner, and long-standing buildings and traditions, even if well past their prime, are clung to like a pair of well-worn slippers. It's only natural, then, that the city's most beloved institution -- the Red Sox -- continues to reside in such an aged edifice.
While Fenway's small size is frustrating for die-hard Sox fans looking to get their hands on tickets, it lends a unique coziness that is in pure synchronicity with the spirit of Boston, a burg that considers itself a "town," not a "city."
A mammoth colossus walled off from the cityscape would be out of synch in a place that lacks oversize ambitions. "Friendly Fenway," though, stretches its arms to its neighbors.
The towers of the Prudential Center peer down over the right-field bleachers, and the pulsating CITGO sign in Kenmore Square seemingly hypnotizes homers over the Green Monster toward its red, white and blue neon lights.
Yankee Stadium's attraction had as much to do with the team's dynastic empire and the constellation of baseball stars who donned the pinstripes as the actual bricks and mortar. But Fenway's lure is as much its intimacy, its iconic features and its asymmetrical dimensions as the franchise that takes to its emerald diamond.
"Fenway has an immediate aura and sense of history when you walk in here," said Cleveland Indians general manager Mark Shapiro, who was born in Boston. "There's not a ballpark in the major leagues that has the emotional impact when you walk in this place."
For baseball Luddites, the Fenway experience is about as old school as you can get, right down to taking the rickety Green Line trolley to the game.
As soon as visitors make the trek over the Mass Pike, they are serenaded by the sounds of sausages sizzling on pushcart grills, the shouts of vendors hawking programs and the calls of ticket scalpers searching for prey.
Inside the ballpark, there are no banging Thundersticks or clanking cowbells. There's just the buzz of the crowd, the dulcet organ tunes and the crack of the bat. The only dissonant sound to purists may be the off-key sing-along -- primarily by those who have had a few libations -- to "Sweet Caroline" in the middle of the eighth, one of Fenway's newest traditions.
Whether or not they can sing, Fenway wouldn't be Fenway without its faithful. Sox fans' fatalistic attitudes have tempered with the 2004 and 2007 championships, but the passion of Boston's zealous supporters remains strong. The team's on-field success and its diminutive ball yard have contributed to the longest streak of consecutive sellouts in MLB history, dating back more than 570 games to May 15, 2003.
Of course, winning has been accompanied by an influx of new fans, and some Fenway ticket holders are there just because it's trendy. That's created a schism in Red Sox Nation between the long-suffering natives and the recent wave of immigrants who they see as illegitimate bandwagon jumpers.
The particular subjects of their ire are the so-called "pink hats" -- the derogatory term for anyone sporting pink or any non-traditional color of Sox gear that has sprung up since the team ended its 86-year championship drought. There's an implication that "pink hats" are female, but the term applies to anyone seen as an interloper. If you show up at Fenway to be chic, rather than to watch the game, be prepared to feel the wrath of the die-hards.
Since tickets are such precious commodities, a trip to Fenway is a special occasion for every fan, which lends each contest the electric intensity of a playoff game. Thousands of fans stand poised to storm the gates when they open two hours before the first pitch. During night games, the constant sparkle of cameras flashes emanating from every corner of the ballpark rivals the paparazzi stalking a red carpet. Nearly everyone in the crowd stays until the final out -- living each pitch, each relay throw, each lazy fly and each inning deliberately, in the finest tradition of native son Henry David Thoreau.
Of course, fans also may stay until the final out to get their money's worth. According to Team Marketing Report, only the Cubs have a higher average ticket price, and food, souvenirs and parking (as much as $50) around Fenway aren't cheap, either.