Commentary
Nosebleeders unite
For those who don't mind squinting, here are baseball's farthest seats from home plate
Updated:
July 20, 2010, 5:36 PM ET
By
Devon O'Neil
| Special to ESPN SportsTravel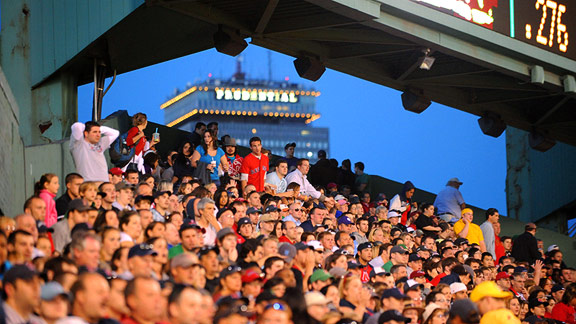 Michael Ivins/Boston Red SoxIt may hold Fenway's most remote seats, but Row 40 of Section 38 is loud and rowdy just the same.
•
Photo gallery: The farthest seats in baseball
DENVER -- "Welcome to the Rockpile!" came the usher's voice at the top of the stairs, a vertical mile above sea level. "You found us."
He grinned.
"Oh, you must know somebody. These are the best seats in the place!"
By the time we reached our aluminum bleacher in Coors Field's last and highest row, we were 600 feet from home plate -- the farthest seat in Major League Baseball.
Dollars and sense
While you're getting a handle on the seats situated farthest from home plate, you also can get an appreciation for the least-expensive tickets in the majors.
Braves: $1 (186 tickets available on game day only)
Brewers: $1 (game-day only)
Rockies: $4 ($1 for seniors and military)
Giants: $5
Reds: $5
Yankees: $5 (obstructed-view seats; $14 otherwise)
Nationals: $5 (game day only)
Padres: $5 (to sit on grass, past outfield bleachers)
Tigers: $5
Cardinals: $5.50 (first 275 people in line after 9 a.m. get two "mystery seat" tickets for $11, ranging from box seats to standing room)
Rangers: $6
Mariners: $7
Indians: $7
Dodgers: $7 (game-day only)
Astros: $7
Royals: $7 (next to fountain in left-center field)
Orioles: $8
Pirates: $8 (standing room)
Rays: $8
Diamondbacks: $8
Cubs: $9
Marlins: $9
Athletics: $9 ($2 on Wednesdays)
Twins: $10
Mets: $11
Blue Jays: $11
Red Sox: $12
Angels: $12
White Sox: $20
Phillies: $20

To our left sat a family of six who spent $11 to see the game. One of kids got in for free, but the rest of the family members paid full price: $4 per parent and $1 per child.
To our right sat a young couple drinking tall beers. The man owned a medical marijuana dispensary and the woman had just finished her college finals.
Colorado ace Jeff Francis was making his first start in a year and a half against one of the NL's biggest surprise teams of the spring, the Washington Nationals. More than 43,000 people had come to watch, nearly 2,300 of them stationed in the Rockpile bleachers high above the bullpen in dead-center field.
The view from the farthest seat in baseball, ironically, ranks among the prettiest. Two of Colorado's many 14,000-foot mountains, Longs Peak and Mount Evans, dominate the western skyline when the sunset turns it orange and purple. Downtown Denver's unique cluster of skyscrapers tower above home plate. The entire ballpark looks back at you.
Sometimes the ball is already on the outfield grass when the crack of the bat reaches your ears, but you learn to expect that. "At least you can still hear the ball hit the mitt. Sometimes," Adam Boffey, 33, of Denver said.
A fan called out for sunscreen. A woman tossed her tube down the aisle. "Nice," an observer said. "We're family here."
There is no hope of catching a home run ball in the top row of the Rockpile; no hitter has ever come close. But the thin air carries a different vibe this far away.
"It's a place to come when you want to enjoy baseball," Todd Bass, the father of four sitting next to us, said. "You're not impressing anybody; your kids can holler and no one's going to look twice at 'em. For us, the value isn't diminished by being this far away."
In a section where beers cost nearly twice as much as the ticket, attempts to find someone scoring the game came up empty. Shouts of encouragement felt productive and useless all at once -- technically we were inside the stadium, but only by a few feet.
"The sunshine and the beer, that's what I'm digging," said first-time Rockpile visitor Lesley Coleman, 24, who graduated college in Fort Collins. "We're so far up, I'm not really watching the game. I have to be honest; I'm hanging out."
Sometimes the location is picked out of necessity and not desire.
"I'd rather sit in the infield if I got the dough," said Denver native Ryan Gilbert, 24, who's been coming to Rockies games since he was young. "But I have just as much fun back here."
Francis pitched admirably in his return, allowing one earned run in seven innings, and the Rockies pulled out the victory, 2-1. By the time Adam Dunn grounded to first to end it, the Rockpile was only half-full.
But it had been a loyal bunch. Many in the top row lingered so long they had to be asked to leave.
And that's the commitment you can expect to find at any big league park's version of the stratosphere -- the sections populated by fans who refuse to believe cheaper always means worse.
Writer, Action Sports
O'Neil was raised in the Virgin Islands before dropping anchor to ski, write, and combine the two for profit. He now lives in Breckenridge, Colo.
SPONSORED HEADLINES
ESPN TOP HEADLINES
MOST SENT STORIES ON ESPN.COM