Commentary
Take us home, country roads
Great tailgates, coonskin caps and the roar of a musket let fans know the party has started at Mountaineer Field at Milan Puskar Stadium, home of West Virginia football
Updated:
December 1, 2010, 3:49 PM ET
By
Eric Angevine
| Special to ESPN SportsTravel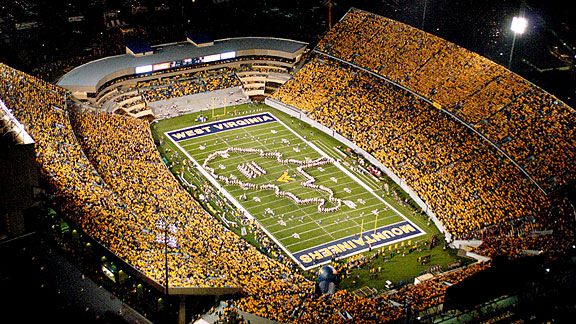 Brian PersingerThe Pride of West Virginia band performs its signature move -- forming the state outline.
Photo gallery:
West Virginia football Pilgrimage

|
Passport
|
Buy West Virginia tickets
MORGANTOWN, W.Va. -- The Mountaineer might just be the busiest mascot in show business.
I first caught sight of the well-armed, bearded man in buckskin as he entertained the crowd during the first half of a women's soccer NCAA tournament game at Dick Dlesk Stadium. By the time I had worked my way over to the sideline where I had last seen him, he was gone, so I pursued him across the track oval and up the hill to WVU Coliseum, just in time for tipoff of the first women's basketball game of the season.
After firing his musket (not a euphemism) to mark the official start of the hoops game, the shaggy mountain man eluded me a few more times in his quest to meet and greet everyone in the building. Eventually, he held still long enough for me to flag him down for a few minutes. For what it's worth, he needs this kind of energy.
If You're Going …
When in Morgantown, W.Va., to see the Mountaineers play, here's where you might consider dining:

Wraps
Black Bear Burritos
132 Pleasant St.
Morgantown, WV 26505
(304) 296-8696 | Website
Quesadillas with chips and dips are on the menu, as are a variety of wraps. Order menu favorites like the Bear Trap, Gouda Riddance or the WV Hot Rod, or, if you prefer, create your own mix and have the staff put it on nachos, in a quesadilla or in a tortilla. Local musicians start jamming on the stage around 6:30 most evenings.

Fine Dining
Madeleine's Restaurant and Cellar
140 High St.
Morgantown, WV 26505
(304) 296-6230 | Website
If you know what a terrine is, or you fancy some seafood cioppino while you're in Morgantown, Madeleine's is the right place for you. There's also wine by the glass or the bottle from the cellar. If you're more in the mood for something light and familiar, drop by for lunch and order the Damn Good Cheeseburger.

Sports Bar

The Sports Page
325 High St.
Morgantown, WV 26505
(304) 284-0996 | Website
The Sports Page is kind of like a local version of Hooters, with basic bar food and plenty of TVs so you can catch the games before or the games after your Mountaineer Field experience. In addition to the usual beer and mixed drinks, this joint features various special "Ice Teas," with names like the Alaskan, the Bimini and, of course, the West Virginia.

Coffee and dessert
Tutto Gelato
461 High St.
Morgantown, WV 26505
(304) 291-2444 | Website
This small, family-owned place serves up premium coffee and Italian-style ice cream. It is so friendly and accommodating, the staff will even serve specialty frozen treats to your dog.
"It's pretty crazy! There was volleyball before soccer, then women's basketball, men's basketball and football on Saturday," said Brock Burwell, 24, of Harrisville, W.Va. "I pretty much closed off these two days for WVU athletics. I've done nothing else this weekend. Which is fun!"
Burwell is the current incarnation of the Mountaineer, though it could be argued the position was a birthright of sorts. As a toddler, he tagged along when his uncle served in the coveted role of WVU mascot. Although other universities might have several costumes populated by several unknown students, there is only one Mountaineer in Morgantown. Burwell tried out more than once as an undergraduate, persisting until he eventually was selected in his senior year. He certainly looks the part: burly, affable and bearded.
Of course, the beard isn't required. Burwell's predecessor in the job was Rebecca Durst from Point Pleasant, W.Va. The Mountaineer can be male or female, hirsute or clean-shaven. Each wearer of the buckskin must be able to ready and fire a muzzle-loading rifle, represent the great state of West Virginia in an upstanding manner and have a personality big enough to rile up a stadium full of people.
That last part is key.
And the Mountaineer's biggest audience is found at West Virginia football games.
Are you ready?
Milan Puskar Stadium is not the biggest stadium in college football, but it is definitely one of the loudest. There's nothing like Mountaineers pride focused through 60,000 throats to get the blood pumping. In a state with none of the big four professional sports, a WVU football game is truly the big time. Sure, you might have to drive down Jerry West Boulevard on your way into town, but gridiron is still king in Morgantown.
The official name for the venue is Mountaineer Field at Milan Puskar Stadium. The original Mountaineer Field was located in the heart of WVU's downtown Morgantown campus. Restricted from growth by the surrounding academic buildings, the field topped out at 38,000 seats. The current location for the playing surface is technically known as the Evansdale campus, a collection of academic departments mixed in with performance and athletic venues. Mountaineer Field was relocated there in 1980 at a cost of $22 million, with an expanded capacity of 50,000. Various upgrades throughout the years brought that up to the current 60,000 seats, and the place name was added in 2004, when local businessman Milan Puskar donated $20 million to the university.
The more spacious environs on the Evansdale campus allow West Virginians to do what they do best -- tailgate. The gold and blue interlocking WV symbol was everywhere the day the Cincinnati Bearcats came to town in mid-November, and the delectable smell of sizzling meat wafted over everything. Footballs, beanbags and laughter were in the air. Most notably, there were enough coonskin caps to start a Davy Crockett fan club.
"If you're into people-watching, there's so many variations on the T-shirts, hats and sweatshirts," said Sharon Frost, an alum from Washington, D.C., who still drives to home games even though her kids have graduated WVU. I told her the best one I'd seen was the unsanctioned tee that reads, "West Virginia University: We've never lost a party."
An older man in overalls and dark glasses poked his head briefly into the conversation and stated, "My favorite says, 'Do you know where your couch is at?'"
Everyone laughed. He was referring to the well-documented local postgame practice of couch-burning, which has inspired blog titles ("We Must Ignite This Couch") and T-shirts. For some, the sofa en flambeau is at the heart of the WVU party mystique.
"I think we get a bad rap for the couch-burning," the elderly gent said, "but I have definitely been here when it happened. You have to take the good with the bad."
There is plenty of good. The tailgating scene is justifiably famous. Operating from under a double tent, John Holchuk from Weston, W.Va., piled a plate high for me -- a complete stranger -- filling it with coleslaw, fruit, deviled eggs and a to-die-for steak sandwich smothered with roasted hot peppers. Generosity and overindulgence were the order of the day. Night games are, apparently, even more extravagant.
SPONSORED HEADLINES
ESPN TOP HEADLINES
MOST SENT STORIES ON ESPN.COM