Gerald J. Ford Stadium -- Dallas
Updated:
December 17, 2010, 1:39 PM ET
Special to ESPN SportsTravel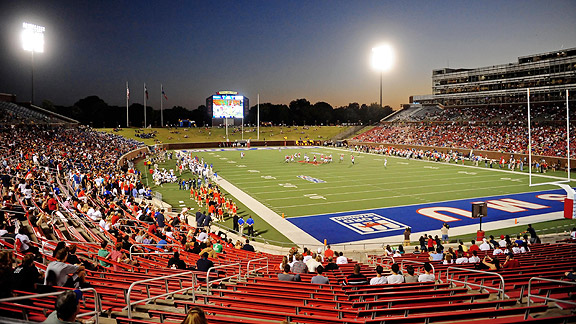 Mark J. Rebilas/US PresswireExpect all things military -- from tanks to helicopters -- at a pregame function outside the stadium.
Photo gallery:
Bowl trippin' around the country

|
Ultimate Road Trip homepage
ARMED FORCES BOWL: ARMY vs. SOUTHERN METHODIST, DEC. 30, NOON ET
THE BASICS
• Stadium name: Gerald J. Ford Stadium
• Address: 5800 Ownby Drive, Dallas, TX 75205
• Home team: SMU Mustangs
• Capacity: 32,000
• Opened: 2000
• Surface: FieldTurf
• Tickets: Buy tickets
• Passport: Are you going? »
• Driving distance from Texas Bowl in Houston: 250 miles, 4½ hours
• Driving distance to Liberty Bowl in Memphis: 460 miles, 7½ hours
• Distance from downtown Dallas: Stadium is 5 miles north of city center.
• Websites: Bowl site | Stadium | Seating chart | Directions | Parking | Twitter
• TV: ESPN
• City Guide: Dallas
BOWL EVENT
• Armed Forces Adventure Area (AFAA), 8:30 a.m. to 10:30 a.m. local time, Dec. 29-30
Located in the Westcott parking lot just north of Ford Stadium, the event features exhibitions of tanks, helicopters and other military equipment. Admission is free.
FOOD & DRINK
Steak
The Capital Grille
500 Crescent Court, Suite 135
Dallas, TX 75201
214-303-0500 | website
This traditional steak house specializes in dry-aged steaks and an award-winning wine list. The extensive menu also features chops and fresh seafood, including North Atlantic lobsters.
Sports bar
Frankie's Sports Bar and Grill
3227 McKinney Ave.
Dallas, TX 75204
214-999-8932 | website
Frankie's has been described as "hip, but not snooty" by the Dallas Morning News. This upscale-meets-casual neighborhood hangout is a great place to catch most any sporting event. The 30-plus televisions (including two 10-foot, high-definition TVs) and 20 satellite receivers all but ensure it.
ATTRACTIONS
The Sixth Floor Museum at Dealey Plaza
411 Elm St.
Dallas, TX 75202
214-747-6660 | website
Located in the former Texas School Book Depository, the museum details the life and controversial death of President John F. Kennedy. Several home movies, including those famously taken by Abraham Zapruder and Orville Nix, are being shown in their entirety for the first time. A special compilation video and hands-on educational activities also are featured. New exhibits and artifacts are added as more information is obtained on events surrounding the assassination.
Sundance Square
201 Main St., Suite 700
Fort Worth, TX 76102
817-255-5700 | website
With some bowl events in Fort Worth, downtown Sundance Square affords a meeting place of Western history and modern amenities. The area was named for the Sundance Kid, who with Butch Cassidy was a frequent visitor to the area, then commonly known as Hell's Half Acre. Many of the buildings in Sundance Square date from the turn of the 20th century and have been restored. Shops and restaurants span the gamut from casual to elegant.
Tour 18 Golf
8718 Amen Corner
Flower Mound, TX 75022
800-946-5310 | website
This unique course opened in 1995 and offers golfers an opportunity to play on replicas of 18 of the most famous golf holes in America. Everything from Amen Corner on Augusta National to No. 10 on Winged Foot is featured, giving golfers a chance to "play" on courses they normally never could.
MOST SENT STORIES ON ESPN.COM