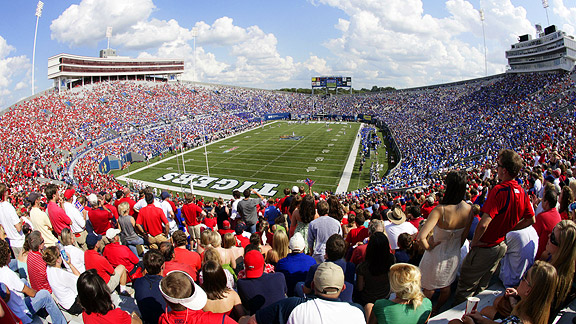 Joe Murphy/Getty ImagesMemphis musts include Beale Steet, for B.B. King's Blues Club, and the Memphis Rock 'n' Soul Museum.
Photo gallery:
Bowl trippin' around the country

|
Ultimate Road Trip homepage
LIBERTY BOWL: GEORGIA vs. CENTRAL FLORIDA, DEC. 31, 3:30 p.m. ET
THE BASICS
• Stadium name: Liberty Bowl Memorial Stadium
• Address: 335 S. Hollywood St., Memphis, TN 38104
• Home team: Memphis Tigers
• Capacity: 61,008
• Opened: 1965
• Surface: FieldTurf
• Tickets: Buy tickets
• Passport: Are you going? »
• Driving distance from Armed Forces Bowl in Dallas: 460 miles, 7½ hours
• Distance from downtown Memphis: Stadium is 6 miles southeast of city center.
• Websites: Bowl site | Stadium | Seating chart | Directions | Parking | Twitter
• TV: ESPN
• City Guide: Memphis
BOWL EVENT
• Pregame buffet, 11 a.m. to 1:30 p.m. local time, Dec. 31, Fairgrounds Arena Building
This popular event adjacent to the stadium provides all you can eat and drink while listening to the "Battle of the Bands" of the participating universities. Admission is $30.
FOOD & DRINK
Barbecue
Central BBQ
2249 Central Ave.
Memphis, TN 38104
901-272-9377| website
There are definitely many popular barbecue joints in Memphis and Central BBQ is one the locals swear by. The tangy flavor seems to be key. Go figure. Also try the BBQ nachos.
Chicken
Gus's World Famous Fried Chicken
310 S. Front St.
Memphis, TN
901-527-4877
A favorite spot for locals, Gus's specializes in spicy, fried chicken. Be prepared to wait a bit. But wait you must; take it from us, this stuff practically melts in your mouth.
Sports bar
Huey's Downtown
77 S. Second St.
Memphis, TN 38103
901-527-2700 | website
Huey's is famous for its burgers and celebrated its 40th anniversary in 2010 by being voted winner of the best burger by Memphis Magazine and the Commercial Appeal.
ATTRACTIONS
Beale Street
Memphis, TN 38103
901-526-0115 | website
It's a must-visit destination, with several lively selections to choose from, beginning with B.B. King's Blues Club. Located on the corner of Second and Beale streets, B.B. King's has live entertainment every night and should be especially jumping New Year's Eve. It also features some Southern dishes that are downright delicious.
Memphis Rock 'n' Soul Museum
191 Beale St.
Memphis, TN 38103
901-205-2533 | website
The museum provides an experience from the pioneers of Memphis' original sound through its days as one of the world's foremost musical influences. It's part of the FedEx Forum, home of the Memphis Grizzlies, and, as we can attest, is one of the best put-together little museums you'll find.
SPONSORED HEADLINES
ESPN TOP HEADLINES
MOST SENT STORIES ON ESPN.COM