Bank of America Stadium -- Charlotte
Updated:
December 17, 2010, 1:39 PM ET
Special to ESPN SportsTravel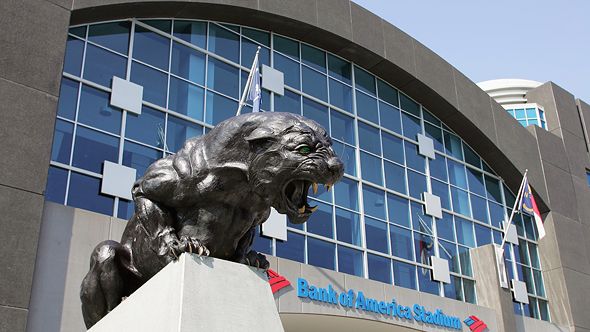 Paul Spinelli/Getty ImagesGet into town a day early and take part in the revelry that is sure to be the street festival and rally.
Photo gallery:
Bowl trippin' around the country

|
Ultimate Road Trip homepage
MEINEKE CAR CARE BOWL: SOUTH FLORIDA vs. CLEMSON, DEC. 31, NOON ET
THE BASICS
• Stadium name: Bank of America Stadium
• Address: 800 S. Mint St., Charlotte, N.C. 28202
• Home team: Carolina Panthers
• Capacity: 73,778
• Opened: 1996
• Surface: Grass
• Tickets: Buy tickets
• Passport: Are you going? »
• Driving distance from Military Bowl in Washington, D.C.: 400 miles, 6½ hours
• Driving distance to Gator Bowl in Jacksonville, Fla.: 390 miles, 6½ hours
• Distance from downtown Charlotte: Stadium is in city center
• Websites: Bowl site | Stadium | Seating chart | Directions/Parking | Twitter
• TV: ESPN
• City Guide: Charlotte
BOWL EVENT
• Street festival and pep rally, Dec. 30, noon to 6:30 p.m., The Square (corner of Trade and Tryon streets)
The festival features bands and cheerleaders from both schools, interactive games, live entertainment and a visit from official Meineke spokesman George Foreman.
FOOD & DRINK
Southern (Regional)
Mert's Heart and Soul
214 N. College St.
Charlotte, N.C. 28202
704-342-4222 | website
The assessment from the restaurant's website is delicious: "From the award-winning macaroni and cheese to the sweet, buttery corn bread to the shrimp and grits (Mert's Southern, Low Country and Gullah varieties), inspired favorites leave guests with an unforgettable, 'home cooked' experience."
Pizza
Fuel Pizza
1501 Central Ave.
Charlotte, N.C. 28205
704-376-3835 | website
One of eight locations in the Charlotte area, this funky neighborhood hangout used to be a gas station. It has retained the service-station theme in name and decor; outside seating is where the gas pumps once were located. Patrons can order by the slice or create their own combinations from the menu.
Burgers
Big Daddy's Burger Bar
1626 East Blvd.
Charlotte, N.C. 28203
704-714-4888 | website
Big Daddy's features higher-end burgers with selections ranging from a black bean burger to a buffalo burger. It also serves breakfast and a create-your-own salad with an array of toppings. Try the "Bacon burger on steroids" with -- among other things -- three pieces of jalapeno bacon, three pieces of smoked bacon and baconnaise sauce. Not to worry, Big Daddy's also has gluten-free items.
ATTRACTIONS
NASCAR Hall of Fame
400 E. Martin Luther King Jr. Blvd.
Charlotte, N.C. 28202
704-654-4400 | website
Opened in May, the NASCAR Hall of Fame is a 150,000-square-foot complex with entertainment and hands-on interactive games honoring NASCAR's history. On its three floors are several cars and exhibits as well as a theater, plus dining options.
Discovery Place
301 N. Tryon St.
Charlotte, N.C. 28202
704-372-6261 | website
Offers a three-story rain forest, aquariums and a space capsule motion simulator. Other features include a ham-radio room, a puppet theater and a 10-foot model of an eyeball that patrons can walk right through. Check the schedule for special exhibits.
MOST SENT STORIES ON ESPN.COM