Commentary
"Like having 81 football games a year"
Tailgating at Miller Park is uniquely Milwaukee ... as are brats, beers and big, bad bikes
Updated:
April 6, 2011, 6:34 PM ET
By
Josh Pahigian
| Special to ESPN SportsTravel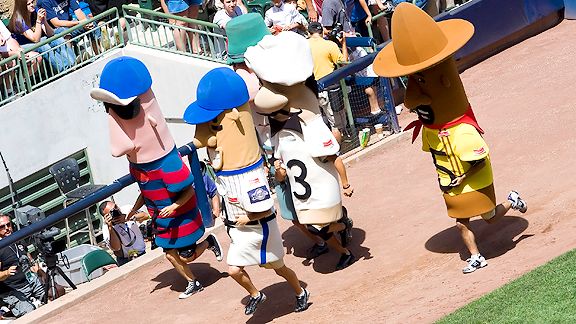 Stephen A. Arce ASP Inc/Icon SMIThe Brewers' Sausage Race takes place in the middle of the sixth and makes its case for cased meats.
• Gallery:
Miller Park experience

|
Stadium Guide
|
Passport: Check in
|
Buy Brewers tix
Game time is rapidly approaching and the stadium parking lots are nearly full. Only a smattering of fans has made its way inside Miller Park, though. That's because the Brewers fans are having too much fun outside.
When it comes to baseball in the Brew City, the pregame ritual is all about the tailgate. The aroma of simmering brats fills the air, while fans sip their favorite local brew and toss the pigskin or horsehide around.
As for the bratwurst, the fans favor local brands like Klement's, Sheboygan and Johnsonville, and know just how to prepare them. While neophytes might merely take the spicy German sausages out of their packaging and toss them right on the grill, Brewers fans know to boil them in beer before heading to the park, then to put them over the coals to brown up.
Tom Olson, 48, a Milwaukee native, has a dream job for a lifelong Brewers fan. He oversees the operations at Klement's Sausage Haus in the Miller Park parking lot, among his other responsibilities as district manager for Milwaukee Sportservice Inc.
"When someone says, 'Let's go to the game,' in other cities, they grab their glove and cap," Olson explains. "In Milwaukee, the first things we look for are our grill and cooler. I tell people, being a Brewers fan is like having 81 football games a year."
Jordan Mader, a 19-year-old University of Wisconsin-Madison student from Appleton, Wis., drives two hours each way to attend about five Brewers games a year.
"Going to a Brewers game is an all-day affair when you don't live in Milwaukee," Mader says. "I've been involved in trips when we were the first in line before the parking lot opened and among the last to leave after grilling up some more burgers and brats after the game. The Brewers have a statewide following and I think the long trips to Milwaukee might contribute to why tailgating is such an institution."
During their final half-hour in the parking lot before first pitch, Mader and others tune in to the pregame radio show on 620 WTMJ, where famous baseball funnyman Bob Uecker calls the play-by-play. Fans across the country ate up "Mr. Baseball's" act in those famous Miller Lite commercials and Uecker's role as announcer Harry Doyle in the movie "Major League." But the folks in Milwaukee have been enjoying Uecker's on-air commentary since 1971.
"Uecker is just a hilarious guy. He can make a 10-1 spring training split-squad game entertaining," Mader says.
But somehow the fans manage to tear themselves from their radios and the block party outside Miller Park by the time a Harley-Davidson drives onto the field in the minutes just before the game with the rider delivering fresh baseballs. What does a hog have to do with hardball? Well, the iconic motorcycle manufacturer has been headquartered in Milwaukee since 1903.
Once the game begins, fans wait for Ryan Braun, Prince Fielder or another favorite son to go deep. Then, they cheer wildly as Uecker's trademark "Get up! Get up! Get out of here! Gone!" home run call flashes in lights above the seats in left field, and as mustachioed mascot Bernie Brewer hops onto his slide to begin his celebratory descent to a home plate-shaped platform below.
The original Bernie -- a product of the 1970s -- wasn't as kid-friendly as today's version. Rather than just going for a ride on a slide to celebrate dingers, that Bernie would jump off his wooden chalet into a big vat of beer at County Stadium, the Brewers' home from 1970 to 2000 before being replaced by Miller Park.
When the fans seated in the right-field bleachers get the mid-inning munchies, they turn to another Milwaukee icon for brats, hot dogs and other treats, visiting the "Gorman's Corner" concession stand, named in honor of former Brewers slugger Gorman Thomas. For the record, the stadium brat comes topped with Secret Stadium Sauce, a unique cross between ketchup and barbecue sauce.
Other stands serve regional favorites, like cheese curds and draft beer courtesy of Leinenkugel Brewing Co. from Chippewa Falls, Wis.
But lest anyone think the sausage, in all its variations, has been supplanted by any other treat at Miller, the Brewers affirm the supremacy of cased meat with the daily sausage race in the middle of the sixth inning. The race begins on the video board before concluding on the field, where costumed brat, Polish, Italian, hot dog and chorizo racers sprint to the finish.
"When the sausages come out on the field, you see 40,000 people stand in unison," Olson says. "You don't usually see that at a ballgame, other than when the fans stand for the national anthem or a home run."
Six outs later, the best part of the seventh-inning stretch isn't the singing of "Take Me Out to the Ballgame." Rather, that classic serves as the warm-up act for a local tune the fans sing with more vigor. A rousing rendition of "Roll Out the Barrel" puts a smile on every face in the house ... just as fans realize beer sales will be ending shortly.
"'Roll Out the Barrel,' for those that aren't familiar, is a polka song and a great nod to the state's German heritage,'' says Kyle Lobner, 27, of Appleton, who serves as managing editor of the fan website Brew Crew Ball.
"At Miller Park, it's every bit as popular as 'Take Me Out to the Ballgame.' In fact, it feels a little weird to go to ballparks where they don't sing it as part of the seventh-inning stretch."
Only in Milwaukee.
"Hardball Havens" is a series that looks at the experiences sports tourists can expect at MLB ballparks. Josh Pahigian is the author of seven baseball books, including "101 Baseball Places to See Before You Strike Out" and "The Ultimate Baseball Road-Trip," which he co-authored with his friend Kevin O'Connell. Josh serves as an adjunct writing professor at the University of New England in Biddeford, Maine. Contact him at jpahigian@une.edu.