April, 15, 2010
04/15/10
6:06
PM ET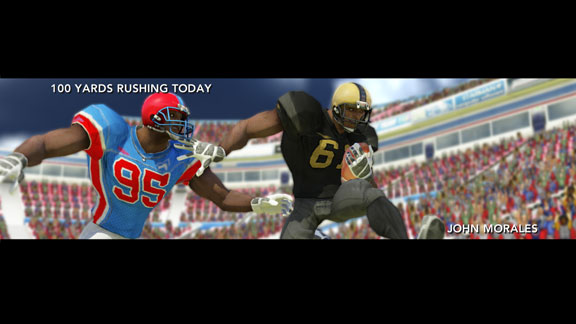 TecmoWhile the game doesn't feature the NFL license, all team names and player names are fully customizable, so it won't be long until you're playing as your favorite stars.
Bo Jackson up the middle. Barry Sanders running laps around the field (and circles around defenders). Christian Okoye smashing through any player who gets in his way.
When I think back to the classic days of "Tecmo Bowl" and "Tecmo Super Bowl," those are the images that flash instantly to mind.
And those days are about to return big time as Tecmo is set to release "Tecmo Bowl Throwback," a new downloadable version of their classic series on Xbox Live Arcade and the PlayStation Network this spring. And when I say those old days are about to return, I'm talking about the classic game right down to the historic rosters and playbooks from the good old days of Super Nintendo football.
The only difference is, Tecmo no longer has the NFL license, so in "Throwback," the Detroit team still has an all-time great at running back, it's just up to you to go in and edit his name.
I caught up with "Throwback's" producer, Mike Fahrny, to get all the dirt on the new/old game.
---
Jon Robinson: There are so many passionate "Tecmo Bowl" fans out there, why did it take Tecmo so long to get back in the business of making football games?
Mike Fahrny: I think ever since the PS2 version, which didn't really do that well, people were begging Tecmo for an updated version of the old game. "Tecmo Bowl Kickoff," which came out for the DS, was hopefully a good start to that, and we'll take it to the next level with "Throwback." We're not trying to do a full-on sim experience like you would get with "Madden," we're really just trying to stay true to the original more than we have in the past so we don't get too much fan hate like we do tend to get. This is just one of those games that everyone seems to love, so any little change to it and either people are going to love it or they are going to absolutely hate it. And one of the unfortunate side effects of that is one of the reasons why we haven't truly seen a next-generation version of "Tecmo Bowl." I don't know if management is scared to take a risk on it or what, but it's definitely been a hard game to work on. It's probably the most challenging title I've ever worked on as a producer.
ESPN ARCADE
The sequel to our most popular game is here. How's your return?

Run timed routes, beat DB's to the end zone and score.

Hit your receivers, dodge defenders and rack up TDs.