April, 22, 2010
04/22/10
6:27
PM ET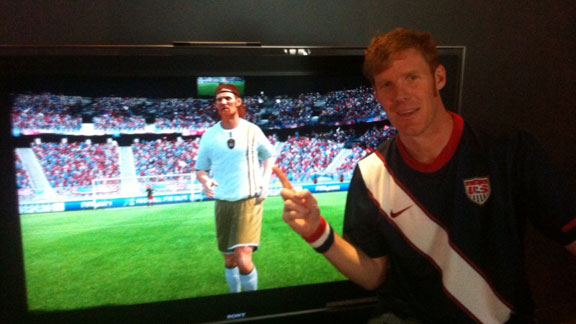 EA SportsWill the real Alexi Lalas please stand up.
When EA Sports added Alexi Lalas to its legends team in "2010 FIFA World Cup South Africa," it knew it had to get one thing right -- the hair.
"It's pretty freaky," Lalas told me after playing a heated game of virtual soccer against EA Sports president Peter Moore. "It's authentic, it's realistic, and it's the '90s version of myself so there's a whole lot more hair than I have right now. I look pretty scary ... or funny depending on your point of view."
"World Cup's" Ultimate 11 legends team features some of the greatest stars the sport has ever seen, including Peter Shilton, Fernando Hierro, Franz Beckenbauer, Viktor Onopko, Giacinto Facchetti, Zico, Lothar Matthäus, Rivellino, Bum Kun Cha, Butragueńo, Roger Milla, Cláudio Taffarel, Jean-Pierre Papin, Carlos Alberto, Rudi Völler, Abédi Pele, Gheorghe Hagi, Gianni Rivera, Bruno Conti, Michel Preud'homme, Eric Cantona, Franco Baresi, Paul Gascoigne, Hugo Sánchez, Leonardo, Wynton Rufer, Ronald Koeman, Zbigniew Boniek, Marius Trésor, Amancio, Hans Krankl, Jorge Campos, Andreas Brehme, Thomas Ravelli, and of course, Lalas.
"No one can touch that team, so don't even try," Lalas said with a laugh of the lineup that is unlocked by winning the World Cup in the game. "It's like I snuck in the back door. I'm just honored I was selected as part of the group and to just be mentioned with these guys. I grew up watching many of these guys, and I put them in a completely different echelon than I was ever in."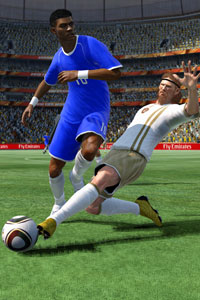 EA SportsAlexi makes the play in "2010 FIFA World Cup."
Lalas, who was visiting EA Sports' headquarters in the San Francisco Bay Area, was able to get his hands on the game for quite a while, and of course, he couldn't resist passing the ball to his cyber self. "The game is great," he said, "and the way that it looks, it's just incredible. And I wanted to play as myself. I don't know if that's egotistical or narcissistic or what, but they made me pretty awesome in the game."
When I asked Lalas which team gamers should play as in their personal quest for the Cup, he had a variety of countries to recommend to people who might not know real soccer as well as they know pulling that trigger in "Call of Duty."
"If you're the betting kind and you go down to Vegas, you can't go wrong playing as Spain or Brazil," Lalas said. "If you're a little bit more of a gambler, then you go down that line and maybe take Ivory Coast or a team like Netherlands or maybe even a long shot like Greece who plays really good soccer but isn't known as a soccer power. If you ask me who I think will win for real, though, it's easy to go out and say Brazil is going to win. I'm going out on a limb and picking Germany."
As for why gamers should be excited for the real World Cup, Lalas has an idea: "I know gamers and gamers like to party. The World Cup is the biggest party in the world. Not just the spectacle that's on the field, but everything surrounding it. EA has done a tremendous job capturing the atmosphere of the stadium and the surroundings, and you want to be a part of that party. So whether you're playing it or you're watching it, you want to be where the attention of the whole world is, and that's the World Cup."
ESPN ARCADE
The sequel to our most popular game is here. How's your return?

Run timed routes, beat DB's to the end zone and score.

Hit your receivers, dodge defenders and rack up TDs.