April, 26, 2010
04/26/10
1:36
PM ET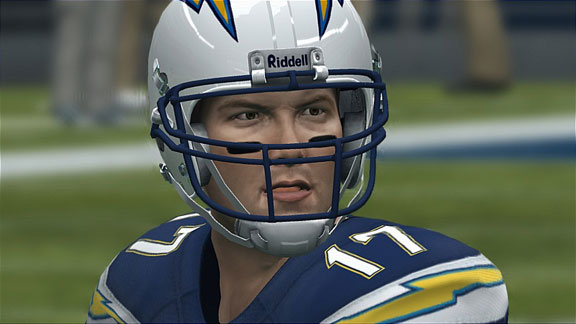 EA SportsPhilip Rivers looks so good in "Madden," he's almost expected to start talking trash.
The average game of "Madden NFL 10" took over an hour to complete.
"With 'Madden NFL 11,' we're cutting that time in half," says "Madden's" executive producer Jeremy Strauser. "We're playing games now in about 30 minutes."
The difference? Try one of the biggest gambles in EA Sports history as "Madden" designers have completely changed the play-calling system to incorporate offensive and defensive coordinators actually telling you what plays to run over the headset, then it's up to you to execute.
That's right, if you use the new GameFlow feature, you're leaving the play-calling in the hands of the A.I., cutting game-time in half by simply eliminating the back and forth decision making and sorting of menus to find the right formation.
Smartest thing they did, though, was leave a one button out of GameFlow, so at any time, you can simply hit X and call your own play like the old days. So if you want, you can follow the computer's advice on offense all the way down the field, but if you're in a tough spot or have an idea of a call you'd rather make, you can hit a button, call your own play, and jump right back into the action without having to pause the game and find the correct screen. Next play, you're right back to GameFlow, or if you wish, you can hit X again and take control for a second straight play.
"We talk about 'Madden 11' being simpler, quicker, and deeper, and GameFlow is a big feature that is driving this," explains Strauser. "This is a play-calling system that really unlocks the depth, complexity, and authenticity of being a play-caller in the NFL and lets you have success with it whether you're a novice to the league or a 'Madden' expert."
According to Strauser, while "Madden NFL 10" featured close to 350 plays per team playbook, EA Sports' research showed that the average user was only calling about 13 different plays per game. "It's kind of a hint that something is going wrong," admits Strauser. "And that means the hardcore guys are bringing that number up to 13. Those weren't the minimum numbers. So when we started talking to players and coaches from around the league, we realized that this new method was a lot more authentic to how plays are called in the NFL."
ESPN ARCADE
The sequel to our most popular game is here. How's your return?

Run timed routes, beat DB's to the end zone and score.

Hit your receivers, dodge defenders and rack up TDs.