August, 10, 2010
08/10/10
3:50
PM ET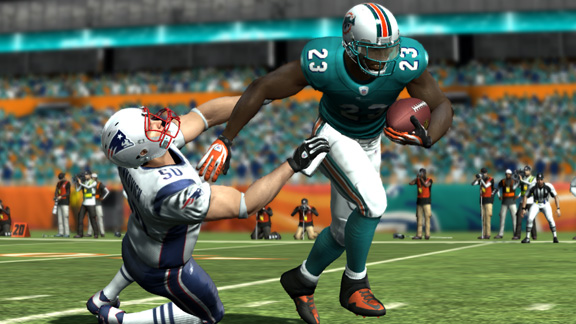 EA SportsWe kickoff the "Madden NFL 11" player ratings with the Dolphins and Jets.
Welcome to the official "Madden NFL 11" player ratings reveal where everyday, Monday through Thursday, ESPN's Gamer blog will deliver the rosters and ratings for two teams, starting with the AFC East and ending with the defending Super Bowl champs and the NFC South.
Today, we start the reveal with a bang, showing off the ratings for the New York Jets and the Miami Dolphins.

Ratings: Miami Dolphins »

Ratings: New York Jets »


First numbers that jump out to me are the ratings for Miami's running back Kory Sheets. Sure, Sheets' overall rating is only a 65, but with 93 speed and 95 acceleration, he could be the kind of back that puts the virtual Dolphins over the top, especially if you team him with Pat White's 87 speed and 92 acceleration. With that type of burst on the field, I'm sure gamers can get pretty creative running the Miami offense.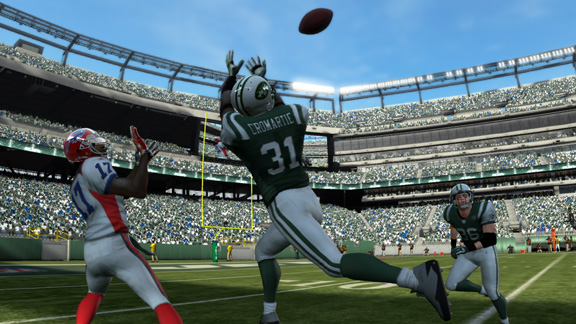 EA SportsDon't even bother throwing on the Jets this season.
When it comes to the Jets, Darrelle Revis is the first 99 overall rated player we meet, and if you thought he made it tough to throw on the Jets last year, you haven't seen anything yet, as this year the team added Antonio Cromartie and his 95 speed, 96 acceleration to cover the other side of Revis Island.
Most baffling to me, though, is how L.T. is rated higher than Shonn Greene. I get the respect factor and how great L.T. used to be, but "used to be" is the key phrase here and Shonn Greene's time is now.
Click on the links to check out the ratings for the first two teams and tell us what you think. Tomorrow we'll be back with the ratings for the Patriots and Bills.
ESPN ARCADE
The sequel to our most popular game is here. How's your return?

Run timed routes, beat DB's to the end zone and score.

Hit your receivers, dodge defenders and rack up TDs.