July, 9, 2010
07/09/10
2:31
PM ET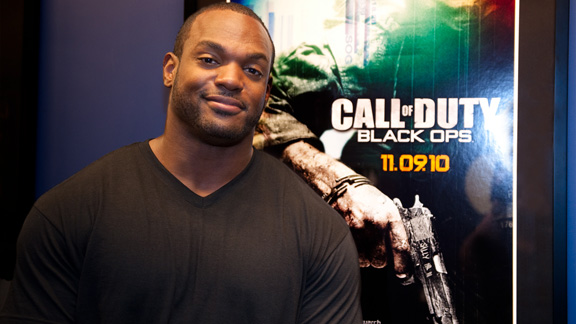 ActivisionDwight Freeney blitzed the "Call of Duty: Black Ops" offices to play an early version of the game.
"If I stayed any longer I would've stole something."
Those were the words of Indianapolis Colts sack-master/video game guru Dwight Freeney as he walked out of the L.A. studio of "Call of Duty: Black Ops" developer Treyarch after an all-day behind-the-scenes look into the making of the shoot-em-up blockbuster.
Freeney not only played an early copy of "Black Ops", flying helicopters and trading fire in covert warfare from Vietnam to Cuba, but also sat down with game designers and artists to find out what kind of work and dedication it takes to flip flying bullets into a worldwide phenomenon just in time for the holidays.
Crushing quarterbacks has its perks.
"The said they loved having me at the studio, but the truth is, I think I loved it even more," Freeney told me as he got into his car after a day of blasting polygonal bad guys. "I was over there in helicopter mode and running around different rooms looking for cheats.
"I've been a fan of "Call of Duty" since the first one that came out. It's something that takes me out of the reality of this world and brings me into another one. It's amazing how the series, not only gets more realistic, but evolves."
Jon Robinson: What's the most time you ever spent in one sitting playing a "Call of Duty" game?
Dwight Freeney: I don't even know because I get lost. I might start when I get back from work at like six or seven o'clock, and sometimes I still find myself playing at four or five in the morning. That's when I realize I need to wake up in a few hours. [laughs] That's when I go to sleep. But that's the kind of thing that happens when you play this game.
Jon Robinson: What parts of "Black Ops" did they let you play? What did you think?
Dwight Freeney: It's amazing. You sit there and you know how the last one felt, but they definitely took the next step. The details are amazing, the maps are bigger, and there is this one helicopter round that is just unbelievable. They asked me to try the level, and next thing I know, I'm flying around in the helicopter and shooting. I think that was the Vietnam level.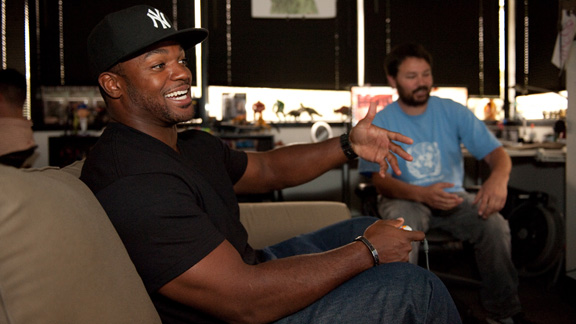 ActivisionThe only thing Freeney loves more than talking "Call of Duty" is playing it.
Jon Robinson: What type of "Call of Duty" player are you? Are you more of a sniper or do you run right into the thick of it?
Dwight Freeney: I'm definitely a suicide, run-and-gun, Rambo type of player. I'm not a big sniping guy, picking people off. I want to be in on the action. I want to either blow something up, blow you up, or you blow me up. That's it.
Jon Robinson: What's your favorite kill from playing "Modern Warfare 2" online?
Dwight Freeney: I was playing online recently and I found this particular corner playing multiplayer where I was just mowing people down. For me to mow down 12 to 13 guys in a row is a lot. I'm not somebody who gets these 20 kills in a row. To me, if I can mow down 13 guys in a row, and I'm playing with guys who are all ranked 60 or higher, that's good shooting.
Jon Robinson: Do a lot of the Colts get online and play "Call of Duty"?
Dwight Freeney: Yeah, a lot of guys get online and play. It's funny, because you see these guys all day, then you go home and you see the animated versions of them shooting you in the back of the head. [laughs] Then they laugh, and you hear them laughing all day at work as they talk smack to you. They'll walk by and say something like, "Watch your back." It's hilarious.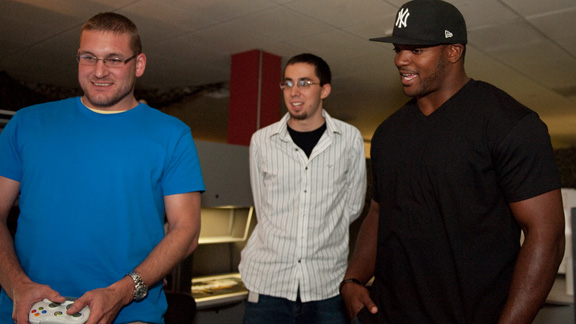 ActivisionFreeney gets a demo before getting his hands on the game.
Jon Robinson: It seems like there's been a big switch recently where before, all the athletes used to talk about playing "Madden" but now all anyone wants to talk about is "Call of Duty".
Dwight Freeney: Exactly. The same thing with me. I used to be an unbelievable "Madden" guy, you couldn't get me off the game. But what happened was, I love football so I know how things are supposed to go. You have a guy double teamed or triple teamed, he's not supposed to make the catch. And if he does make the catch, it must be one time in a million that he does. So what happened is, I got frustrated a lot with "Madden" because those types of catches would happen so often, and then there are the glitch guys and all they do is play "Madden" all day. I have a rule about "Madden" -- don't ever play a guy who doesn't have a regular job. These guys play so much and come with all these glitches, so now when I play, I'm not playing football, I'm a glitch stopper. In "Madden", a guy will glitch you to death and beat you 17-0. In "Call of Duty", somebody tries to glitch me, I shoot somebody. [laughs] The other good thing about "Call of Duty" is you can jump in and play a couple of quick matches then go back and do what you gotta do. In "Madden", you're sitting there for 45 minutes.
Jon Robinson: I just posted the Colts player ratings for "Madden 11" the other day. You're a 97 overall, 87 speed and 97 acceleration.
Dwight Freeney: I love it, I love it. That's what I needed to hear right now.
Jon Robinson: They also have a new rating in the game, swagger. Who has the most swagger on the Colts?
Dwight Freeney: You're speaking to him. [laughs] We have a lot of cool guys.
Jon Robinson: Who has the least swagger?
Dwight Freeney: I don't think I need to say anything. You might already know the answer to that. [laughs]
Jon Robinson: How long have you been a big video game fan?
Dwight Freeney: All those old games you loved playing, I was all over it. Games like "Excitebike" and "Double Dragon", those were the glory days.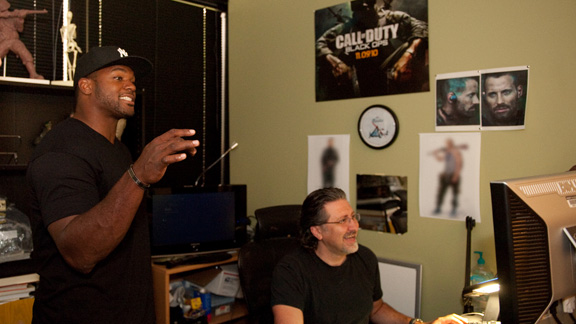 ActivisionFreeney goes from office to office looking for cheats.
Jon Robinson: What's your game setup like at home now? Do you play PS3 or 360?
Dwight Freeney: I play a little bit of both. I have "God of War III" for the PS3 and I hook that up in my big theater room with surround sound. That's also where I play "Call of Duty". The sound is so good you can hear people running behind you. I'm looking around, playing in a cold sweat.
Jon Robinson: So when you're playing "Call of Duty", what's your weapon of choice to take somebody out?
Dwight Freeney: The shotgun. I'm a maniac. I like things up close and personal, so if you run around that corner and I have the shotgun, it's on.
ESPN ARCADE
The sequel to our most popular game is here. How's your return?

Run timed routes, beat DB's to the end zone and score.

Hit your receivers, dodge defenders and rack up TDs.