August, 10, 2010
08/10/10
3:47
PM ET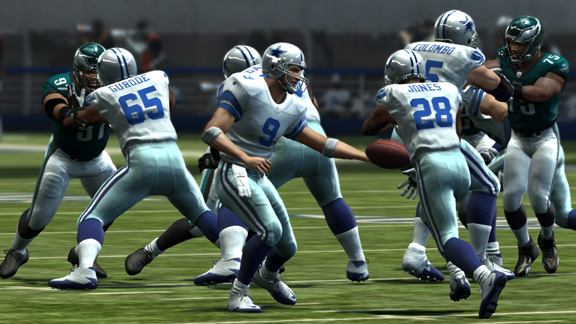 EA SportsLook for the Cowboys to be one of the most used teams again in "Madden NFL 11".
ESPN continues its exclusive reveal of the "Madden NFL 11" player ratings with a look at our first two NFC teams, the Cowboys and Redskins.

Ratings: Dallas Cowboys »

Ratings: Washington Redskins »


The past couple of years, no team has dominated "Madden" like the Cowboys. They are the most used team in the Madden Challenge by far due to their size and speed on offense and their hitting power on defense (not to mention the unstoppable DeMarcus Ware). Tony Romo is also a big reason for the Cowboys' popularity in the game, as he features the best blend of speed to avoid the rush, and accuracy to hit receivers anywhere on the field. Romo's "Madden" dominance looks to continue for another year, as he features 73 speed and 80 acceleration to go along with 88 throwing power and 89 throwing accuracy. Combine those numbers with the 96 speed, 96 acceleration of Felix Jones and the 95 acceleration, 95 jumping, 95 spectacular catch of Dez Bryant and you have one of the most lethal offenses in the game … again.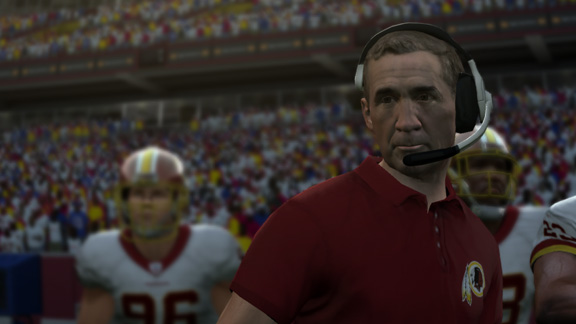 EA SportsWill a new man in charge help turn the Redskins around?
When it comes to the Redskins, look for the team to be significantly better in the game than last year thanks to the addition of Donovan McNabb. McNabb boasts 96 throwing power and some speedy receivers in Santana Moss, Devin Thomas and Joey Galloway (all 90-plus in both speed and acceleration). You just have to wonder if that offensive line will be able to protect McNabb long enough for him to make the throw, as the team's highest-rated offensive lineman is just an 80 overall.
Click on the links to check out the various ratings for all your favorite players, and check back tomorrow as ESPN reveals the numbers for the Giants and the Eagles.
And in case you missed it, here's a roundup of all the ratings for the AFC teams:

Ratings: Tennessee Titans »

Ratings: Jacksonville Jaguars »



Ratings: Indianapolis Colts »

Ratings: Houston Texans »



Ratings: Baltimore Ravens »

Ratings: Cleveland Browns »



Ratings: Pittsburgh Steelers »

Ratings: Cincinnati Bengals »



Ratings: Kansas City Chiefs »

Ratings: San Diego Chargers »



Ratings: Denver Broncos »

Ratings: Oakland Raiders »



Ratings: New England Patriots »

Ratings: Buffalo Bills »


ESPN ARCADE
The sequel to our most popular game is here. How's your return?

Run timed routes, beat DB's to the end zone and score.

Hit your receivers, dodge defenders and rack up TDs.