August, 10, 2010
08/10/10
3:45
PM ET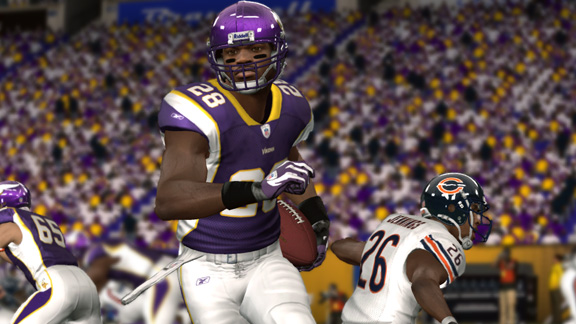 EA SportsAdrian Peterson is one of the best "Madden" running backs of all time.
ESPN Video Games continues its exclusive look inside the "Madden NFL 11" player ratings by revealing the numbers for the Vikings and Lions.

Ratings: Minnesota Vikings »

Ratings: Detroit Lions »


Ever since Adrian Peterson entered the league, the Vikings have been one of the most played "Madden" teams as the electrifying back can not only outrun most polygonal defenders in the game, he can run right through them (and I'm not talking glitches). Will the trend continue with "Madden 11"? Do you really have any doubt? Peterson rates a 98 overall this year, including 97 speed, 99 acceleration, 99 vision, 99 stiff arm, 97 spin, and 99 juke. In the backup role, rookie Toby Gerhart rates only a 71 overall, but does have a 95 toughness rating (interestingly enough, that's 9 points higher than Peterson). Could be an incredible duo running the ball in Minnesota. I expect Gerhart's numbers to go up throughout the season as he shows off the type of runner he really is.
As for Brett Favre, no matter what happens in real life, he will at least be playing quarterback for the Vikings in "Madden" this year with a not-too-shabby-for-an-old-guy 92 overall rating. And that combination of a hard-throwing Favre and the ever hard-charging Peterson will make the Vikings a favorite again amongst gamers (not to mention the 99 overall of the polygonal sack master, Jared Allen).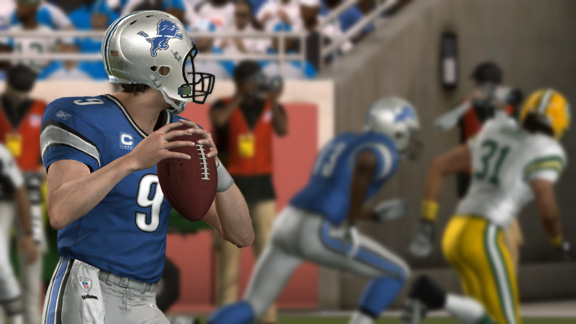 EA SportsDetroit's young offense could be explosive.
In terms of the Lions, the team ranks towards the bottom of just about every ratings category, and as a team, find themselves only better than the Bills and Rams in the game. Matthew Stafford looks a bit underrated at 80 overall, but he does have a couple of weapons in the game that should make the Lions a fun team to play as (and maybe even pull off some upsets). Calvin Johnson not only has the speed to get open, but features 97 spectacular catching ability and will pull just about any ball down with the tap of a button. Add in rookie Jahvid Best and his 95 speed and 94 acceleration, and the Lions young offense looks to finally be turning a corner.
Want more Lions and Vikings info? Click on the team links to check out all of the ratings, then head back to ESPN's Gamer Blog tomorrow as we continue our countdown of the "Madden NFL 11" ratings with our first look inside the NFC South.
And in case you missed any of the ratings from previous weeks, here is a link to each team's individual ratings page:

Ratings: Chicago Bears »

Ratings: Green Bay Packers »



Ratings: St. Louis Rams »

Ratings: Arizona Cardinals»



Ratings: San Francisco 49ers »

Ratings: Seattle Seahawks »



Ratings: New York Giants »

Ratings: Philadelphia Eagles »



Ratings: Dallas Cowboys »

Ratings: Washington Redskins »



Ratings: Tennessee Titans »

Ratings: Jacksonville Jaguars »



Ratings: Indianapolis Colts »

Ratings: Houston Texans »



Ratings: Baltimore Ravens »

Ratings: Cleveland Browns »



Ratings: Pittsburgh Steelers »

Ratings: Cincinnati Bengals »



Ratings: Kansas City Chiefs »

Ratings: San Diego Chargers »



Ratings: Denver Broncos »

Ratings: Oakland Raiders »



Ratings: New England Patriots »

Ratings: Buffalo Bills »


ESPN ARCADE
The sequel to our most popular game is here. How's your return?

Run timed routes, beat DB's to the end zone and score.

Hit your receivers, dodge defenders and rack up TDs.